Elias Lindholm and Victor Rask have shared success as young players on the struggling Carolina Hurricanes this season. Lindholm is in his second season with the 'Canes and has already scored more points than in his rookie season. He also holds the bragging rights of having the most points from a 'Canes player in a single game this season. Victor Rask continues to impress as he becomes more comfortable in the NHL his rookie season. There is something else that these two share in common besides youth, talent and nationality. One game they will be all over the stat sheet, and other nights you have to remind yourself that they were playing. The lack of consistency has made for a curious case on which young Swede will show their talents on any given night. Should the 'Canes be worried about consistency of these two talented players hailing from Sweden?
 The Curious Case of Elias Lindholm
While researching the scouting of Elias Lindholm leading up to the 2013 NHL Draft, one narrative seemed to stick out. Lindholm found himself in a prominent role with his professional team Brynäs IF in Sweden. Brynäs IF was struggling and the team gave Lindholm tons of minutes. They leaned on the young forward to provide a lot of offense. That story is kind of playing out with the 'Canes now. The 'Canes are struggling, and Lindholm has played a top-six role registering a lot of minutes for the team. Lindholm has impressed especially in his 5-point game against Edmonton, but he goes through streaks. Some games its hard to miss him on the ice and he creates a lot of opportunities for the team. Other games Lindholm is almost invisible. You see his jersey number, but you don't notice him making plays. The 'Canes need consistency from Lindholm if they want success.
More on Elias Lindholm (@lindholmelias) of the @NHLCanes… pic.twitter.com/Lv4hrBmMkQ

— NHL Public Relations (@PR_NHL) March 8, 2015
He has played in every game for the 'Canes this year and he is worthy of being a top-six forward. His 33-points puts him right behind Justin Faulk and Eric Staal for third place on the team in points. He showed his offensive talent against Edmonton. Lindholm is not a finished product, and after that 5-point night he has only registered 1-point in two straight loses for the 'Canes. Even before the 5-point game he went pointless in three straight. He has played a lot of hockey but he still needs to find some consistency.
The Similiar Curious Case of Victor Rask
Victor Rask spent the full season in the AHL last year for the Charlotte Checkers. That experience has helped Rask grow as a player and he is now a staple in the lineup. He was going to play in the AHL again this year but Jordan Staal broke his leg opening up a roster spot for Rask. As all the 'Canes players, he struggled in October but pumped up his game in the later months of the season. Chip Alexander of the News & Observer, ran a story about the bond between Jordan Staal and Victor Rask. Both players have a very similar game when they are successful. They win battles in all three zones, and Rask can really grow into a player of Jordan Staal's caliber. Having Jordan Staal as a mentor will really help Victor Rask grow his game. Rask has really impressed in the face-off circle. In a recent game against Dallas, Rask won a face-off in the offensive zone which immediately led to a goal.
Rask has won 364 face-offs for a 50.9 face-off percentage this year. It's not an amazing stat line, but its a good sign for the rookie in his first NHL season. As he grows and gets more accustomed to the NHL game that number will grow. With Rask showing his abilities at center, the 'Canes can keep Eric Staal on the wing and not lose any depth at the center position.
Going into St. Patrick's Day weekend Rask has 6-points in his last three games. Before that, Rask went through a stretch of games where he was strangely quiet. He was announced a healthy scratch late this season and coach Bill Peters said it was only a 'mental break' for the young forward. That mental break has taken an effect on Rask who has been on fire ever since. Like Lindholm, Rask is still a work in progress in the 'Canes system, but needs to find consistency.
Conclusions
The talent that Lindholm and Rask both have is undeniable. They will be a big part of the 'Canes becoming a playoff team in the NHL again. The 'Canes are a step ahead of the game. Instead of guessing on their young players, they have two young Swedish forwards who have shown they can play at an NHL level. The only step these two players need is to add consistency to their game. The 'Canes need them to show up and be heavily involved in each game that they play in. They can't be invisible on the ice if the 'Canes want to win games.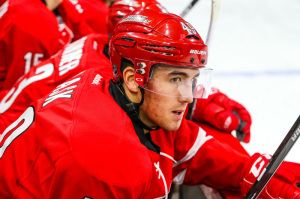 It is a curious case of players but this case will end with good results. Rask and Lindholm have shown they can play, and the 'Canes will add more talent to compliment the Swedes. Both players play well in all three zones and have shown they are adaptable to the NHL game. Bill Peters has changed lines up a lot recently, but eventually he will find a perfect place for these two talents. Both players have also shown that they are great on the power play which has been phenomenal for the 'Canes this season.
As Rask grows he can become a center that the 'Canes can rely on to win face-offs. Combined with Jordan Staal and Jay McClement that gives the team three centers who can dominate in the face-off circle. Lindholm looks like he will stay at the wing, and will give the 'Canes a forward who can play both ways, and has a hungry nose for the net. 'Canes fans shouldn't worried that these two go quiet in games just yet. They are young and this experience will help them grow in the off-season. Next season the 'Canes will come in with two young talented Swedish players that they know can compete. They will start getting more responsibility and be held to a higher standard. They both will be able to handle it, and they both will be a big part of the future success of the 'Canes.