With one round of the ECAC men's hockey playoffs down, we're down to the real nitty-gritty. This weekend starts the best-of-three quarterfinals and the top four teams enter the fray including regular season and Cleary Cup champions Quinnipiac. (St. Lawrence, Yale and Colgate are the other teams that will join the postseason this weekend.)
I went 3-1 in my first round selections and nailed the series length on the ones I did get right. However, it is always a concern when a team comes off of a bye after playing most weekends since the start of the New Year.
Here are my series breakdowns and my predictions on who books a trip to Lake Placid for the one-game semifinals and championship.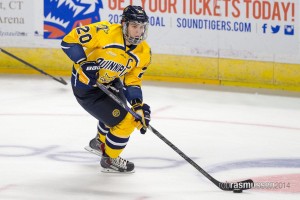 (10) Union vs. (1) Quinnipiac
Season series: Quinnipiac won both games 4-3
Players to watch: Union, F, Daniel Ciampini, Sr. (26 goals-22 assists-48 points); Quinnipiac, F Matthew Peca, Sr. (5-27-32)
Breakdown: The Bobcats are one of the best defensive teams in the nation as they only gave up 1.61 goals a game in ECAC play. Arizona Coyotes 2013 draftee Connor Clifton anchors a stingy blueline. The defending national champion Dutchmen aren't your typical 10 seed may have found their scoring mojo as they tallied 11 goals in a sweep of the Cornell Big Red (4-2 and 7-0). Union has been inconsistent at times, but their power play hit Cornell for three goals. These games will be tight like the regular season ones, but I see Quinnipiac advancing.
Prediction: Quinnipiac wins 2-0.
(9) Rensselaer vs. (2) St. Lawrence
Season series: Tied 1-1 (SLU won at home 4-3 on Feb. 6; RPI won at 4-3 home Feb. 28)
Players to watch: RPI, F Drew Melanson Fr., (9-11-20); SLU, G Kyle Hayton Fr., (18-12-3, 1.98 GAA, .936 save percentage)
Breakdown: RPI did beat fellow engineering school Clarkson (and denied a renewal of the Route 11 rivalry) in a deciding game three, but the Engineers were inconsistent. RPI got off to fast starts in games one and three, but looked lost in game two. The Saints were picked to finish towards the bottom of the standings in the preseason, but SLU has gotten a lift from Hayton and renewed offense. SLU has no NHL draftees, but is a good squad. The Saints have beaten the Engineers in the four times they've met in the playoffs.
Prediction: St. Lawrence wins 2-0.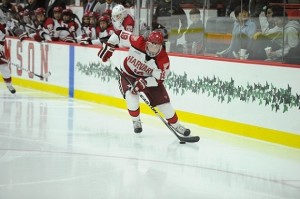 (6) Harvard at (3) Yale
Season series: Yale swept 2-0 (Yale won 2-1 at Harvard Nov. 15 and 4-1 at Yale Jan 10)
Players to watch: Harvard, F Alexander Kerfoot (7-16-23; Drafted by New Jersey Devils, 5th round, 2012); Yale, D Rob O'Gara, Jr. (6-12-18, Drafted by Boston Bruins; 5th round 2011).
Breakdown: It's a renewal of the rivalry of Ivy League schools and one of the oldest in college hockey Harvard had no problem dispatching Brown in the opening round with a total of 10 goals (and a big effort by Nashville Predators draft pick Jimmy Vessey). Yale won the title two years ago, and hasn't lost a game since a 6-4 loss to Dartmouth on Feb. 7. The Bulldogs haven't given up more than two goals since that loss. Good defense usually beats good offense in the postseason. It also helps that Yale has dominated Harvard in recent seasons.
Prediction: Yale wins 2-1.
(5) Dartmouth vs. (4) Colgate
Season series: Colgate 1-0-1 (Tied 2-2 at Colgate Jan 23; Colgate won 3-0 at Dartmouth Feb.14)
Players to watch: Dartmouth, F Eric Robinson, Sr. (9-14-23); Colgate, G Charlie Finn (18-9-4, 2.02 GAA, .925 save percentage).
Breakdown: The Big Green and Raiders were tied on points, but Colgate won the head-to-head tiebreaker to get the fourth seed. Dartmouth swept last-place Princeton, but it was harder than most thought. Colgate's defense has been stout hasn't lost since Feb. 13 at Harvard (4-1). Finn's stellar play in net allows the Raiders to grind out games, and that's what I think will happen in this series. The Raiders' lineup is all together for the first time in a while.
Prediction: Colgate wins 2-1.
Dan Mount writes about the Nashville Predators and college hockey for The Hockey Writers. He can be followed on Twitter @DanMountSports.
Covered hockey since attending SUNY Oswego in Upstate New York in the early 2000s. Has written about college, major junior and professional hockey for the last five years.
Resides in Watertown, NY.