If you've read my bio page, I am a big college hockey fan. I cut my teeth covering my alma mater Oswego St. and its NCAA Division III hockey team.
However, my first encounters with college hockey were watching ECAC Division I teams Clarkson University and St. Lawrence University, who are only separated by 11 miles on New York State Route 11.
Today I'll preview the first round of the 2015 ECAC Men's Hockey Playoffs. I'll be doing previews each round until the NCAA tournament field is announced.
I've always been fond of the ECAC, and they've gotten a lot more respect in the last couple of years after Yale won the 2013 national title (over conference and in-state rival Quinnipiac) and small Union College in 2014. (The school is actually Division III, but plays up in men's and women's hockey.)
This week starts the best-of-three first round of the ECAC postseason that run from Friday to Sunday, and I'll break down the matchups and a couple of players to keep an eye on.
Regular-season champion Quinnipiac, St. Lawrence, Yale and Colgate earned first-round byes.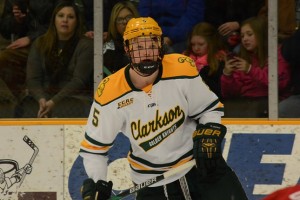 (9) Rensselaer (RPI) at (8) Clarkson
Season series: Clarkson 1-0-1 (Won 5-2 at Clarkson Feb. 7; Tied 3-3 at RPI Feb. 27).
Players to watch: Clarkson, D Kelly Summers, Fr., (6 (4 on the PP)-4-10; Drafted by Ottawa, 7th round, 2014); RPI, G Jason Kasdorf, Jr., (9-16-2, 3.04 GAA; Drafted by Winnipeg, 6th round, 2011).
Breakdown: The Golden Knights are great at killing off extra-man situations in conference play with a 92-percent clip. Summers and Islanders draftee James de Haas are solid on defense, but Clarkson has struggled as of late. The Engineers had a terrible time out of conference, but has shown flashes of solid play.
Prediction: RPI wins 2-1.
(12) Princeton at (5) Dartmouth
Season series: Dartmouth 2-0 (4-2 at Princeton on Dec. 6; 3-1 at Dartmouth on Feb. 27)
Players to watch: Dartmouth, F Eric Neiley, Sr., (13 goals-16 assists; 29 points); Princeton, F Jonathan Liau, Jr., (4-10-14).
Breakdown: The Big Green just missed out on getting a bye after losing the season-series to Colgate. Both teams don't have any current players drafted by NHL teams, but Dartmouth is talented. New coach Ron Fogarty came from Division III Adrian (Mich.), and is starting to get some late-season results.
Prediction: Dartmouth sweeps 2-0.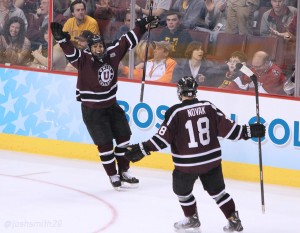 (10) Union at (7) Cornell
Season series: Cornell won 2-0 (5-1 at Union on Jan. 16; 2-1 at home on Feb. 21)
Players to watch: Cornell, F Matt Buckles, Sr., (7-3-10; Drafted by Florida, 4th round, 2013); Union, D Jeff Taylor, So., (4-24-28; Drafted by Pittsburgh, 7th round, 2014).
Breakdown: It'll be hard road for the Dutchmen to repeat as they've got to go to the always intimidating Lynah Rink. Union did pick up a sweep over Clarkson and St. Lawrence. The Big Red have amazing special teams as they're tied first on the PP (20.25%) with Harvard and second on the PK (91%).
Prediction: Cornell wins 2-1.
(11) Brown at (6) Harvard
Season series: Tied 1-1 (Harvard won 6-2 at home on Nov. 14; Brown won 2-1 at home Feb. 7)
Players to watch: Harvard, F Jimmy Vessey, Jr., (22-22-44; Drafted by Nashville, 3rd round, 2012); Brown, F Matt Lorito, Sr., (10-11-21).
Breakdown: The Crimson are led by former Boston Bruins stalwart Ted Donato and boasts the top offensive in conference play with 3.23 goals a game. The Bears are at the bottom of most statistical categories in the ECAC, but are 1-1-2 in their last four.
Prediction: Harvard sweeps 2-0.
Dan Mount covers the Nashville Predators for The Hockey Writers. He can be found on Twitter @DanMountSports.
Covered hockey since attending SUNY Oswego in Upstate New York in the early 2000s. Has written about college, major junior and professional hockey for the last five years.
Resides in Watertown, NY.