When you are a 7th round draft pick, many people don't take notice, you are usually considered the best of what is left.  These late round selections are the ones however that team scouts can really benefit from if they pan out.  It is the selection of these "Late round Gems" that can put an organization over the top.  Teams usually have a good read on what they are getting in the early rounds because everyone in the hockey world has information on those specific players.  The late round guys are usually dark horses, guys who slip through the cracks, possibly just players who play on strong clubs and don't get the minutes, or even guys who possibly play in a weaker level of junior.  Look at some notable NHL'ers who were passed over until late.
 Homegrown Selection

When the Senators reached the 7th round of the 2014 NHL Draft, they had two picks remaining, #189 and #190.  They decided to stay right in their backyard and select defenseman Kelly Summers from the Carleton Place Canadians of the Central Canadian Hockey League.  Summers, a native of Golden Lake Ontario grew up playing hockey in the Upper Ottawa Valley before Carleton Place drafted him in the 2nd round of the 2011 CCHL Draft.  The 6'1, 200 lb blue-liner would crack the club as a 16 year old and spend two remarkable seasons manning the back-end for the powerhouse Canadians.  He would head off to NCAA Clarkson following his second season as he committed to the Golden Knights after just 27 games into his rookie junior season.
Summers thrilled to be drafted by Ottawa Senators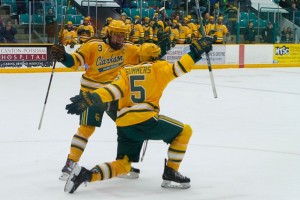 The Junior Years
After posting 9 goals and 31 points with the Ottawa Valley Titans to lead the Ontario East Minor Hockey AAA League in defenseman points, Summers would be taken in the 6th round of the OHL Draft by the Oshawa Generals.  After attending some camps with the Generals, Summers would decide to head back home and suit up for the Carleton Place Canadians in hopes of obtaining an NCAA scholarship.  It did not take long, after just 27 games of CCHL play Summers would commit to Clarkson University where he would head for the 2014-15 season.
With the school situation at ease, Summers would be able to focus solely on hockey and not worry about what the future had in store for him.  He would score 13 goals and finish with 33 points in 59 games and be named CCHL Rookie of the Year.
In his second and final season with Carleton Place he would be named the leagues Top Prospect, be named to Canada East for the World Junior A Challenge, and finish 2nd in league defense scoring with 17 goals and 60 points in 56 games.  He would help lead Carleton Place to a birth in the RBC Cup where they would lose a heart-breaker in overtime to the Yorkton Terriers in the National Championship Game.  Even with the bitter defeat, it was a very rewarding season for Summers, who would suit up for a total of 85 games after adding up regular season, playoffs, and international play.

 The College Test
Sometimes when junior players make the jump to the NCAA they can get lost in the moment or just not adjust to the speed of the game right away.  It takes some players well into their junior or even senior seasons for coaches to trust them enough to put them in the right situations.  Kelly Summers is not most players however, his ability and hockey sense make him an exception at the young age of 18.  He is currently 2nd in Clarkson defense scoring with 5 goals and 9 points in 27 games, his 4 power play goals are a team best.  Summers has been red hot as of late, as 8 of his 9 points, and all 5 of his goals have come in the past 13 games.  For his play he was recently rewarded as the ECAC Conference Rookie of the Week.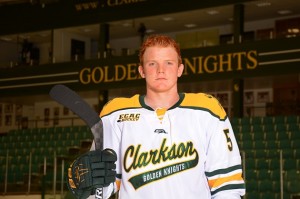 Congrats to former @CCHLTier1 @CPCANADIANS Kelly Summers on being named @ECACHOCKEYMWD1 Rookie of the Week #CJHLAlumni #NCAA

— CJHL (@cjhlhockey) February 10, 2015
Young Leader
Although only 18 years old, Summers is already a leader for Clarkson as he is mature beyond his years.  His composed style of play on the back end give him the ability to calm the play down when need be.  He offers a great first pass and is at his best when he keeps things simple.  He is still raw but with four years of college hockey eligibility there is no rushing him.  His ability to play a sound defensive game while also offering an offensive touch is very promising.  His quick progression is something to keep an eye on as the Senators may have found a special player.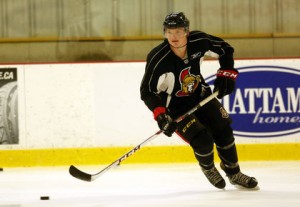 The Ottawa ON native covers the Ottawa Senators and is a graduate of the two-year Sports Administration program from Durham College. He has acted as Director of Hockey Operations for the Arnprior Packers of the Eastern Ontario Junior Hockey League.
He is currently the Head Athletic Trainer for the Battlefords North Stars of the Canadian Junior Hockey League but states hockey writing as his biggest hobby.