Most Valuable, Not Most Points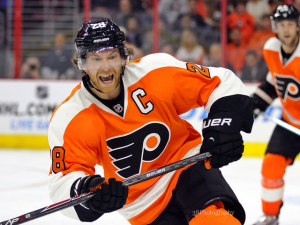 As of Monday afternoon Philadelphia Flyers' super star captain and No. 1 center Claude Giroux sits tied for seventh in the NHL with 55 points. That is eight fewer than the league leading Patrick Kane. However, as we all know, points come and go and aren't the be all end all of deciding the most valuable player award. If the season ended today, yours truly will argue Giroux, not Kane should win the Hart Memorial Trophy.
First and foremost, of the top 20 point producers in the NHL, Giroux has the lowest shooting percentage by far. Now some of you may think this is counter intuitive to an argument for Giroux being better than his contemporaries. Realistically though, being able to generate the league's seventh highest point total in spite of a career low 8.2% shooting percentage is a prime indicator of just how good he can be. His goal scoring luck isn't as prevalent this season but he is still dominating the league on a team that would be in the Connor McDavid sweepstakes without him. Of the top 30 point scorers, none of them see more ice time than Giroux's 20:47 average. The Ontario native puts the Flyers on his back and carries them time and time again. And he competes in all situations. While he doesn't see much time on the penalty kill per se, he and linemate Jakub Voracek see the toughest line matchups on a regular basis. Not to mention that Giroux's 56% face-off percentage is ninth best in the league. He also leads the entire league in face-offs taken with 1,343. The next highest total is Bryan Little with 1,275. Giroux is the Flyers, the Flyers are Giroux.
The Hart Memorial Trophy for most valuable player doesn't always go to the same guy who wins the Art Ross Trophy for most points. While a guy like Kane may be the most individually dynamic skill guy in the entire league, there is something to be said for supporting cast and intangibles. The Hawks have one of the deepest teams in the league and therefore Kane isn't as heavily relied upon as Giroux. The Flyers center is not only the second top producing forward for the Flyers next to Voracek but he brings so much more to a team that has little depth behind him. The question to ask when it comes to MVP is where would the Flyers be without Giroux? As mentioned above, this team would plummet to complete irrelevancy without the skillset and leadership from their captain. No doubt there are other terrific leaders in this league like Ryan Getzlaf, Anze Kopitar, Joe Thornton, and others. However, none of these guys are quite as valuable given their significantly better supporting casts. Giroux is the heart and soul of the Flyers, he is the single face of the franchise. The Ducks, Kings, and Sharks have multiple faces that share the limelight. Giroux is on his own and despite the Flyers' struggles, he still plays every shift as if it's his last.
Bigger Than His Size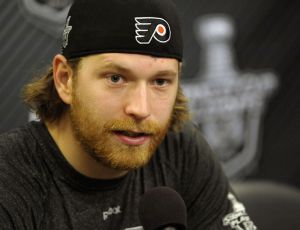 OK, I'll be honest, being a west coast writer, perhaps that previous line is a cliché and only on the occasion do I get to watch a Flyers game. However, every time I am able to watch the Flyers Giroux stands out offensively and that isn't easy to do. He's not the fastest guy in the league and he certainly isn't the biggest at 5'11" and 172 pounds but he makes his presence felt. He has an unpredictable shot and can score from all over the offensive zone. At 27, Giroux is right in the prime of his career. To be putting up elite numbers on a bad team is incredibly impressive. When teams host the Flyers they send their best two-way line against Giroux and Voracek without even thinking about it. That is a tough bill to see the best line every single night on the road. And yet if Giroux were shooting at his career average percentage this season, he would have 22 goals and would be second in the league in points, just two back of Kane. Considering all of Giroux's on ice responsibilities and leadership qualities playing huge, tough minutes on a disappointing team, it makes what he has done far more impressive than any of the other top players. In my eyes, he should definitely be the MVP of the league.
Andrew has been credentialed to cover the Sharks since 2010 and the 49ers since 2012. He graduated with his BA in Broadcast Electronic Communication Arts in 2013 from San Francisco State University.