With the fantasy hockey playoffs a little more than four weeks away, fantasy managers are undoubtedly tightening up their lineups in preparation for the stretch-run. While certain teams might have had the benefit of smooth sailing the whole season, playoff bubble teams probably weren't as lucky and might need all of the help that they can get in order to sneak into their league's postseason bracket.
Whether injured or ineffective, the players that managers have on their rosters at this point might very well be expendable if they can't perform up to par or help one's playoff chances. In particular, the goalie position could be integral to one's playoff hopes, so it wouldn't hurt to explore some netminders (under 35% owned) who could possibly help out one's lineup in time for a final postseason push.
A Nest Of Netminders?
Jhonas Enroth (Dallas Stars – G)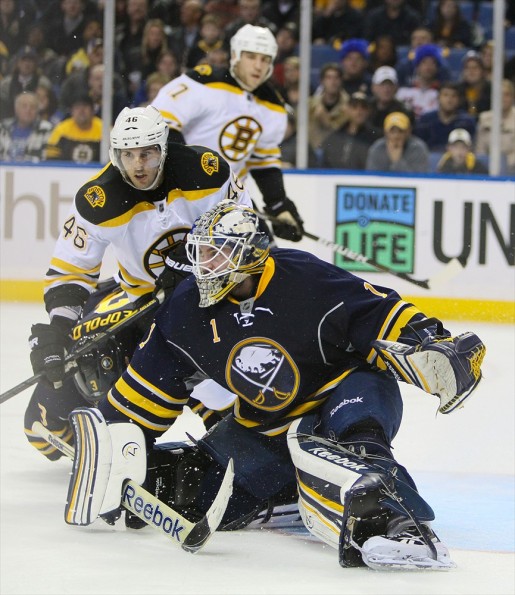 Seeing as how Kari Lehtonen has been somewhat underperforming this season, it wasn't a bad move for Dallas to go out and acquire Jhonas Enroth from the Buffalo Sabres. While Enroth might be an undersized goalie, he has the ability to push Lehtonen for the rest of the regular season. With Enroth getting a chance to show off his skill-set for the Stars this weekend (4 GA on 30 SA), fantasy managers were be able to see just how difficult life as a back-up goalie could be in Dallas – but that shouldn't be a fantasy death knell for Enroth.
Currently 34% owned in Yahoo! leagues, Enroth has posted some formidable statistics over the last two weeks as he played to the tune of a 2-3-0 record with a .925 Save Percentage and 2.44 GAA. Recording wins over Dallas and Montreal (while still a member of the Sabres) and only allowing two goals to the Senators and Blues, Enroth could be worth a look for managers in need of goaltending help. Those looking to see what Enroth can potentially contribute to their team should monitor his progress over his first few games with the Stars to see if he settles into any kind of groove.
Ray Emery (Philadelphia Flyers – G)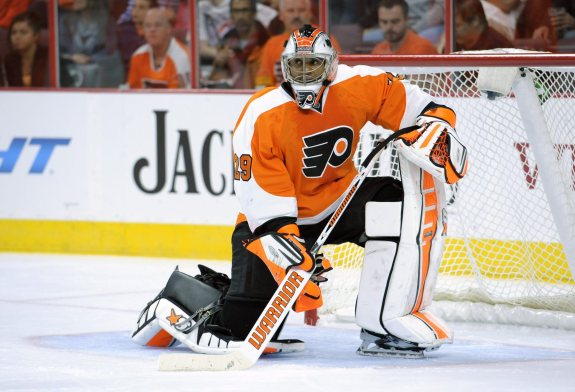 A 10-9-3 record with a 3.17 GAA and .893 Save Percentage won't necessarily inspire fantasy managers with confidence in their netminder, but Ray Emery is the best option that the Flyers have at this point in the season with Steve Mason injured. Of course, Anthony Stolarz might get a look in the crease for the Flyers, but the goalie is simply too young to be considered a solid option for managers with so much on the line in the next several weeks.
At 23% owned in Yahoo! leagues, Emery could be a temporary pick-up for the next three weeks as Mason rehabs from arthroscopic surgery. Nobody is expecting Emery to return to his '12-'13 form, but fantasy managers have dealt with worse cards before. Managers should play it safe if they can for the meantime and monitor Emery's performances on a game-by-game basis – but the goalie could definitely be worth consideration in deeper leagues.
Curtis McElhinney (Columbus Blue Jackets – G)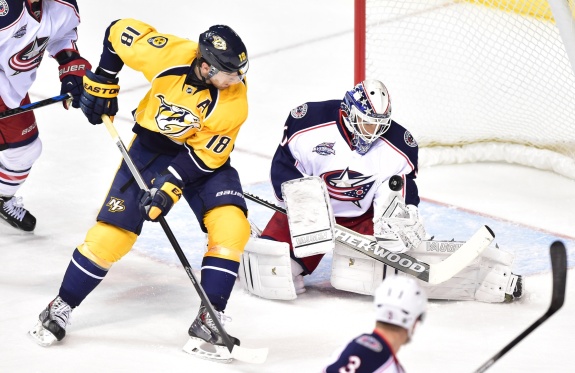 Curtis McElhinney didn't have the type of start to the '14-'15 NHL season that he probably wouldn't have wanted to have, but the goalie has upped his game with Sergei Bobrovsky sidelined with a groin injury. Aside from a rough end to January – which saw the goalie record three straight games with three goals allowed – McElhinney has been relatively solid for the Jackets.
Over his last 10 appearances, McElhinney has compiled a 6-3-0 record and has faced at least 30 shots in six of those appearances, and it's not as though his opponents faced in that span have been a cakewalk. Seeing as how Since McElhinney has raised his level of play for Columbus, fantasy managers should keep a close eye on the goalie as his 21% ownership rate (Yahoo! leagues) could very well see a modest spike with a few more good showings. Although managers shouldn't expect Bobrovsky-esque numbers from McElhinney, he is a worthy replacement for the time being – especially with groin injuries being tricky in terms of recovery time.
Two To Consider?
Andrei Vasilveskiy (Tampa Bay Lightning – G)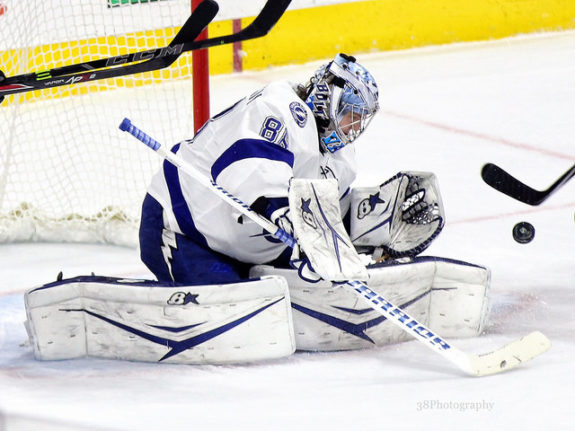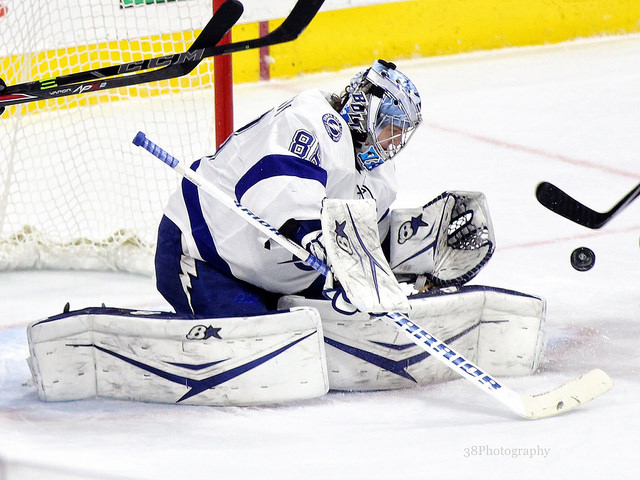 No, nothing is wrong with Ben Bishop, but Andrei Vasilevskiy shouldn't be glossed over either. Appearing in nine games so far this season with the Lightning, Vasilevskiy has put together a 4-2-1 record with a 2.13 GAA and .927 Save Percentage in his first season in the NHL, but it's not as if this should come as a surprise given the fact that Tampa Bay used their 19th overall pick in the 2012 draft to get the Russian goaltender.
With Tampa Bay sitting pretty with the top teams in the Eastern Conference, fantasy managers should expect Bishop to get the lion's share of work for the stretch-run, but Vasilevskiy could provide some relief here and there – and the goalie has already seen four games worth of action thus far in February. Bishop hasn't exactly been sharp as of late in between the pipes, so that might net Vasilevskiy some starts in the next couple of weeks. Fantasy managers should keep track of the 13% owned (Yahoo! leagues) goalie, and those in extremely deep leagues should be ready to snag the young Russian if he keeps playing at such a consistent level.
Chad Johnson (New York Islanders – G)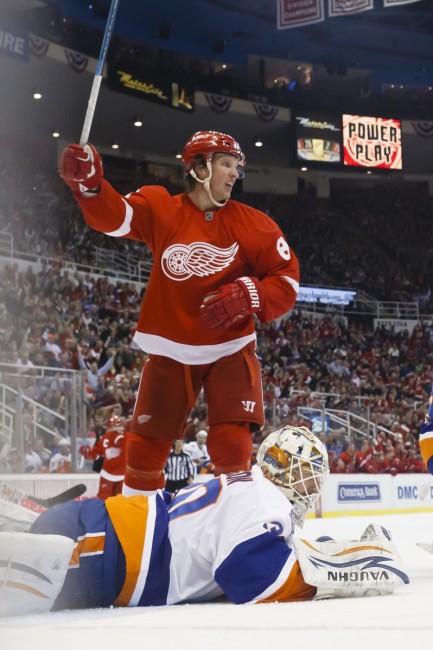 Much like Ray Emery, Chad Johnson's peripheral statistics (3.33 GAA, .873 Save Percentage) might be painful to look at, but there is no getting around the fact that the Islanders have used Jaroslav Halak quite a lot this season. Logic would certainly tell one to stick with the hot hand, but Johnson has to get some more starts under his belt – especially since he has only played in five games since December 9th, 2014.
Being only 3% owned in Yahoo! leagues, fantasy managers shouldn't worry about Johnson's ownership percentage jumping an insane amount unless Halak suffers a devastating injury or has an unbelievably bad stretch of games. Instead, managers should keep Johnson on a somewhat close watch-list over the next couple of weeks as it is unlikely that the Islanders will want to wear out their starting goalie before the Stanley Cup Playoffs arrive.