I was recently asked to guess where 18 of the most coveted players will land between now and the March 2 NHL trade deadline.
My predictions — in no particular order — are below with some brief commentary on each potential deal:
Forwards
Antoine Vermette (Arizona) to Montreal: Vermette is probably the top trade chip in play that's likely to be moved over the next two weeks. Montreal has a great chance of coming out of the Eastern Conference this year. Vermette fits their style of play and would be a huge boost.  He won't come cheap though.
Jaromir Jagr (New Jersey) to Washington: This almost makes too much sense after Jagr said he wants to be traded to an Eastern Conference contender.  Imagine Jagr on the right side of a powerplay setup opposite Alex Ovechkin for a second, with Nicklas Backstrom feeding pucks to both. 
Chris Stewart (Buffalo) to Boston: The Bruins need a physical top-six winger that can mesh well with Milan Lucic and David Krejci.  Stewart is a streaky scorer and is in the midst of a hot streak at the moment.
Daniel Winnik (Toronto) to Florida: Florida is in playoff contention but they haven't been involved in many trade rumors yet. Winnik's work ethic is exactly what they need to set an example for such a young group of rising stars.
Martin Erat (Arizona) to NY Islanders: The Islanders have great depth this season and probably won't be adding much at the deadline, but this just feels like a good fit.  The Arizona Coyotes are dumping players and Erat won't be in huge demand.
Daniel Briere (Colorado) to Anaheim: The Ducks took a gamble on a fading Dany Heatley earlier this season.  That didn't work out, but there aren't many players who are more clutch in the playoffs than Daniel Briere. Someone will take a chance on the 37-year-old.
Erik Cole (Dallas) to Vancouver: As usual, the Dallas Stars are stuck in the middle. Not good enough for the playoffs; not bad enough to be definite deadline sellers. They'll eventually decide to clear the decks and Cole will be shipped out. Vancouver is on the other end. They're hanging onto a playoff spot and need a spark to stay in contention.
Cam Atkinson (Columbus) to Buffalo: After adding Evander Kane, the Sabres are officially kicking into the second phase of their rebuild. Don't be surprised if they pull off another blockbuster at the draft, but in the meantime Atkinson would be a great young player to add. I love his upside.
Ryan O'Reilly (Colorado) to Calgary: This one has been a long time coming. O'Reilly and the Avalanche haven't seen eye to eye on contract negotiations for years but Colorado has held onto O'Reilly for as long as possible. Time to move on. O'Reilly is headed to unrestricted free agency after next season and carries a $5 million cap hit courtesy of an offer sheet from…the Calgary Flames. Former Flames GM Jay Feaster initiated the offer sheet but new Flames GM Brad Treliving believes in building through the middle too. O'Reilly is his type of player.
David Legwand (Ottawa) to Calgary: If Calgary doesn't grab O'Reilly, Legwand is a good second option at center. The Flames have very little playoff experience and Ottawa is going to be in financial trouble if they don't start shedding some salary. Legwand is signed for another year at $3.5 million cash ($3.0 million cap hit) and doesn't add much to a rebuilding Senators team.
Phil Kessel (Toronto) to Florida: It doesn't make a lot of sense for Toronto to deal Kessel at the deadline. Few teams can fit his $8 million cap hit right now. Florida is one team that can and they're ready to take the next step.  They've got great centers in Aleksander Barkov and Nick Bjugstad, a franchise defenseman in Aaron Ekblad, and great goaltending in Roberto Luongo. Kessel would be a great fit and like Luongo, he'd excel in the South Florida market.
---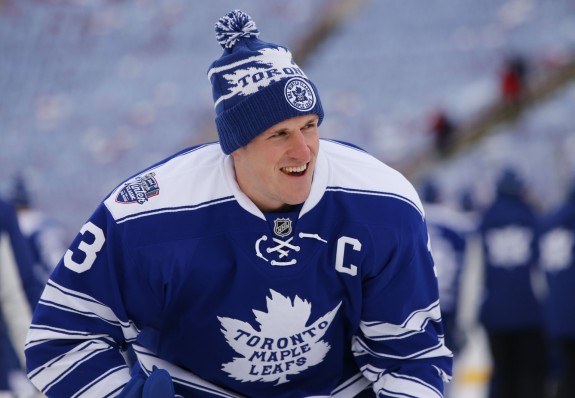 Defensemen
Dion Phaneuf (Toronto) to Detroit: The Red Wings have been searching for a Nicklas Lidstrom replacement since his retirement in 2012. Phaneuf is another player that would probably generate more demand in the offseason, but Detroit has the young assets to make a deal happen now.
Andrej Sekera (Carolina) to Los Angeles: LA has been actively searching for a defenseman since the summer.  The suspension of Slava Voynov left a huge hole in the lineup and now they're just fighting to sneak into the playoffs. (Of course, we've seen what the Kings are capable of when they sneak into the playoffs)  LA wanted Cody Franson, who was just dealt to Nashville, and they might have to get aggressive to avoid being left empty-handed.
Zbynek Michalek (Arizona) to Tampa: The Lightning are scary good up front. They can score with anyone and I think the line of Nikita Kucherov – Tyler Johnson – Ondrej Palat is one of the best in the NHL when it's together. They need to upgrade their defense a bit and Michalek would ease the load on workhorse Victor Hedman heading into the playoffs.
Michael Del Zotto (Philadelphia) to Vancouver: Even before Alex Edler went down with an injury, I thought Del Zotto would be a good fit in Vancouver. Edler has bounced back as one of the Canucks' best players this season. If he's out for an extended period of time, that's a huge blow. Del Zotto has been playing some good hockey in Philadelphia lately and would at least fill the void on the Canucks' powerplay.
Mike Green (Washington) to San Jose: I could be convinced that the Capitals are better off keeping Green and losing him for nothing as a free agent this summer. I think he'd be more valuable to another team right now though. Green is playing on Washington's third pair — not a knock on his play but simply a result of the team's greater depth on the back end this season. 
Jeff Petry (Edmonton) to Pittsburgh: The Penguins need to upgrade their defense for the playoffs as well. Although Petry doesn't play as big as his 6-3 frame might suggest, he'd be a great fit in coach Mike Johnston's fast-paced system and would round out Pittsburgh's top four.
Keith Yandle (Arizona) to Los Angeles: Finally, if the Kings don't land Sekera, I'd have to think they'll have interest in Yandle. Remember, Kings GM Dean Lombardi campaigned hard for Yandle to be included on Team USA in the 2014 Olympics:
"Poile reminds those in attendance of a detailed report prepared by Lombardi looking at the bubble defensemen and specifically a case to be made for including Keith Yandle on the 25-man roster."