In the cliff notes version of the 2016-17 New Jersey Devils season there really only has to be one sequence explained or shown. In a game that they absolutely had to win (against their Hudson River Rivals no less), they made a furious comeback from a 0-2 deficit to lead 3-2 late in the third period only to see the New York Rangers tie the game and force overtime.
Just 1:06 into overtime Kyle Palmieri, who had scored the previous two Devils goals, had a breakaway and was thwarted by New York goalie Antti Raanta. Ten seconds later at the other end of the ice, Cory Schneider surrendered the winning goal. And that's the way the cookie crumbles.
"I have to make that save in overtime and give the guys another chance," Schneider lamented afterward. "We did a lot of good things tonight, it was a fun game to play in; obviously the ending leaves a bit of a sour taste in my mouth and I think our team's as well."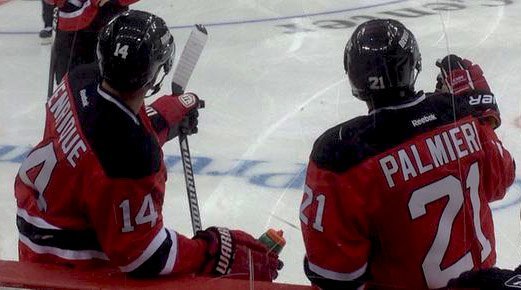 All season, New Jersey hasn't shown that they deserve to be a playoff team, all one has to do is look at their record. Win one, lose one. Win two, lose three. Just like the game against the Rangers, they look dead at certain points of the season and then come back to life giving fans false hope of belief. But in the end, like the famous football coach of the New York Giants Bill Parcells once said: you are what your record is.
Learning to Win By Losing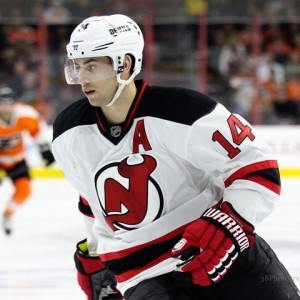 "You have to find that killer instinct to be able to go up by two and go from there," a somber Adam Henrique said. "I thought we still played well, so that's a tough one to give up."
"We take it one game at a time and leave everything out there. I thought we did a good job tonight, thought we executed our game plan a lot better than we have at times," Henrique went on to explain. "We had plenty of opportunities; there are a lot of positives from this game. You want to find a way to get that second point, but you just have to keep moving forward."
Palmieri, who spoke five minutes before Henrique, said almost the same thing, trying to find a positive in a season of disappointments. "Obviously this is a rivalry game, it's emotional and there are going to be swings of momentum," said the Devils' leading goal scorer. "I think overall we were pretty happy with our group's effort, just not the result we came to get."
Schneider put a bow on it all, summing it up in one sentence. "I'm proud of the way we played, but at the same time it's tough not to get two points."
Not So Funny Anymore
New Jersey has hovered around the .500 mark since the middle of December when a 0-6-1 skid torpedoed their season. Truthfully it started before that, though. The Devils had just won their fourth in a row and fifth in eight games. It was mid-November and following the game in the locker room Taylor Hall mentioned that this was the latest in the season that he had ever been on an NHL team that was in a playoff spot.
Everyone laughed but it was true as Hall had languished with the cellar-dwelling Oilers in Edmonton for the entirety of his career until this past June. Before the next game in Dallas, the Devils who were 8-3-3 at the time announced that Hall would be out 2-4 weeks after minor knee surgery. New Jersey actually won that game 2-1 and then proceeded to go 3-10-4 over the next 17 games and as they say, the rest is history.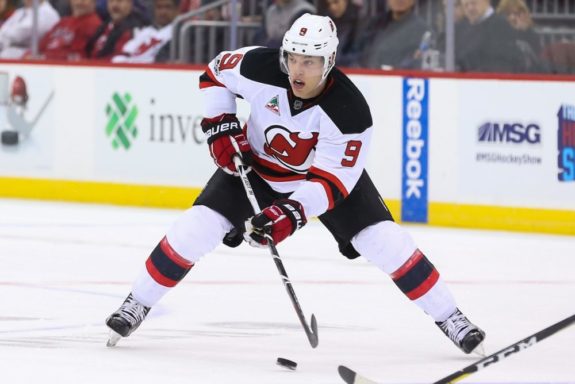 Every game it seems they have to work so hard to score goals, that when they finally do get a lead like they did in the OT heartbreaker against the Rangers, they are a bit exhausted and often end up blowing leads late — either in regulation or overtime. They're a .500 team in a league generally filled with parity.
"We haven't been scoring five, six (goals) a night like other teams in our division. That's just not necessarily the way we're built, we don't want to play a wide-open, run-and-gun game," Schneider said. "I'm sure if we cheated and opened it up offensively then maybe we could score more but we want to make sure we defend too. I think that also enables us to stay in games and keep goal totals down, and not let games get away from us. It goes both ways."
Record by Month:
October: 4-2-2, 10 points
November: 6-5-3, 15 points
December: 4-9-2, 10 points
January: 7-5-2, 16 points
February: 4-4-3, 11 points
"We'd like to string more wins together, that's what any team does if you want to make the playoffs. That's what you have to do. Aside from the start of the year we've not had too many stretches where we've been winning consistently," Schneider said as the reality of not making the playoffs for a fourth straight season/since he's been in New Jersey sets in. "It's games like tonight where it's one play or one save that costs us a point or two points. We have to learn from it, we have to figure out ways to prevent that from happening."
Slow Build, Slow Burn
Tonight is game 25 this season for #NJDevils rookie Dman Steven Santini: 2g/6p, 6 PiM, 25 SOG, 48 hits, 27 blocks.

— Dan Rice (@DRdiabloTHW) February 28, 2017
If the Devils were ever able to add one or two more top-end pieces, they could inch towards the upper tier of teams. But there is work to do on the roster and with the coaches in getting the most out of the players as well. One major need is another asset on the blueline, whether that comes from outside the organization or Steven Santini and Damon Severson see a jump in their development.
Hey Devils' fans. Get used to this Merrill-Santini pairing. Looking good and definitely a future duo for a long time.

— Mike Morreale (@mikemorrealeNHL) February 28, 2017
Santini has progressed nicely and has played well over his first 26 games, but Severson has taken a bit of a step back this season. Time after time, following just about every loss this season coach John Hynes has said similar things about his team trusting the process and having to learn from their mistakes.
But after the OT loss to the Rangers, Hynes was unusually short with the media as his team's steep climb towards a playoff position got steeper. "I thought our team played real well tonight," he said during his postgame presser, "we put ourselves in position with the way we competed."
When we asked him if that game/loss was a microcosm of his team's season he simply responded, "What's the question?"
We rephrased the question, making it less lengthy and he only addressed the game aspect of it. "I thought tonight's game our guys showed up, they played really hard, played really well. We certainly put ourselves in position and played well enough to be able to win the game," he said, finally opening up a bit. "Tonight's game we didn't win. We found a way to play well, to play hard. The next step is to be able to find a way to win."
A Way to Win
In finding 'a way to win' more games, there has to be a shake-up up-front, an influx of young talent or a trade to bring in another big name top-6 player like Hall (hello Gabriel Landeskog?). Players like Mike Cammalleri, Beau Bennett, Devante Smith-Pelly and Jacob Josefson haven't done enough to warrant blocking the arrival next season of prospects like Blake Speers, John Quenneville, Michael McLeod and possibly Alexander Kerfoot, among others.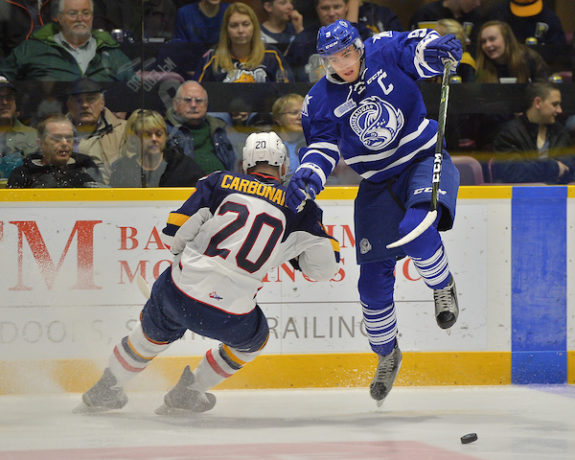 It's unlikely that Hynes would be on the hot seat right now, but it wouldn't be a shock either to see maybe a mixup among the assistant coaches. If Albany Devils bench boss Rick Kowalsky is promoted to New Jersey this summer, that could be an indication that he could be the next in line for the job (as well as prevent him from being poached by another team). Next season would be the third full season under his leadership and if we are having the same conversation at this time next season that would not be a good omen for his tenure lasting that much longer.
Having said all of that we believe Hynes is a good coach, and one that deserves to be in the NHL. He has helped Palmieri become a bonafide goal scorer in this league, and the coaching staff's impact on a player like Miles Wood (who is two years removed from playing prep school hockey) is undeniable. The roster needs more of a reboot, and that's not the coach's responsibility, and this is only year two of GM Ray Shero's purge.