The Los Angeles Kings placed forward Mike Richards on waivers Monday.
The 29-year-old is in the seventh year of his enormous 12-year $69 million contract and his having the worst season of his career. The Kings' centre has just five goals and 15 points in 47 games this season and is on pace for just 26 points. Which would be his lowest total during his 10 seasons in the league, including the lockout shortened 2012-13 season.
LA Kings have reportedly placed Mike Richards on waivers. http://t.co/mHRsVT0tcW pic.twitter.com/WfHKzHUgCd

— theScore (@theScore) January 26, 2015
Placed on Waivers
The move seems like a desperate attempt to try and move Richards and at the very least cut a chunk of his salary. Teams will have until noon Tuesday to claim the centre and if he isn't he will be sent down to the team's American Hockey League affiliate the Manchester Monarchs.
The deal will help to shave $925,000 off of Richards' salary, but in return means that the Kings will be paying the 5-foot-11 centre $4.825 million to not be in the lineup. The team would love to trade Richards, in fact reports suggest that the Kings have been taking multiple offers for Richards including a deal that fell through last night.
From what I've gathered, #LAKings were working on multiple deals to trade Richards over the weekend. Final one fell through late last night.

— The Mayor John Hoven (@mayorNHL) January 26, 2015
The Toronto Maple Leafs have been rumoured to be interested in Richards, but TSN's Pierre LeBrun reports that the Leafs have no interest in putting in a claim for Richards. This doesn't mean that the team is not interested in the centre, but rather that the team isn't interested in taking in his huge salary without sending some the other way, so a trade would be ideal.
Leafs source says they will NOT put in a claim on Mike Richards in case people are wondering — Pierre LeBrun (@Real_ESPNLeBrun) January 26, 2015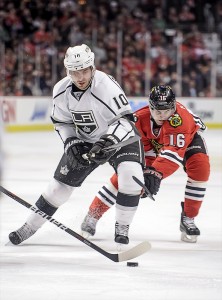 He Was Once Great
Richards was once known as one of the most dependable two-way forwards in the game, but ever since his move to Los Angeles his offensive production has been on the decline. During his four seasons with the Kings Richards has recorded 132 points in 251 games, a points per game of 0.53.
Back during his times when he was with the Philadelphia Flyers he had 349 points in 453 games, a points per game of 0.77. To put those numbers into perspective that's 20 points less during an 82-game season.
The first-round pick in 2003's ice-time over the years has been reflected in his poor play. This year Richards is averaging 13:41 a night. Last season he averaged 16:58 and roughly the same during the 2012-13 season, however he averaged 18:50 in 2011-12.
Not the Same Since Leaving Philly
Richards has struggled to hit the production he saw back when he was in Philly. During the 2009 and 2010 seasons he hit the 30-goal mark, and in '09 had a career high with 80 points in 79 games. His highest total since joining the Kings has been during the 2012 season where he had 18 goals and 44 points, though his 32 points in 48 games in 2013 would have had him one pace for 54 points.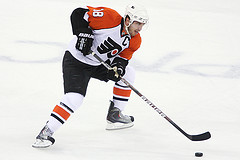 Richards has been centering the team's fourth-line between Kyle Clifford and Jordan Nolan and currently doesn't see ice-time on either of the team's two power play units. This is a far cry from someone who was a member of Team Canada's Olympic team at the 2010 games in Vancouver that won gold.
Despite his big contract and poor season with the Kings there is still some interest in the centre and his back-diving contract might make him more interesting at a second glance. Richards' contract has a cap-hit of $3 million in the final two years. So, if a new environment could help rejuvenate the Kenora, ON native, he could actually become a bargain to some.
Richards can do it all, just seemingly not of late. LA has been trying to rid them of his lengthy contract and the move to put him on waivers seems like a final straw for the team. This has been a big turnaround from a player who was once seen as one of the most dependable players in the NHL.