The field of print journalism is a dying one. The job prospects are not great, and the field is regularly laying off long tenured reporters. Therefore, majoring in Journalism is a risky decision. Many graduates are struggling to find any semblance of steady work in the field. Yet, here is Chad Graff-beat writer of the Minnesota Wild for the St. Paul Pioneer Press- bucking all trends and finding his way in a field that is very quickly becoming more and more difficult to break into.
Where He Started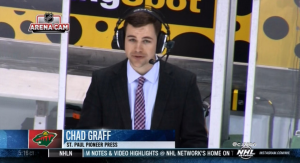 Graff grew up loving all kinds of sports, but his big three were always football, baseball, and hockey. "I was in to all sports," said Graff. Hailing from Manchester, New Hampshire, Graff attended the University of New Hampshire where he earned his bachelors in English-Journalism, and worked for four years at the school newspaper.
He was able to graduate early, and was planning on finishing out his last semester while living on campus, working at the Boston Globe, and working as much as he could for the school paper. "I was very involved in the school paper," said Graff. "That was my classroom as much as any of the classes I took. We produced it twice a week, Mondays and Thursdays, and we'd be up till about two in the morning working on it. That was as fun as it gets, and those are probably some of my favorite memories from college. That was the pinnacle."
How He Got the Gig
Graff had an internship lined up at the Los Angeles Times for that upcoming summer, and although he had applied to multiple beat writing positions, he certainly was not expecting to hear back from any. "When I was trying to find a job, I was up for any sport. I would have taken anything," said Graff.
Then he got a call that he was not expecting at all: "I almost forgot I applied because you just get so used to hearing nothing back. (Then Pioneer Press sports editor) Mike Bass gave me a call and asked if I wanted to interview. Next thing I know, I fooled some people, got lucky, and got the job," said Graff. He had to make a choice between Los Angeles or St. Paul, but it really came down to the job. "That is the kind of job that I would want after an internship anyway, so I decided to take it even without knowing anything about the Twin Cities," said Graff.
He was 22-years-old, and working for a major metro newspaper covering a major pro sports team. "I know a lot of really talented people that struggled to find work, and are still struggling to find work. It is a really hard field to get your foot in the door," said Graff.
Being so young, plus new to covering the sport, it can be difficult to establish credibility. Plus, there might be some people who view someone so young as merely there just to build up his resume. However, now entering his fifth season, Graff feels he has the respect needed to do the job. "It takes time. Hockey is a small world sport, and building trust can take a while. But I feel a lot more comfortable now. What it's about at this point is not getting into a funk. Always try to zig, when the others are zagging, if that makes any sense," said Graff.
What It's Like
As cool as it is to cover an NHL team for a living, there are some drawbacks. "Early wake up calls are far and way my least favorite things," said Graff. This is not waking up early for a 7:50 a.m. class in college, this a 4 a.m. wakeup call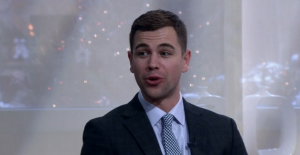 to make a 6 a.m. flight. "I love to sleep, and like to go to bed late and wake up later in the day," said Graff.
The travel aspect has gotten better with the rise of Uber. "Before Uber, taxis were the worst. One time I was in Edmonton, waiting for a taxi outside as it's snowing and freezing for about twenty minutes. It was miserable," said Graff. One of the upsides of the travel though is getting to go to so many different cities. "My favorite city is a no-brainer – Nashville. If you like country music, music in general, or just having a cold beer and hanging out it is great." The worst city though is one that offers a great in arena experience according to Graff, but once the game is over the experience is a bit different: "It's Buffalo. There is just nothing to do. Plus, it is cold," said Graff.
The travel can certainly be a downside to the job, but one of the biggest troubles can be simply walking into a tense locker room. "The biggest thing is that you show up every day. When you write about what is going on, and show up the next day, they certainly let you know they are pissed in all sorts of colorful language. But you have to show up," said Graff.
The key is keeping the relationship professional, he said. "I wasn't their friend when I wrote about their 12 game point streak, and I am not now that they are are losing. It's never easy walking into a locker room with that much tension, and a losing mentality. It is now my fourth season on the beat, so guys know me and I know them a bit. That makes it easier to ask the questions I have to ask," said Graff.
On Last Season
The Wild's struggles of last season ended up getting the long-tenured Mike Yeo fired in February. Speculation has run amok as to what led to the firing. Did the players quit on him? According to Graff, not really. "I don't know if it was a conscious decision to wait it out till Yeo was gone, but playing the way they were, something had to change. This could have been a trade, or any number of things. Everyone was lethargic in this 'someone save us' mentality," said Graff. This seems to be a trend with this group, a notion Graff pointed to as well: "That is a real problem with this group, and a worrisome trait. You can't count on a big trade every year, or the firing of a coach. They were definitely waiting for a change of some kind," said Graff.
After Yeo was fired, he sat down with the media and talked about a divide in the locker room between the veterans and young guys. Graff agreed with the assessment: "Yeo wanted the locker room to be closer. He wanted the leadership group to be closer. He really wanted the young guys to not feel like they had to defer to the veterans. I don't think any of that ever happened, and that was the start of it," said Graff. When it came to holding each other accountable, Yeo was hoping for everyone to be involved: "He wanted guys to be able to hold everyone accountable, and nobody stepped up to say this isn't good enough. There were definitely locker room issues," said Graff.
Yeo was certainly the scapegoat to the Wild's issues, and how long it took to axe him seems to hint that the Wild brass didn't feel Yeo was the issue. According to Graff, the Wild brass "were really hoping for the young guys to step up, and not many guys did in a consistent way. Coyle would be the best player at times, and then would struggle for 15 games. The Wild wants the younger group to take ice time away from the vets, but they just haven't been consistent enough to get that."
On Bruce Boudreau
The Minnesota Wild did not retain John Torchetti as head coach, instead they hired Bruce Boudreau for the position. "If there was a guy this offseason for the job, it was Boudreau. In terms of who the Wild could benefit from, it was Bruce, a huge gap, then everyone else," said Graff. One of the biggest knocks against Yeo was his resistance to demoting or scratching veterans, a trait not shared by Boudreau: "He put Perry and Getzlaf on the fourth line and limited their minutes to 10-11 minutes a night. If he comes with that attitude, it should benefit the Wild."
While some nights are long, and mornings are early, Graff knows he is a lucky guy. "This is the dream job," Graff said. "For now at least."