It may have taken a little longer than most had hoped but Edmonton Oilers rookie Connor McDavid ended the suspense on Tuesday night, scoring the first NHL goal of his career against the Dallas Stars. Unfortunately for the 2015 first overall pick and his new teammates, it was not enough to register their first win of the young season.
#Oilers winger Jordan Eberle will miss four to six weeks with a shoulder injury | READ > http://t.co/JYgUXHjciI pic.twitter.com/uSubhFbBb2

— Edmonton Oilers (@EdmontonOilers) September 30, 2015
With Edmonton having scored all of three goals and setting with a 0-3 record, one cannot help but wonder if things might be a little different with a healthy Jordan Eberle in their lineup.  While everyone knew his absence would be felt after injuring his shoulder during pre-season action, few were expecting the Oilers to struggle to the extent they have in the offensive zone.
Prior to last night's game against the Stars, in which netminder Anders Nilsson was quite literally left to fend for himself, Edmonton had made a concerted effort to limit the amount of "Grade A" scoring chances they were coughing up a nightly basis. While that mindset has allowed the Oilers to stay close in all of their games, it has severely hampered their ability to create scoring chances with any sort of regularity.
[Related Article: Oilers Offence Continues To Fire Blanks]
With a roster featuring young skilled forwards like Taylor Hall, McDavid, Ryan Nugent-Hopkins, Nail Yakupov , veterans Benoit Pouliot, and Teddy Purcell, you would think scoring goals would not be a major concern. Be it at even strength or on the power play, Edmonton has not put pressure on any of the goalies they have faced this season. It may be hard to imagine, but it is nonetheless the reality of the situation.
Eberle's Absence Has Made Life Difficult For McDavid
After leading the team in scoring three of the past five seasons, replacing Eberle was never going to be easy and especially not for an extended period of time. With the expected recovery time being 4-6 weeks, Edmonton would be lucky to have the 25-year old back in the fold against the Philadelphia Flyers on the third of November.  In that best case scenario, the three-time 60-point man would miss the first nine games on the Oilers schedule. Not ideal but manageable.
Again, with the skill level of this forward group being what it is and on a short-term basis, surviving such a loss should not have been much of an issue. Yet here we sit three games into the season and the only forwards who have registered points are McDavid, Nugent-Hopkins, Pouliot and Yakupov. To make matters worse, the quartet sit in a four-way tie with one point each. That is not a typo…Edmonton's entire forward group have combined for a grand total of four points in three games.
[Related Article: Leon Draisaitl And The Numbers Game]
Not surprisingly, head coach Todd McLellan has wasted little time pulling out the line blender. With Eberle on the shelf and youngster Leon Draisaitl in the AHL working on his "200-foot" game, there are certainly holes inside the Oilers top nine. Despite being all of three games into his career, McDavid has already seen regular duty with Hall, Lauri Korpikoski, Pouliot, Purcell, Anton Slepyshev, and Yakupov. Not exactly a recipe for success.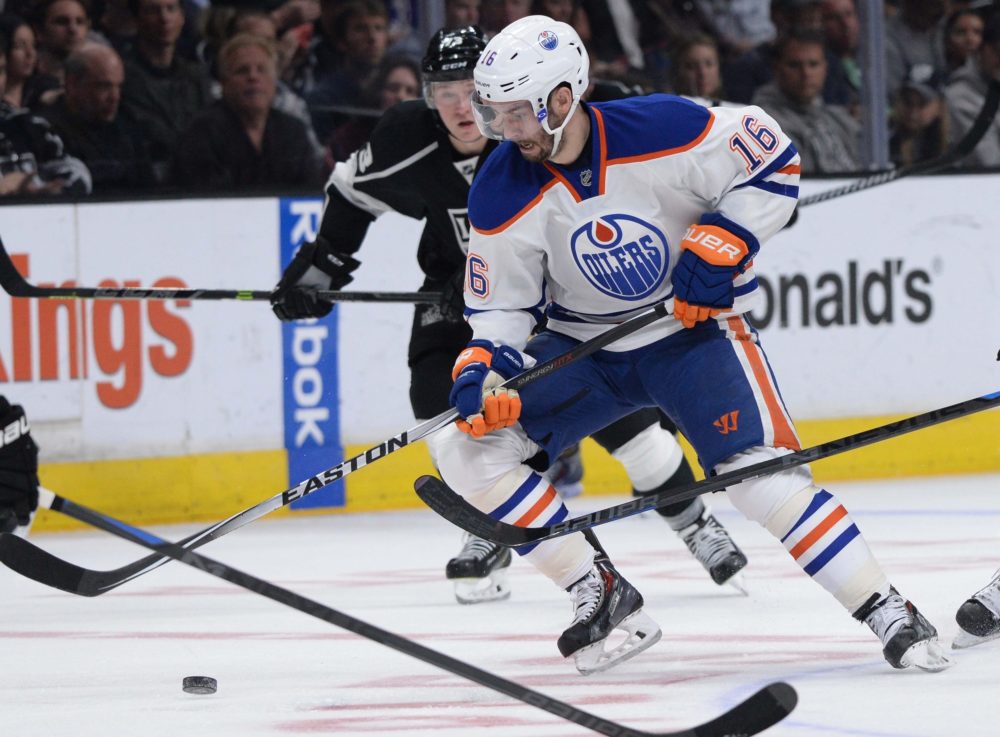 McLellan's Hands Have Essentially Been Tied
While the hope was for Hall and McDavid to form chemistry, the two have yet to show any signs of that coming to fruition and it has caused issues within the Oilers' top two lines. Last night's combination of McDavid, Pouliot and Yakupov has easily been Edmonton's best line thus far, but it has created a hole on the team's supposed top unit.
With a healthy No. 14 in the mix, McLellan could revert to using the Eberle-Nugent-Hopkins-Hall combo and allow the "new kid" the opportunity to find his way with a young offensive minded player on one wing and a solid all-around veteran on the other. Instead, we have seen the likes of Korpikoski, Purcell, and Slepyshev being used in roles the frankly have no business being in as this level. With that being the case, should we really be surprised with that 0-3 record?
While there are those who point to Jordan Eberle as a potential piece of the puzzle Edmonton should seriously consider moving in hopes of upgrading their backend, the Oilers have absolutely no one who is currently on the roster who does what he can do. He may be a complementary player, but guys who average 27 goals and 65 points over an 82-game schedule do not grow on trees in today's NHL…which is something far too many people tend to forget.