It's that time of year again, the season of giving, and the Edmonton Oilers know the sensation all too well. Largely over the past eight seasons, the Oilers have given away wins, points and have even begun to lose diehard fans with their consistently poor play.
With the christmas break approaching, the Oilers sit in a familiar position, dead last, marinating in the knowledge that it would be extremely difficult for things to get much worse in the "City of Champions".
So, with the holidays approaching, let's take a look at the probable Christmas wish list of the 2014-15 Edmonton Oilers.
The Players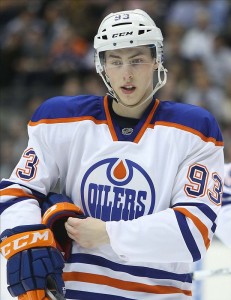 Ryan Nugent-Hopkins Hopes Christmas Brings Inspired Teammates
It would be tough to argue that "RNH" hasn't been the Oilers hardest working and most determined player this season. After bulking up in the off-season, Nugent-Hopkins looks like a new player this year and a bona fide number one NHL center. Ryan would love line mates who compete as hard as he has so far this season, night in and night out. He has by far been the Oilers best player.
Jordan Eberle is hoping for Confidence
Eberle has looked like anything but the player he has been in the past this year. Having scored only six goals so far this season, Jordan looks to have lost confidence in his game, as his offensive production is significantly down from past seasons. On top of this, Eberle has been among the worst Oilers players defensively, a minus 13 on the season, fifth worst on the team. Simply put, Eberle just doesn't look like himself this season.
Taylor Hall Would like to find Consistency Under the Tree
When Taylor Hall is on his game, he is arguably one of the top three left wingers in the NHL. When he isn't on his game, Hall doesn't provide much to his team otherwise, and such has been the case at parts this season. Taylor's offensive production is down from seasons past when compared to his standards, as Hall has begun to score in bunches rather than contribute on a nightly basis.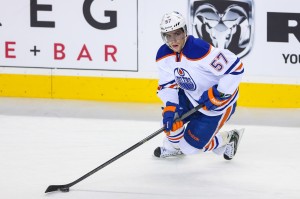 David Perron is Seeking the Scoring Touch
Perron, who is a three time 20 goal scorer, netted 28 goals last season, yet has only potted five goals so far this season. That puts Perron on pace to score a mere 12 goals this season, a total which would be the lowest output of his career disregarding the lockout shortened 2012-13 season. Perron, who has one of the best sets of hands on the team, needs to find a way to score, simply put.
Teddy Purcell Desires a Definitive Role
For Purcell, it's been a dizzying first season with the Oilers. Best suited in a bottom nine or even bottom six role, Purcell has been juggled throughout the Oilers lineup, seeing playing time on virtually every Oilers line, most recently the first line this past week. Purcell has never been expected to be a key offensive producer, so why put him in a role he is unfamiliar with?
Mark Arcobello Would Love a New Contract
Arcobello has quietly been one of the Oilers better players this season. He has been strong defensively and has contributed offensively too. Averaging around 15 minutes per game, Acrobello has played an important role in helping the Oilers down the middle, having won almost half of the faceoffs he has taken so far. Arcobello can be a spark plug with the Oilers, and based on his play this season, would love a new contract, especially one longer than a single season.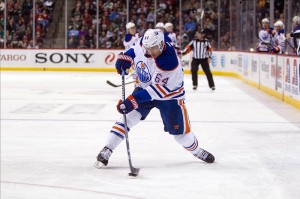 Nail Yakupov is Praying for a Fresh Start
A former first overall pick, Yakupov has been a bust for the Oilers except for his success in the lockout shortened 2012-13 season. Nail has simply struggled to do much of anything with the Oilers. He has worked tirelessly on the defensive aspect of his game, yet his offense has struggled as a result. Yakupov's determination and work ethic have never been in question, however, having been relegated to the third line, it appears a change in culture could do wonders in revitalizing Nail's career.
Boyd Gordon is Seeking Good Health
When healthy, Boyd Gordon has been one of the Oilers most important players. Not only is Gordon strong in the faceoff circle and in his own end, but he is also a great leader and mentor to the Oilers younger players. Having scored five times already this season, Gordon is on pace to set a new career high in goals with 14.
Leon Draisaitl Would have Liked to go on a Vacation
It has been a rough first season in the NHL for third overall pick Leon Draisaitl. Having scored only two goals in 33 games, Draisiatl has averaged about 12 minutes of ice time per game and has been a healthy scratch. Stepping directly into the NHL as an 18 year old rookie would be difficult for any player, yet Draisaitl simply is not ready to play against other teams second line centers on a nightly basis. A showing at the World Junior Hockey Championship would have done Leon some good, considering the Oilers are not going to make the playoffs regardless.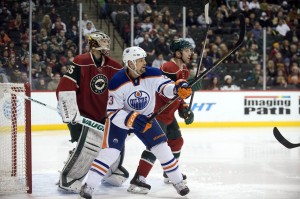 Matt Hendricks Hopes to Unwrap New Shin Pads
Hendricks has solidified his reputation as a tremendous defensive player with the Oilers this season. Known for his game in his own end, Hendricks has blocked a huge amount of shots, and scoring attempts, this season in Edmonton. He has already been injured twice this season as a result, including once by Shea Weber of the Nashville Predators who has one of the league's hardest shots.
Justin Schultz Would Love to Renew his Self-Confidence this Christmas
When Justin Schultz plays a confident game, he can be one of the best players on the ice. When he doesn't, he can be downright terrible, especially in his own zone. There's no doubt that Schultz has elite skill, it's whether he decides to use them each night which holds Schultz from becoming a top-tier offensive NHL defender.
Jeff Petry is Hoping a Trade Lies Under the Tree
A pending unrestricted free agent come the conclusion of this season, Petry is likely hoping to get out of Edmonton sooner than later, making a deadline day deal increasingly possible. Petry would fetch a considerable return for the Oilers, as he has become one Edmonton's best defencemen.  Averaging over 23 minutes of ice time per game, the three time American World Championship participant will likely test free agency this off-season unless dealt.
Mark Fayne Just Wants to Fit in
As one of the Oilers biggest off-season acquisitions this past off-season, it is remarkable how little attention and praise Mark Fayne has received for his play. Typically, the young stars on the Oilers receive the majority of fan and media attention, however, Edmonton's poor play has trumped all this season. So how about a little praise and attention for Mark Fayne? He has quietly been exactly what the Oilers paid for; a quiet and consistent defensive defenceman. A respectable minus six rating on a horrid Oilers team, Fayne has averaged nearly 20 minutes per game and should be considered a strong building block for Edmonton moving forward.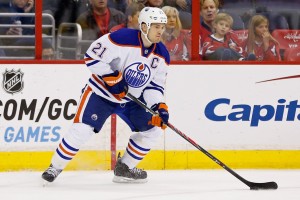 Andrew Ference Wishes for a Contract Modification
When Andrew Ference agreed to a four year contract with the Edmonton Oilers prior to the 2013-14 season, it included a no movement clause, making him unable to be traded. However, one and a half seasons of misery later, Ference probably wishes he could remove the clause from his contract, or at least modify it. Having been born in Edmonton, coming home to play for his local team definitely factored in to his decision making. Yet, Ference is still a highly competent NHL defender and the type of player whose services are highly sought after by successful, playoff bound teams.
Ben Scrivens and Victor Fasth are Asking for Defensively Responsible Teammates
The team's two goaltenders aren't bad at stopping pucks, the players in front of them have simply made them look that way. The Oilers have allowed the most goals against in the league and have allowed 40 more goals against than they have scored. On top of this, of the fifteen worst plus/minus ratings in the league, 6 Oilers players make the cut, with Jeff Petry ranked 766/767 with a -18 rating.
The Management
Craig MacTavish is Praying for a Drastic Turnaround this New Year
A drastic turnaround is needed, to say the least. Since leading the Oilers to the Stanley Cup Finals as a coach in 2006, MacTavish has endured nothing but failure in his years with the Oilers, other than securing first overall picks. Now in his second season as Edmonton's General Manager, MacTavish has failed to make moves to turn around the consistently stumbling Oilers and has now worked with two head coaches while having spent time behind the bench himself. If MacTavish's tenure with the Oilers continues to be marred by failure, MacTavish, if he isn't already, should be extremely concerned for his job security.
Todd Nelson is asking Santa for a Motivated Hockey Team
Let's be honest, with the roster the Oilers have, they simply should not be as bad as their current record shows. Dallas Eakins questioned the motivation of Oilers players prior to his dismissal, and could have finally discovered the Oilers' biggest issue. If new coach Todd Nelson can finally figure out how to get the most out of his Oilers players on a nightly basis, Edmonton may finally be able reverse their persistent poor fortune.
Kevin Lowe Needs a Flight out of Town
A lifelong Oiler, Kevin Lowe's departure from Edmonton is long overdue. After a fifteen year playing career with the Oilers, an eight year tenure as General Manager, and finally serving as the President of Hockey Operations since 2008, the time has come for Lowe to leave town. Since his assignment to a managerial position in 2000, other than reaching the finals in 2006, the Oilers have done relatively nothing competitively, having either been eliminated from the playoff contention or in the first round each season. Lowe has seen six different coaches and two general managers with the Oilers, so why is it that Lowe has remained? The question remains a modern mystery to both hockey and Oilers fans everywhere.