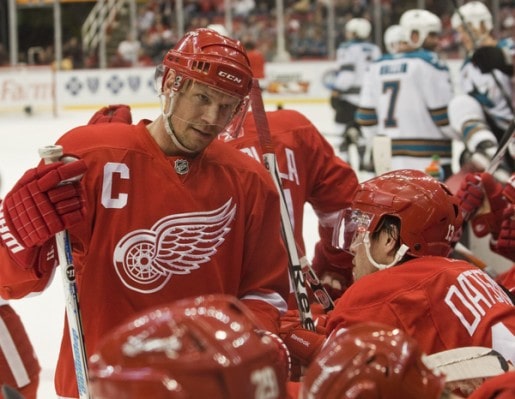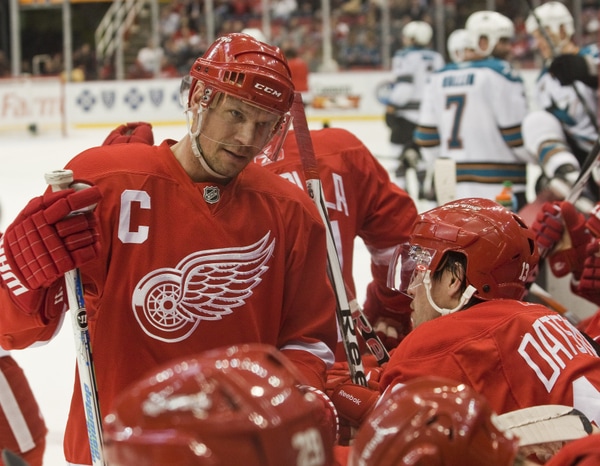 The news that Detroit Red Wings legend (and perhaps the greatest NHL defenseman of all time) Nicklas Lidstrom would retire leaked 19 hours prior to Thursday morning's press conference, just 1 hour after it had been announced, but that didn't make the 42 year-old future Hall of Famer's opening words any easier to hear.
"Today after 20 seasons as a player for the Detroit Red Wings, I'm announcing my retirement."
The words marked the end of a truly historic career for Lidstrom, and the end of an era for Detroit.
"Retiring today allows me to walk away from the game with pride, rather than have the game walk away from me."
But Lidstrom spent the majority of his time at the podium on Thursday offering up thanks. He chose to thank the fans, media, management, friends, and family that helped shaped his career.
As MLive's Ansar Khan notes, Lidstrom's personal accomplishments were nothing short of astonishing:
"Lidstrom won seven Norris Trophies as the NHL's top defenseman, tying him with Montreal's Doug Harvey, behind only Boston Bruins legend Bobby Orr.

Lidstrom won his first Norris Trophy in 1999 at age 31 and won his last in 2011 at age 41, the oldest player to win the award.

He played in 1,564 regular season games, second only to Gordie Howe in franchise history. He amassed 1,142 points, fourth all-time among Red Wings. No Red Wing appeared in more playoff games than Lidstrom (263), whose 183 postseason points were two fewer than franchise leader Steve Yzerman.

Lidstrom's durability was second to none. He missed only 46 out of a possible 1,873 games, regular season and playoffs, since launching his NHL career in 1991.

He was selected for 12 NHL All-Star Games and was named to the league's first All-Star team 10 times between 1998 and 2011.

His career plus-minus rating of plus-450 ranks eighth in league history. He posted a minus rating only once (minus-2 in 2010-11)."
Add to that a Conn Smythe Trophy as playoff MVP in 2002 and you've got quite the list, a list that grows even longer when you include Lidstrom's trailblazing accomplishments as a European.
First European Norris Trophy winner.
First European Conn Smythe winner.
First European to captain a team to the Stanley Cup.
First European to defenseman to record 1,000 points.
Most regular season games played by a European (1,564).
But personal accomplishments have never been a goal of his. He'd rather win it all than win a Trophy.
His play had an impact on the sport as we know it, and nowhere was it felt more deeply than in Detroit.
Lidstrom spent each of his 20 NHL seasons with the Wings, helping to bring the city 4 Stanley Cups and a 21 season playoff streak.
During that time he impressed nearly everyone he came in contact with in the organization, starting with one of the men responsible for drafting him, former Red Wings assistant GM Nick Polano:
"I couldn't believe how good he was at such a young age. Great skater, great puck-handler; great offensively, great defensively without being a big hitter. He had such great use of his stick. Nobody could beat him one-on-one."
Continuing with his first defensive partner Paul Coffey:
"Even then, as a rookie, he was a quiet student of the game … he made the game look easy and it was like that from Day 1. He had the perfect mind for it and the perfect frame."

"Nicky didn't do any one thing awesome, but he did everything great."
And former coach Scotty Bowman:
"Where could you ever see a player who would miss so few games, who could play at his level? "He made so few mistakes, he played with a lot of different partners and never left them to fend off a two-on-one."
As well as Red Wings legend Steve Yzerman:
"I think he's going to go down as one of the all-time best defensemen ever to play.  Having played with him and watched him closely from his first game, people know about it now but we've said it all along — you have to watch him closely to appreciate how good he is, what a great athlete he is because he makes the position look so easy."

"He is a special athlete."
Teammates and management weren't the only ones Nick caught the eyes of with his ever-steady play.
Last month Nashville Predators coach Barry Trotz notably asked Lidstrom not to retire after his team eliminated the Red Wings in the first round of the playoffs, and yesterday San Jose Sharks General Manager Doug Wilson offered up the following quip:
"I think he is the standard of how we want people to play the game — the ultimate professional. I think he is one of the, when we're teaching young defensemen how to play the game, I don't think there's ever been anyone as technically strong as him, and that includes everybody."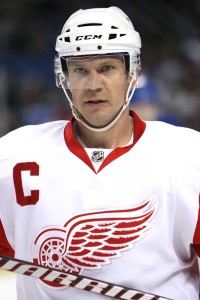 His words hint at something anyone who has ever met Lidstrom or watched one of his interviews knows to be true; Lidstrom was undoubtedly a world-class talent he exhibited on the ice and class act off of it.
He was patient with the media, never turning down an interview. He gracious with fans, no matter their age. He was an ambassador for the game, participating in anything the NHL asked of him.
The way Nicklas Lidstrom conducted himself is unrivaled in any sport just as much as his talent. He's helped mold and shape the Detroit Red Wings organization into the highly touted "classy" and "player-friendly" franchise it is today.
He was soft-spoken. Understated. Professional. Driven. Hard working.
It was that hard work and drive that Lidstrom wasn't sure he had in him anymore, and the first reason he cited for deciding to retire.
"I feel that I lack the drive and motivation necessary to have the strength to go through the lengthy build-up of training and pre-season that awaits the season. Not again, I thought, and then this was the only right decision."
He readily admitted that, physically, he could have continued to play.
"I certainly could have been able to play at least one or more years. But I also know that my body's beginning to speak up a bit."
As he said, it was simply a lack of drive that lead to this decision, and no one can fault him for that. Perhaps contributing to that lack of motivation was family.
"Both Annika [his wife] and I want to be closer to our families and relatives. We've lived in Detroit for 21 years, and although we know it's going to be a big adjustment, it still feels right to us."
And so to Sweden the Lidstrom's will head, staying in their summer home until a brand new place of living is completed this winter. It's not the last we'll see of them though, not even close.
You can bet that early next season #5 will be hoisted to the rafters in Joe Louis Arena, taking its' rightful place alongside the numbers of Yzerman, Howe, Lindsay, Delvecchio, Sawchuk, and Abel.
He'll probably also return this Winter to participate in the Winter Classic, this time as part of Detroit's Alumni team.
And you can bet that they'll return again when Lidstrom is inducted into the Hockey Hall of Fame, even if he's too humble to recognize that's a guarantee.
"I can always hope. It would be an incredible feeling to end up there."
There's a chance though that Lidstrom could join the Red Wings in some other capacity as so many former players from his era (Maltby, Draper, Chelios, Yzerman, Osgood) have.
"Ken Holland and I will sit down and talk about things before I move back to Sweden in mid-June. What they are, I don't know, we'll have to talk. But of course I'll keep in touch with the team."

"I've told him I would like to remain with the organization in some manner, but we haven't really talked about that much."
It would certainly be beneficial for the team to keep him around. His calming presence and wealth of knowledge are invaluable tools that can be used to grow younger players. He certainly has an eye for the game, and the mind of an artist, according to his general manager:
"He's Picasso. They think differently. It's a gift."
He did always seem to be thinking multiple steps ahead of everyone else. He was never out of position. Never surprised by anything. It's that which seems to have impressed his teammates the most:
Kris Draper:
"It's like he's one or two plays ahead of the game. He's not just looking at where the puck is. He's looking at where players are, where players are coming, what he needs to do."
Niklas Kronwall:
"There are so many times, you're on the bench, you just look at each other and go, 'Wow.' He's sort of the dad playing with kids. He makes it look so simple out there."
His former teammates would likely gush about him all day if they had the opportunity. His steady seemingly mistake-free play earned him the nickname "The Perfect Human", and his crucial contributions to the team were so evident that GM Ken Holland often joked he would retire just moments after Lidstrom, for his job would become much more difficult.
Another person whose job now becomes significantly more difficult is coach Mike Babcock. He relied on the stalwart blueliner for 20+ minutes of ice time a game. He won't have that luxury any longer. Maybe that's why he appeared so convinced Lidstrom would return last month.
"He's too good to quit."
But quit he has, and now the team's job gets significantly harder, but even in hanging up the skates Lidstrom positioned the team for success.
He could have waited, pondered his decision longer, emulated Lebron James in drawing things out, but that's not Lidstrom. Instead he neatly arrived at his conclusion, made his announcement, and left his team with plenty of time to figure out the best course of action.
He made his announcement just days before the team begins 3 days of organizational meetings in an attempt to plan out their free agency course. He provided them with all the information they could need. The knowledge of how much money they'll have available, and of what they need to address the most. It's a complete picture now thanks to that unselfish decision.
That's par for the course for Lidstrom. Nobody expected anything less.
This year alone his peers voted him the NHL's best role model and one of the top 5 nicest players in the league. No one has a bad thing to say about the man. Well, not seriously at least.
And they never will. Lidstrom's career speaks for itself, the timelines and stats revealing season after season of history making hockey.
The person he is, speaks for itself upstanding, honest, and classy.
He  is beloved by fans, and always will be.
The same can be said for those closest to him, teammates and members of the organization.
Ken Holland:
"Obviously he's a great player, but he's such a great person, a great role model, a great captain, and he was one of the very, very best for a long time."

"He made the game look so easy… He was so smart, a step ahead, and he played the game with class."
Kris Draper:
"The amazing thing is just how calm he was. He was always that calming influence."

"It's amazing to be able to say that you played with him, that he's a teammate, and a friend."
Mike Babcock:
"He was an incredible, incredible player, but he's an even better man."
Chris Chelios:
"[He's] one of the greatest athletes in pro sports history."

"What an unbelievable person and player he was."
Niklas Kronwall:
"He was definitely the guy that I looked up to, and kind of idolized I guess."

"It's a sad day for Red Wings hockey."
A sad day it is indeed, but it's one that we knew was coming. Instead of drowning in the sorrows of life without Lidstrom, we should celebrate the career he graced our lives with. He gave us 20 years of successful Red Wings hockey. He gave us his all.
Thank you, Nicklas Lidstrom for 2 decades of excellence. We are truly blessed to have had the opportunity to watch you play. You will live on in the form of your legacy as that of arguably, no definitely, the best defenseman of all time.
Andrew is a passionate hockey fan at heart, and has been since a very young age. Residing in Michigan, he grew up with the team he currently covers at THW, the Detroit Red Wings.