Around 10 years ago this very month, yours truly was a teenager attending a preseason Sharks game. It was the first time I had ever gotten to sit in the lower bowl, just six rows off the glass. My family got free tickets from my uncle, so my older brother took me to the game. San Jose was playing the rival Ducks and if I remember right the Sharks ended up losing but I don't remember a single thing about the actual game. The only thing I remember is that Scott Parker got into three fights and was ejected from the game. That was the memorable entertainment of the evening. I got super into each of the fights. "Yeah! Go Parker! Pound him to a pulp!" I yelled timed and time again.
Ten years later reading Adrian Dater's post on Parker's difficult life after hockey and my heart nearly sank to my stomach. Had I known as a teenager that Parker would be forced from the game in his early 30's and be suffering so greatly from head trauma, well, I wouldn't have been cheering for him to pound another man to a pulp.
In Dater's column Parker mentions that he doesn't regret his role and that he would do it again. This is a common thought process for enforcers that they would sacrifice their own well being for their teammates as a badge of honor. It is certainly commendable what these types of players have done but it is time for the rest of us to save these players from themselves. Rangers' forward Tanner Glass recently commented that he hopes tough guys don't get fazed out. His opinion isn't surprising as that is how he makes a living now but consequently, it could destroy his living in retirement.
Just a few days ago, yet another former NHL enforcer has apparently committed suicide. Todd Ewen, also a former Shark was just 49-years old. Most hockey fans also remember the dark summer of 2011 when three former NHL enforcers, Rick Rypien, Derek Boogaard and Wade Belak all passed away. They were just 27, 28 and 35 years old.
Fighting Isn't Black and White
Look, this isn't an easy topic to just decide that one is against fighting. Just recently I wrote about Ryane Clowe's top five moments. One of those moments included a playoff fight with Jordin Tootoo. I remember the fight fondly. It was roughly around the same year as the preseason game with Parker's three fights.
Even today I won't deny the fact that I find certain fights, like this one a couple years ago between Jamie Benn and Joe Thornton, entertaining. But at what cost are we allowing players to continue fighting? Thornton and Benn rarely drop the gloves and aren't likely to suffer from repercussions down the line but there are still players in the league who fight on a frequent basis.
Ryane Clowe
Just one more player suffering post-career concussion effects like Parker is one too many. One more suicide is one too many. The aforementioned Clowe recently retired at just 32-years old due to concussions. Despite being a terrific top-six winger, Clowe was a consistent fighter throughout his career. When San Jose traded him part way through the lockout shortened season of 2013, Clowe had played in only 28 games but had amassed a whopping 79 penalty minutes. That is an 82 game pace of over 200 penalty minutes, which would have shattered his career high of 130.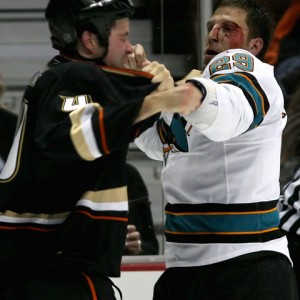 Perhaps at the time Clowe was overly frustrated having failed to score a goal all season up to that point. The previous four seasons Clowe had scored 22, 19, 24 and 17 goals. He was more than a fighter and he had so much more to give to the game than calling it quits at 32. Concussions late in his career did come from a few bad hits, but you can bet the constant fighting and punches to the head over his career did not help the past few years.
I worry about Clowe. After learning about Parker's struggles since leaving the game, I'm concerned for anyone who fought as much as Clowe did but on a personal note, the Newfoundland native is someone I used to interact with on a regular basis. During my beginning days as a journalist covering my favorite team, well, Clowe was one of the best Sharks to talk with. As a reporter Clowe was fantastic because he would always have plenty to say and wasn't afraid to speak his mind on anything. Hockey players often speak in cliches and aren't always honest. Clowe was honest, and those of us in the media appreciated that. And as a fan, how could anyone not love Clowe? He was a fantastic player that paid his dues in the minors and developed into a key player for a number of years.
The only real criticism some of us Sharks fans had with Clowe? That he fought too much. He played with the mindset of an enforcer but too often he fought players considerably less talented and the Sharks would lose the five minute trade off more times than not. If fighting were completely banned, if linesmen and referees were instructed to break things up immediately, how many more goals might Clowe have scored in his career? Sadly we will never know.
On a more positive note, fighting is on a significant decrease in the NHL and the reality is the league/sport doesn't need it. Bouts are on their way out and the league isn't losing fans or revenue. While fights have their entertainment value, you hardly ever hear someone say they were disappointed after attending a hockey game just because there weren't any fights (plus any real hockey fan would shun any casual fan for daring to speak those words). And if by eliminating fights altogether we can prevent even one more former player from what Parker continues to go though, it would be worth it.
Paul Bissonnette
Recently, the ever popular enforcer Paul Bissonnette answered questions about fighting in a column for The Players' Tribune. I would like to highlight some of what he says in his mail bag piece starting with the following:
"People who don't play sports and write articles about fighting often miss the point. If you haven't played, you don't understand the emotions involved in a game of hockey. There's no stat for sticking up for a teammate, but you bet your ass it can make the difference in the final outcome of the game."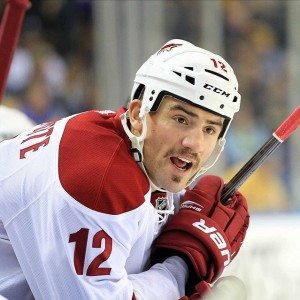 While yours truly never played professionally, I was lucky enough to play low level college and there was one game in my "career" that got extra nasty. Fortunately in this league full cages were mandatory and the referees/linesman broke up altercations quickly. At one point I came to the aid of my captain who was in an altercation with one opponent while another jumped on his back. Naturally I was irate when I saw this and jumped in to take the guy off his back. Then I started throwing punches (gloves on) to the helmet/face shield of the player that I had pulled off my captain's back. It didn't take long for the linesmen to break it up.
The point is to be had is this, am I glad this league didn't allow fighting? You betchya. I would have gotten into some real fights because I was a physical player and wore my emotions on my sleeves. But I'm glad there were rules to protect me from myself.
In writing about eliminating fighting, I'm not saying that players like Bissonnette are wrong for doing it. It is makes complete sense why they do what they do but that doesn't mean the powers at be shouldn't protect them from themselves. Not to mention fighting isn't the only way to stick up for a teammate. Throwing a big clean hit and scoring on the power play are two alternate ways to make the opposing team pay a dirty hit. It doesn't have to be the old adage of eye-for-an-eye.
Later in the same post Bissonnette writes:
"The biggest thing I look forward to in retirement is no longer having that feeling of dread on game day."
Shouldn't every professional athlete be looking forward to game days and not dreading them? If Paul feels this way about his active career, I truly genuinely hope he doesn't suffer from head trauma in retirement. But like with Clowe, I worry for him that he might suffer due to the excessive face punching. The NHL doesn't need fighting. Players are going to get heated and scrums will start, hockey is hockey, that won't ever change. Scrums and roughing minors are inevitable. However, linesmen and referees should be instructed to break up altercations immediately. Save these players from themselves and unnecessary pain that can develop later in life.