We all know that in hockey it's a lot easier to be successful when you have the puck rather than when you don't have it; I know, I'm captain obvious. In an average NHL game there are usually 50-60 face-offs and if your team is dominating in this category, chances are they will have the upper hand once the final horn sounds. Obviously there are some exceptions as hockey is as much a game of luck and good fortune as it is of skill and talent; and it's also a game of inches.
Over the next three weeks we will give you some exclusive insight into how much three NHL players value face-offs and they will give us some tips and ideas of how they approach this often overlooked aspect of the game. During the final week of the 2013 NHL season I interviewed one veteran player, one player in his prime and one young player who is still trying to become a regular in the league.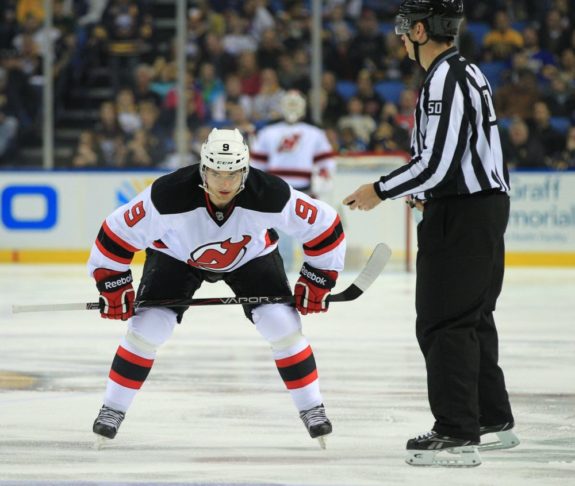 For part one of this three-part series, The Hockey Writers talked with 22-year-old center Jacob Josefson of the New Jersey Devils. In the 22 games he played in last season, Josefson took 236 face-offs, winning 114 of them (48.3%); he previous season, in 41 games, he took 354 face-offs, winning 181 of them (51.1%). The young Swede needs to stay healthy this season to secure a permanent roster spot in New Jersey, but when he is in the lineup coach Peter DeBoer has shown confidence in him enough to allow him to take plenty of draws, including some during penalty kills — which are some of the most important during the course of an NHL game.
The Hockey Writers: When you get off the bench to take a face-off what are some things that you think about?
Jacob Josefson: First thing is to recognize your opponent, whether he is a righty or a lefty. Sometimes you may just want to tie it up, sometimes if you feel really good about yourself, like it's your night in the (face-off) circle, you're confident, you try to be stronger than him. Just be strong and try to win it back to one of your teammates.
THW: As a younger player in this league, have you developed a sense of the different linesmen and how they drop the puck in the circle?
JJ: Not really, but some guys can drop the puck more centered in the circle. That's the biggest part; it's a lot better when they actually drop it in the middle so you have a fair shot at it.
As these players show, sometimes you can score a goal directly off the face-off:
THW: Is there an opponent that you seem to struggle against, that when you see him lined up against you, you think 'here we go again'?
JJ: You have those kinds of nights sometimes, but if that's the case maybe you just try to tie him up and not let him win it straight back cleanly. It's the same thing the other way around; you feel like if you own a guy in the circle, you want to win it straight back and try to not let him tie you up because that is likely what he will try to do.
THW: Do your eyes light up or get bigger when you skate into that circle against a guy you are 6-0 against that night or something like that?
JJ: Yeah, you obviously have a little more confidence in those match-ups; you feel like you start with an advantage, a great opportunity to help out your team.
THW: Who is the player or coach that has helped you the most in the circle and adapting to taking face-offs at the NHL level?
JJ: The two years that Adam Oates was here as an assistant coach, he taught me a lot about taking and winning face-offs here in New Jersey. He was a great teacher and it was great to learn some insights and tricks from him; definitely things that I still have in my head today.
Adam Oates wins a face-off & it results in an early goal against Toronto:
Next week in Part 2, we talk with Travis Zajac of the New Jersey Devils for some more face-off insights & tips.
Dan Rice can be reached via Twitter: @DRdiabloTHW or via Email: drdiablo321@yahoo.com.