While the Detroit Red Wings were able to find some success during the month of October, they were not as lucky during their 13 games in November. The team finished the month with a record of 5-6-2, placing them 14th in the Eastern Conference.
The Wings were able to snap a four-game skid in a game against the Buffalo Sabres and finish on a high note, earning points in four straight.
Turning around their fortunes may prove difficult for the Red Wings, but they looked better near the end of the month. If they are going to contend for a spot in the playoffs, they will have to start stealing some wins as the season rolls on. Let's take a look at some players who experienced success during the Wings' trying month.
Tony Wolak: Henrik Zetterberg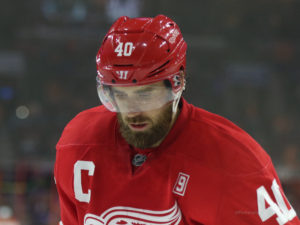 13 GP, 3 G, 8 A, 11 Pts., Plus-4
Throughout the month of November, Henrik Zetterberg was the most valuable player for the Detroit Red Wings.
In 13 games, Zetterberg led the team with 11 points–factoring in on over 40 percent of Detroit's November goals. This was a nice jump up from the captain's four-point October performance to open the season.
Part of Zetterberg's success has come from playing with Anthony Mantha and Tomas Tatar on the top line. Mantha and Zetterberg specifically have quickly formed solid chemistry, especially on the power play. In eight games alongside Zetterberg, Mantha has already scored three goals and tallied five points overall. "Z" has also produced five points in that span (one goal and four assists).
While Zetterberg is not the fluid skater he once was, it appears the rust has worn of following his offseason injury. Head coach Jeff Blashill has already moved Zetterberg back to center now that he has shown he can keep up. Time will tell if the career Red Wing can sustain this performance throughout the season, without faltering down the stretch.
Jacob Messing: Justin Abdelkader
13 GP, 3 G, 4 A, 7 Pts., Minus-2
After starting the season with just one goal in his first eight games, Abdelkader has started to find his way again. In 13 November games, Abdelkader tallied three goals and four assists to go along with a minus-2 rating.
Minus-anything is an ugly stat, but with how often the Red Wings have found themselves on the losing end this season, a minus-2 rating is pretty impressive.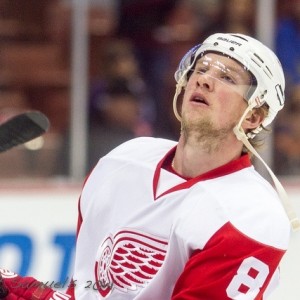 With the big-bodied winger starting to find his offensive game again, his confidence is trending upward and he should continue to work the front of the net each shift.
It's also noteworthy that four of Abdelkader's seven points have come on the powerplay, one that has struggled this season, as well.
After being named the new alternate captain to replace the leadership of Pavel Datsyuk, Abdelkader has turned a corner for the Red Wings as they continue to seek the right combinations and play to return to playoff contention.
Abdelkader's scoring and physical presence is a key to that transition and Red Wings fans undoubtedly hope this is a sign of things to come for the 29-year-old.
Tom Mitsos: Jimmy Howard
8 GP, 3 W, 2.30 GAA, .922 Sv%
Jimmy Howard started in eight games in November and won three of them. A 3-4 record doesn't look great, but considering the Red Wings averaged just 1.38 goals for per game during those eight games, the wins are a testament to how well he played.
Howard allowed more than three goals just once in those eight games — a 5-0 loss to Montreal — and other than that five-goal losing effort, Howard has given the team a chance to win each game.
Of all goalies who have played at least 300 minutes at five on five, Howard has a 94.31 save percentage, which is seventh best in the league, according to Corsica. He also owns a 92.50 four-on-five save percentage, which is fourth best in the NHL.
What's even more impressive is Howard won two shootouts during that span, which is normally the weakest part of his game. He made five saves on six shots. He looks calm and isn't overreacting to the shooter's first move, as evidenced in this shootout save against Jakub Voracek.
Unfortunately for Howard, he was injured in the Red Wings' 5-4 overtime win against New Jersey on Friday and was placed on the seven-day injury list Saturday, according to the Detroit News.
We've seen Howard start out hot, suffer an injury and fail to get back to the form he was before the injury. Most notably, during the 2011-12 season, when Howard had 31 wins entering February and then won just four games during the rest of the season after returning from an injury.
It will be interesting to see how Howard performs when he comes back from the injury, or if he will even have the starting job. If Petr Mrazek performs well, Howard may go back to a backup role.
Brandon Peleshok: Anthony Mantha
8 GP, 3 G, 2 A, 5 Pts., Even Rating
After Jeff Blashill criticized the play of Anthony Mantha during the preseason, the hulking winger headed back to Grand Rapids with a chip on his shoulder. If Blashill's aim was to light a fire under Mantha, it worked. The 23-year-old winger went on an offensive tear to start his season, notching eight goals and two assists in 10 games.
When Andreas Athanasiou went down with a knee sprain earlier in the month, the team recalled Mantha, hoping that his offensive touch would continue at the NHL level. Blashill put him in a position to succeed right away, as the 6-foot-5, 204-pound forward has played almost exclusively on Zetterberg's wing.
Though he only dressed for eight of the Wings' 13 games in the month, Mantha was able to register three goals and two assists. His 0.63 P/GP was second only to Zetterberg's 0.85 P/GP. Interestingly enough, Mantha was also the only Red Wings forward to score a game-winning goal in November.
Though it is a small sample size, his offensive contributions should go a long way in proving that he is ready for full-time NHL duty in Detroit.