The San Jose Sharks have earned themselves an interesting place in NHL history. At times, they have been unexpected overachievers, at other times, gut-wrenching disappointments. In the process, they have employed colorful characters, developed steadfast traditions, and had their share of quirky twists.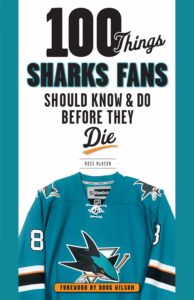 Longtime Bay Area sportswriter Ross McKeon, one the few who has followed the Sharks closely for their entire quarter century, attempts to capture these in his book "100 Things Sharks Fans Should Know And Do Before They Die."
McKeon takes a sensible approach. He avoids spending too much time telling the part of the story everyone knows. He spends his time capturing the more interesting back story. This book often has a Paul Harvey 'the rest of the story" quality to it. More than a few times, he finds a back story to the back story.
Despite the kitschy title claiming "100 things," this book is really 100 short stories. Calling them 'things' is a disservice.
Easy Reading
The book is enjoyable to read. Still, there is no sense of urgency to finish this book. There is no need to read it in the order presented. It can be digested a few minutes at a time. Certainly some stories will resonate more than others.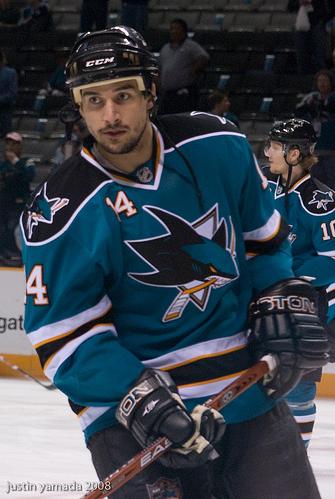 Mostly, this book is about people, even if most of the chapter titles are nominally about something else. Every good business knows it is about people. As a young beat reporter, McKeon describes how he decided following hockey was the right fit for him. It wasn't the game which made a deep early impression, it was the people.
McKeon's ability to show the joy and pain and everything in between, captures a personal side which is easily missed in sports. This comes through when he describes the challenges, real and metaphorical, of traveling to and from Moose Factory, the hometown of Jonathan Cheechoo. It comes through with the goose bumps felt by tough guy Jeff Odgers, as he recalls the team entrance onto home ice, via the now iconic shark head.  Goose bumps still felt today by an entrance last taken 20 years ago.
25 Years
McKeon and the book benefit from a pair of things. The Sharks first NHL game was played 25 years ago. This means many of the people involved in the events described are still available to offer first hand accounts and recollections. And yet, many of these same events are far enough in the past so things which were wiser left unsaid at the time can be spoken openly, even gleefully, today.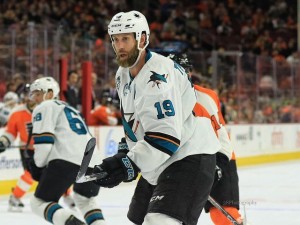 Second, by being the underdog franchise in Bay Areas sports, the Sharks had smaller than typical traveling media. This enabled better access to the players and staff than a reporter might get covering the high-profile teams. The depth of these relationships pays off, as many of McKeon's stories rely heavily on these connections and carry a level of detail rarely accessed in today's more polished sports world.
McKeon even throws in little treats for those paying extra attention. Owen Nolan is covered in chapter 11. Patrick Marleau is in chapter 12. Their jersey numbers equals their chapter number. Joe Thornton, Link Gaetz and Doug Wilson get similar treatment.
A Part of the Culture
There are plenty of facts, records, historical lists and so forth. Fortunately, these lists supplement the chapters in the book and they don't overwhelm it. There are moments and individuals I wish McKeon had included. I'm guessing he left plenty on the cutting room floor, should he one day wish to add a sequel.
The Sharks have a substantial amount of history for such a young franchise. Hockey had never succeeded in the Bay Area prior to the Sharks. The book offers insights into how the improbable became the possible. And how the possible became a success story, both on the ice and in the community. One sees the benefit of San Jose being outside traditional hockey markets, providing the Sharks freedom to innovate. McKeon shows how hard work, attention to detail and luck all played roles in the Sharks' story.
As a person who has followed the Sharks from their inception (perhaps earlier, given I voted for the venue which later became the Shark Tank), I try to weave bits of history into my work, occasionally taking a piece to look at the larger picture. Sports play a role in our society and in our lives. In that regard, McKeon's work adds nicely to the teal-colored tapestry of the San Jose Sharks.