While they are on a five game point streak (3-0-2), February was a mediocre month for the Detroit Red Wings, as the team escaped with a 7-4-3 record. Perhaps the biggest reason behind the team's subpar play for the month was Petr Mrazek coming back down to Earth. While the 24-year-old netminder has bailed out the Wings for most of the season, his play fell off in February. After posting a save percentage of .900% or better in each game during the month of January, Mrazek turned in four games where he posted a save percentage below that mark.
With the team pushing to earn their 25th consecutive playoff berth, the Wings are going to have to give their goaltending some goal support and tighten up defensively. The THW Red Wings' crew has selected three players who kept the team afloat this past month.
Brandon Peleshok: Pavel Datsyuk
Pavel Datsyuk makes his second consecutive appearance as player of the month for the Detroit Red Wings after being selected by Jacob Messing in for the month of January. The Magic Man continued to display offensive consistency, notching 12 points through 14 games. Throughout the month, Datsyuk posted three multi-point games and a seven-game point streak.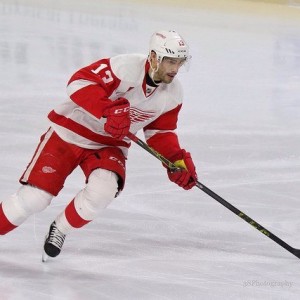 While he was producing prior to his reunion with Henrik Zetterberg, the 37-year-old center looks rejuvenated skating on a line with the Red Wings' captain. Jeff Blashill decided to let the Euro Twins to skate together in early February in a contest against the Florida Panthers. The move paid off immediately, as Datsyuk scored two goals in that game. Despite their quick impact, the center knew that he would have to continue to play well in order for the pair to remain together.
"We long time don't play. We need little bit of time, but as far as our first game, we get lots of chances. Don't forget we need lots of (shots). More shooting, more good things happen," Datsyuk told Ansar Khan of MLive
Datsyuk has proven to be a man of his word, as he lead the Red Wings in shots for the month with 57, 17 more shots than the next highest total on the team. It's entirely possible that Blashill is leaning a little too heavily on his veteran forwards at the moment, as Datysyuk (20:51) and Zetterberg (20:43) led all forwards in time on ice during the month. Blashill will likely continue to ride the hot hand, getting every bit of production out of Datsyuk that he can as the Wings push to make the playoffs for a 25th consecutive season.
Tony Wolak: Kyle Quincey
In the month of February, few Red Wings played better hockey than defenseman Kyle Quincey. Shocking, isn't it? To most Red Wings fans, if Quincey is among the top skaters on the team, something must be going wrong. Not in this case.
With Niklas Kronwall going under the knife for minor knee surgery, Jeff Blashill opted to ride the Quincey-Danny DeKeyser pairing in February. As a result, the two played solid hockey from the red line back. Quincey's defensive game was actually the strongest of the pair, in the sense that he made up for a few of DeKeyser's gaffes and was a physical presence in the Red Wings' zone.
In February, Quincey averaged over 20 minutes of ice time per game, playing as much as 23 or 24 minutes some nights. Since he does not play on the power play, all of Quincey's ice time comes at even strength or shorthanded. His +1 rating isn't spectacular, but shows that when leaned upon, Quincey plays a sturdy game on the Red Wings' blueline.
To go with his solid, in-zone play, Quincey also contributed a goal and three assists in February—the most points he's put up in any month this season. Four points is certainly nothing to write home about, but his goal definitely was. Not known for jumping up in the play, Quincey surprised the Islanders when he took a Dylan Larkin feed and buried it past Jaroslav Halak.
Heading into March, Quincey has been Detroit's best defense over the last month or so. If he can continue to play shutdown hockey with DeKeyser, the Red Wings will find themselves with three very solid defensive pairings down the stretch.
Jacob Messing: Jakub Kindl
Alright, cue the laughs. Seriously though, Jakub Kindl was Detroit's standout player of the month. Let's take a look at his point production for Detroit in February. Kindl tallied a point in half of the games he played; one assist in two games along with a plus-2 rating while averaging just 11:58 of ice time.
It's the ice time that makes his production look solid.
But in reality, Kindl is gone and that's what makes him Detroit's player of the month. He was general manger Ken Holland's only trade deadline move and it was a good one. It shows that Holland is looking towards the future. A future where Danny DeKeyser, Riley Sheahan, Teemu Pulkkinen and Petr Mrazek all need new contracts ahead of the 2016-17 season.
Freeing up just over $2M in cap space is a bonus for Detroit. Sure, Holland retained $360,000 of Kindl's contract for the end of this season and next, but the extra $2M allows quite a bit of wiggle room for a team this high against the cap.
Don't forget that moving Kindl means freeing up a defensive spot for next season, as well. With Ryan Sproul, Nick Jensen and Xavier Ouellet all becoming waiver-ineligible after training camp this coming September, Detroit has some choices to make.
Without Kindl, with Kyle Quincey most likely moving on and Danny DeKeyser and Alexey Marchenko singing new contracts, that leaves DeKeyser, Marchenko, Mike Green, Niklas Kronwall, Jonathan Ericsson, Brendan Smith as the six defensemen; which leaves room for one of Sproul, Jensen and Ouellet to make the team out of camp.
Replacing a young defenseman with Kindl solves cap problems, defense holes and the problem of watching Kindl struggle to find some playing time outside of the doghouse he's been I for the past three seasons.