You might as well call the Dallas Stars the Allas Stars because since the calendar turned to 2016 there has been no "D" in the Stars' game. No team in the NHL has allowed more goals since January 1st and the Stars were starting to feel the pressure.
At the trade deadline, they decided to go after Kris Russell of the Calgary Flames. They landed him, but at a steep price. The Stars gave up Jyrki Jokipakka, Brett Pollock and a 2nd round draft pick (that becomes a 1st if the Stars win two playoff rounds).
The Stars gave up a ton for Russell. Let's get into the details of this trade, focusing on Russell and what he will bring to Dallas.
The Positives
Why don't we start with the positives? Kris Russell has gotten used to playing a ton of minutes in Calgary and likely will get an opportunity to dial that back in Dallas. He has averaged almost 22.5 minutes a night this season which would place him behind only John Klingberg and Alex Goligoski in Dallas. The Stars needed a minute-eating defenseman as it takes some pressure off of their top-pairings.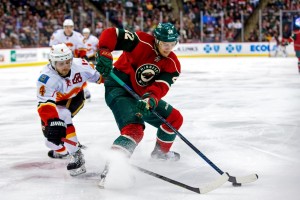 Another thing Russell adds to the picture is penalty-killing. The Stars have been atrocious shorthanded this year (24th in the NHL in PK%) and really needed another defenseman to lighten the load of Goligoski, Jason Demers and Johnny Oduya. Those three players were racking up a ton of ice time shorthanded this season. Russell would actually rank first on the Stars in goals-against-per-60 minutes on the penalty-kill. He should provide a big boost to that group.
Lastly, he is a veteran with playoff experience and can provide another voice of leadership in the Stars locker room. By most accounts around the league, Russell is a battler who gives up a ton for his teammates. Other than the shot-blocking, some of what Russell brings to the table likely can't be seen on a stat sheet.
The Negatives
The big issue when it comes to Russell is his much talked about possession numbers. They are quite brutal.
One thing to note, the Flames are a poor possession team and the Stars are an excellent possession team. Those facts alone would benefit the Stars' raw statistics and hurt the Flames. Instead, we will look at their performance relative to the rest of their team.
Unfortunately for Russell, that doesn't make things much better. Russell has posted a -5.58 Corsi-for-% relative to the rest of his team so far this season, meaning the Flames have a 5.58% higher Corsi-for when Russell is off the ice than when he is on it. That number is lower than all current Stars defensemen except for Jordie Benn and that includes Jokipakka.
Scoring chances against tell a similar story. Russell's scoring-chances-for-% at even strength is -4.39 relative to his teammates which would be the lowest on the Dallas Stars. Jordie Benn would be next-in-line with a -3.83 SCF%rel.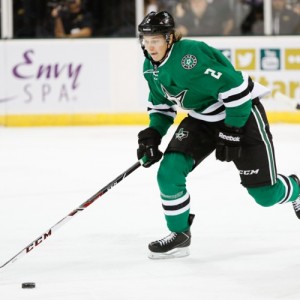 While Russell does block a ton of shots, a lot of that can be attributed to how often he is in the defensive zone. A 43.62 even-strength-Corsi-% is rough, no matter how you look at it. The possession numbers make this trade look like a steal for the Flames.
It's a Gamble
The Stars are hoping for a few things. For starters, they are hoping Russell continues to be a strong penalty-killer and provides a strong voice in the locker room. The big hope is that Russell can play a much better puck-possession game on a much better puck-possession team. Obviously his numbers will go up being in Dallas, it is the numbers relative to the rest of the team that we will have to keep an eye out for.
I was not a fan of this trade for Dallas when it initially went down. The price was incredibly high and seemed to be a desperation move by a team who is struggling to keep the puck out of their own net. When looking at trades, all we really have to go off of is past performance and Russell doesn't look like he was worth the price that general manager Jim Nill paid. That being said, there are many games left to play this season. Russell could end up being exactly what the Stars needed to get the "D" back in Dallas.
Thank you for reading. Follow me on Twitter at @jordan_dix and comment below or Tweet at me with your thoughts on the trade.