Now that Pavel Datsyuk has retired from the NHL and the Detroit Red Wings have made moves in an attempt to move on, they are left without an alternate captain (yes, alternate captain, not assistant captain). The Russia-bound Datsyuk wore the "A" for the Red Wings entering the 2006-07 and did not relinquish the role until he announced his retirement earlier this summer. Now, the Red Wings will need to choose another player to serve as the alternate captain.
Since Brendan Shanahan arrived in Detroit prior to the 1996-97 season, only six players have served as full-time alternate captains. The new choice for the "A" will join Shanahan, Nicklas Lidstrom, Henrik Zetterberg, Kris Draper, Datsyuk and Niklas Kronwall as the only players to hold the title full-time in the past 20 years.
In this week's edition of The Grind Line, the Red Wings coverage team for THW discusses their picks for Detroit's new alternate captain. Be sure to share your thoughts on our picks by commenting below.
Tony Wolak: Justin Abdelkader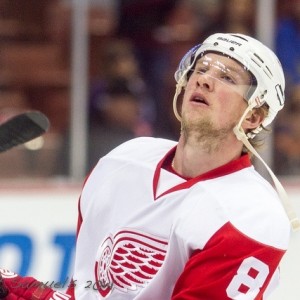 Though the formal announcement will likely be coming during training camp or just prior to the season opener, Justin Abdelkader seems to be the favorite choice to become Detroit's newest alternate captain. Abdelkader, 29, is a Michigan native and will be entering his eighth full season with the Red Wings. Formally a "piano mover" for Datsyuk, Abdelkader has developed into a goal-scoring power forward with the Red Wings. His physical play, offensive skills and ability to play impact minutes is somewhat reminiscent of a former fan favorite in Detroit: Darren McCarty.
Now one of the veterans of the team, Abdelkader has assumed a leadership role with the Red Wings. He's also among the ice time leaders for forwards each game—playing on the top line at even strength, on the penalty kill and in front of the net on the power play.
Abdelkader is a great choice to become the next alternate captain for the Red Wings. He's already a team leader and receiving the "A" is an accurate reflection of his impact on the team on and off the ice.
Finally, there is one dark-horse candidate to become the next alternate captain that most fans wouldn't guess: Jonathan Ericsson. Though he is past his prime and slipping back into defensive liability mode, Ericsson has worn the "A" in the past for the Red Wings when others were out of the lineup. Don't be overly surprised if the veteran sports the letter come opening night.
Jacob Messing: Frans Nielsen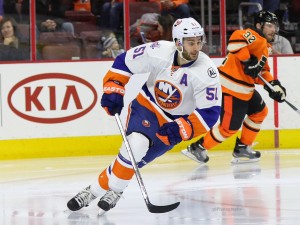 It's not exactly common for hockey teams to hand out a letter to the new guy. Part of that is due to the relatively small turnover of letters (excluding San Jose) on a team from year to year.
Another part of it is that letters aren't handed out, they're earned, and it's hard for a new guy to earn a letter when he hasn't even had the opportunity to do so.
Realistically, Abdelkader seems primed to take on the responsibilities of an alternate captain with increased ice time over the past two seasons and breaking out to be a regular contributor on the offense.
Some of the best leaders lead by example and Abdelkader plays a style the Red Wings would like to become more of; a big, gritty, hard-nosed team.
But players have their own style and when you're not a hitter, you're not going to hit. Datsyuk wasn't a hitter, sure, he drove opponents crazy attempting to hit him and when he wanted to he could throw a big hit, but that wasn't his style.
That's where Frans Nielsen comes in — the guy I believe to have been the closest all-around free agent to Datsyuk this summer. Granted, Nielsen isn't the electric scorer Datsyuk was, he compares to him in a few key facets of the game.
Some of those comparisons include their two-way style, on-ice vision, shootout success (Nielsen holds NHL record for most career shootout goals even though Datsyuk holds NHL record for most career shootout attempts) and perhaps the most important to the Red Wings: faceoff ability.
| | | | |
| --- | --- | --- | --- |
| Player | Faceoffs | Faceoff Wins | FO% |
| Pavel Datsyuk | 1116 | 599 | 53.7% |
| Frans Nielsen | 1169 | 586 | 50.1% |
On the leadership side of things, Datsyuk spent the last 10 years as an alternate captain for the Red Wings. Nielsen spent the last three seasons as an alternate captain for the Islanders (was also an alternate captain for a year two years prior to being named as a full-time alternate captain).
Now, just because a player compares to the former who wore that letter doesn't mean he deserves to wear it. But let's go back to how some of the best leaders lead by example.
It's much more reasonable to think that Nielsen's back-checking, two-way style of play could rub off on teammates than to think Abdelkader's hard-hitting style could influence teammates to start throwing the body.
Craig Peterson: Darren Helm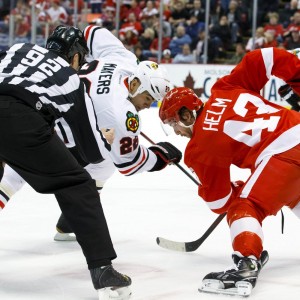 As a betting man, the odds-on favorite for the vacant captaincy has got to be Abdelkader, but is it such a shoe-in?
Ken Holland committed to Darren Helm with a significant, long-term deal to the tune of $19.25 million over the next five seasons. The 29-year-old was a draft pick of the Wings in 2005, a homegrown talent who's been in the organization for more than a decade. His new deal keeps Helm in the Motor City for the extended future and putting a letter on his jersey shouldn't come as much of a surprise.
Helm has served as an alternate captain in preseason games, going as far back as when guys like Kronwall or Datsyuk were absent in years past, so there already is a sense of leadership instilled in the veteran and a vote of confidence from the organization.
Helm is a workhorse and does a lot of the dirty work with a speedy forecheck, blocking shots and playing in a variety of roles from both the wing and center position. In a lot of ways, he reminds me of what Kris Draper brought to the table as an alternate captain in 2006-07 under Nicklas Lidstrom.
Geoffrey Chiles: Darren Helm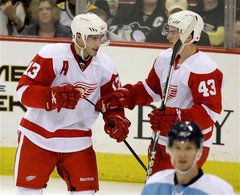 The American blues singer Albert King once crooned: "If it wasn't for bad luck, I wouldn't have no luck at all." That line sums up the luck of Darren Helm, who first played for the Red Wings during the 2007-08 season, participating in 16 games and scoring one point during the Stanley Cup run. Since then, Helm has only really completed one full season in 2010-11; and a low point of one game in 2012-13 due to a mysterious back injury.
Helm has four seasons to his name where he played in 70 or more games, though the last two he's played in 75 and 77, respectively. It appears he's finally surmounted a variety of strange injuries (sprained MCL in left knee, fractured cheekbone, lacerated tendons in forearm, a concussion and a sprained shoulder) that would have most medical professionals scratching their heads.
Helm collected a career-high 33 points in 2014-15, and he's morphed from a grinder in the early stages of his career, to now playing an important role within the top-six forward group, counting valuable minutes on the power play and penalty kill. With Datsyuk gone, it is Helm's time to adopt a vocal leadership role on the ice and in the locker room.
The 29-year-old winger may be counted on to play second, even first-line, minutes on a line with Nielsen and Tatar. Between the playoff wars, battle scars and increased offensive expectations, Helm has seen—and survived—it all. His is a voice that would be respected. Helm is next in line to wear the "A," accepting a torch that's been passed from Shanahan, Lidstrom, Draper and others.
Brandon Peleshok: Justin Abdelkader & Danny DeKeyser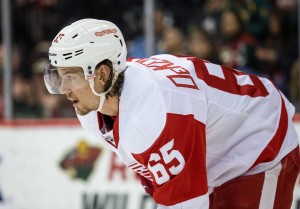 Brandon suggested that Justin Abdelkader and Danny DeKeyser alternate the alternate captain role, depending on whether the Red Wings were at home or on the road. DeKeyser would be the alternate captain at home and Abdelkader would wear the "A" when the Red Wings were playing in Hockeytown.
Who do you think will be the next Red Wings alternate captain? Comment below or tweet @THW_RedWings to share your thoughts.