The more things change, the more they stay the same. No, it wasn't the splash Detroit Red Wings fans wanted from GM Ken Holland. The team's free agent acquisitions last Friday flew under the radar after Steven Stamkos decided to remain in Tampa Bay. 
(Check out Tony's article from last week, breaking down all of the re-signings: A Breakdown of Red Wings Free Agents)
Disappointment notwithstanding, the main crop of free agents taking their talents to the Motor City will be expected to produce. They'll have roles, mixing and matching on line combinations and giving head coach Jeff Blashill freedom to plug them in with younger players and be called upon in certain situations. This week in our Grind Line column, our writers examine the new free agent signings and where they'll best fit come October.
Geoffrey Chiles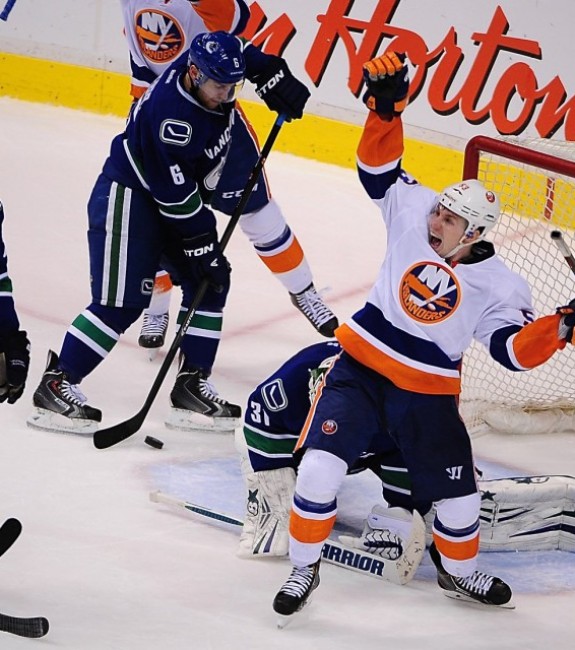 There aren't many who can replace the legend that is Datsyuk, but Frans Nielsen plays with speed and a two-way game. Where, and with whom, does Nielsen belong? Blashill must insert Nielsen where he fits best, complements his wingers, and allows for a smooth transition. Slotting Nielsen as a second-line center gives Zetterberg the number one center job, and on the same line with Larkin (still too young to foist full-time center duties onto just yet), Nielsen should center a line with Darren Helm on the left wing and move Tomas Tatar to right.
Nielsen dished out 32 assists last season. Helm is no John Tavares, but Blashill should have confidence that Nielsen's zone awareness and slick passing pairs up nicely next to Helm's speed and penchant to find open ice. Nielsen could also be a calming, veteran presence who also helps boost Tatar's scoring even more.
Thomas Vanek scored 25 or more goals in seven straight seasons in Buffalo, but has endured a drop-off recently; however, he racked up 41 points on a very bad Minnesota team. Where should he go? The right-handed shooting Austrian can still create offense and jet up ice when he wants to. As good a season as Justin Abdelkader enjoyed, he may have to slide over to right wing on the third line to make room for Vanek. Luke Glendening is an intelligent player and timely passer whose style and numbers would go up having Vanek on his left wing.
The Wings' fourth line is pretty set right now, with Andreas Athanasiou, Riley Sheahan, and Tomas Jurco. But the big knock on the Wings the last few seasons is lack of grit and physical presence. They now have a little more of that in Steve Ott; Ott can play center, left wing, or right wing. Whether he makes the team right away or only plays on the fourth line sparingly, he'll be able to contribute solid minutes on the penalty kill. Ott is a grinding player whose style will mesh well with Athanasiou's speed, mucking it up in the corners and finding Athanasiou and Sheahan in the open areas.
Brandon Peleshok
Frans Nielsen: Heading into free agency, Holland's top priority was minimizing the impact of Datsyuk's departure. Nielsen was (arguably) the best center available via free agency. The 32-year-old Dane shares similar traits with the Magic Man – he's an adept playmaker, has a wicked backhand shot and can play a 200-foot game. The term is a bit much, but the skilled center looks as if he'll fit in nicely in Detroit.
Nielsen will serve as a second-line center, and I expect to see Tomas Tatar next to him come October. While Blashill has several top-six options available, it wouldn't shock me to see Darren Helm as the other winger on Nielsen's line. I've argued against using the speedy forward in a top-six role in the past, but I'm expecting Blashill to spread his offensive players throughout the lineup. Helm as the "piano-puller" on a line with Tatar and Nielsen makes sense, even if it's not a popular choice.
Thomas Vanek: Thomas Vanek hit the market after the Minnesota Wild elected to buyout the final year of his contract. Holland saw an opportunity and was able to snag the goal-scoring winger for at a low price. With just one year on the deal, the Wings are hoping they have a motivated player on their hands. He's not the offensive threat he was during his time in Buffalo, but Vanek is coming off a 41-point season with the Wild. That kind of production is underwhelming at $6.5M per year, but the Wings would welcome it for the $2.6M they will pay Vanek next season.
In the right situation, Vanek could flourish with the Wings. The trio of Vanek, Riley Shehan and Gustav Nyquist would give the team a potent third line, and keep the 32-year-old Austrian away from tougher matchups. Though Nyquist has played the role of sniper at the NHL level, his underrated playmaking ability could complement Vanek's ability to find the back of the net.
Steve Ott: For his final trick, Holland made… Steve Ott appear. Sure, signing a 33-year-old agitator in the twilight of his career is a questionable move. However, at just 800K for one year, it's a low-risk deal for the Red Wings. If management feels Ott hasn't done enough to earn a spot out of training camp, they have the option of waiving him and burying his entire salary. Not to mention, the guy makes it kind of tough to root against him. It's difficult to envision Ott playing anywhere other than the fourth line, along with Luke Glendening and Drew Miller. Assuming he can stay healthy, the veteran forward should provide leadership, grit and the gift of gab.
Tony Wolak
When training camp gets underway for the Detroit Red Wings, coach Jeff Blashill will be afforded the opportunity to mix and match his players. And once newcomers Thomas Vanek and Frans Nielsen return from the World Cup of Hockey, they'll settle into their new roles with the Red Wings.
Since they'll be joining late, I envision that Blashill will put Nielsen and Vanek on a line together, alongside Tomas Tatar, to start. Though not the ideal line, this would allow Henrik Zetterberg, Dylan Larkin, and Justin Abdelkader to rekindle their line's chemistry upon returning from the World Cup of Hockey as well.
However, once everyone is up to speed on the Red Wings' system, the lines could shake out with Nielsen centering Zetterberg and Gustav Nyquist on the first line. Additionally, Vanek would find himself on the third line flanking Riley Sheahan to the left and Darren Helm on the opposite wing. For those keeping score at home, these lines would leave Tatar, Larkin, and Abdelkader on the second line and some combination of Luke Glendening, Drew Miller, Tomas Jurco, Andreas Athanasiou, and Steve Ott to make up the fourth line. Vanek and Nielsen will also get their fair share of power play time as well.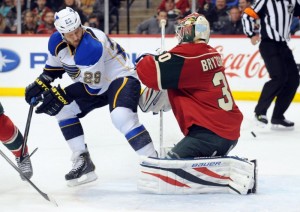 Unless a trade is made, it's entirely plausible the Anthony Mantha will start the season in Grand Rapids. Detroit slowly progressed Nyquist in the past, so having Mantha start the year with the Griffins could further aid his development. And finally, with Teemu Pulkkinen out for up to six months, he won't be factoring into the roster equation just yet.