The Detroit Red Wings have signed Frans Nielsen to a new six-year deal. According to General Fanager, the deal is worth a total of $31.5 million and carries a $5.25 million cap hit through the 2021-22 season.
Moving into the offseason the Red Wings had one job, find a replacement, or as close to a replacement, for Pavel Datsyuk.
After it was announced that Steven Stamkos, this year's prize hog, would re-sign with the Tampa Bay Lightning the Red Wings had to look elsewhere to fill the whole at center. Enter Nielsen.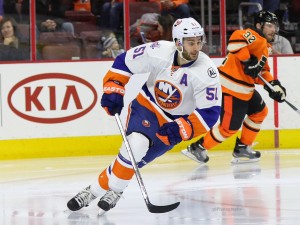 Nielsen put up 20 goals and 52 points in 81 games for the New York Islanders last season. The centerman has a knack for finding players in scoring areas and has reached as high as 33 assists in a season and hit the 32-assist mark last season. He should slide in nicely between the likes of Gustav Nyquist and Tomas Tatar.
Nielsen, who was an alternate captain for the Islanders, has spent the last ten seasons in New York, the team that drafted him at number 87 overall in the 2002 draft. It's a nice payday for the 32-year-old, who was making $2.75 annually with the Islanders.
Overall, it was a nice payday for the 32-year-old, who was making only $2.75 million annually with the Islanders.
The Red Wings have locked down a solid two-way player in Nielsen who should get plenty of ice time in all situations for the Red Wings. He will also prove to be a nice buffer for Detroit who has players like Henrik Zetterberg on one end of the spectrum and Dylan Larkin at the end of the spectrum when it comes to age.
Missing out on Stamkos is definitely a hard loss to stomach. But grabbing Nielsen coupled with the signing of Darren Helm to a new five-year deal, has the Red Wings moving forward in the post Datsyuk-era in Detroit.