Alexander Burmistrov is a former top-10 pick, going eighth overall in the in the 2010 NHL Entry Draft. The Atlanta Thrashers had huge hopes for the superstar Burmistrov would develop into, as did Winnipeg Jets fans when the franchised moved to the Manitoba capital. However, just six years and 275 total NHL games later, Burmistrov may be facing his last chance in the NHL this season.
The Winnipeg Jets roster is finally growing in to what fans expected since the team arrived in Winnipeg. The stocked shelf of prospects is emptying, and those prospects are ending up in the Jets lineup. With the influx of young talent, combined with some savvy bottom-six free-agent signings by general manager Kevin Cheveldayoff, some players are being pushed out of the Jets lineup. One of those players may be Burmistrov, who has failed to make a real impact in either of his two stints in Winnipeg. This year will be huge to the future of a player who was once supposed to be a superstar in this league.
Burmistrov: the Beginning
Coming into the 2010 NHL Entry Draft, which was highlighted by Taylor Hall and Tyler Seguin going one/two, Burmistrov was a consensus top-10 pick. He was ranked sixth by The Hockey News, and according to a draft profile from the Bleacher Report, the only negative in Burmistrov's game was his size. Taken before names such as Mikael Granlund, Cam Fowler, Jaden Schwartz and Vladimir Tarasenko, the Russian forward was expected to immediately step into the Thrashers NHL lineup and make a difference.
The speedy 18-year-old showed flashes of skill in his first NHL season in Atlanta, scoring six times and adding 14 assists in 74 games. For the 2011-12 season, Burmistrov and his Thrasher teammates moved to Winnipeg and became the Jets. During his sophomore season, the totals went up, scoring 13 times and adding 15 assists. Jets fans were treated to his immense skill with the puck, and his willingness to play far more physical than his 6-foot-1-inch frame would suggest. However, reports began to surface about clashes with head coach Claude Noel about playing style and ice time. This rift continued to grow into his next year and following the 2012-13 season, Burmistrov returned to Russia to play at home.
Burmistrov found a home with Kazan Ak-Bars of the KHL while in Russia and he put up a couple decent seasons. In 107 regular season games over two seasons, the young winger scored 20 times and finished with 63 points. Burmistrov did enough to earn a spot on the Russian national team for the World Championships in both years. It was at these tournament that North American fans saw his development. Burmistrov had accepted a role in the bottom six, and had become a very good defender. This paved the way for his return to the NHL.
The Return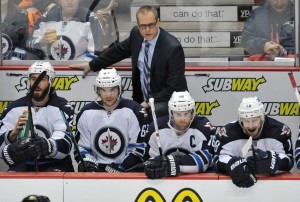 Though his contract had run out, the Jets still held the rights of the Thrashers former first round pick, making him a restricted free agent. Heading into the 2015-16 season, there had been some changes in Winnipeg. Claude Noel, the coach that was believed to have had the conflict with Burmistrov, was gone, replaced with Paul Maurice. Maurice spoke highly of the Russian forward that had spent two seasons in the KHL and it appeared a reconciliation between the team and the player was possible.
What helped make this happen was the hole in the Jets roster. After competing in the playoffs the season before, the Jets had allowed free agents like Lee Stempniak and Jiri Tlusty to walk away, creating openings for forwards in Winnipeg. That chance, the change of coach and the change in attitude of the 24-year-old combined to make his return possible.
Burmistrov signed a two-year, $3.1 million deal on July 1, 2015, returning to Winnipeg and the NHL. Fans were excited to see the young player return, his obvious skill and potential was still there, and with Maurice as his coach, he was expected to receive a larger role.
Nothing turned out the way the Jets and their fans expected, however. The team disappointed on many levels, and Burmistrov was among those who had a disappointing season. He still managed seven goals and 14 assists, much of it near the end of the year, but he did not live up to hopes or expectations. That will put a ton of pressure on the young winger for this coming season. This year will be the last under his current contract and Burmistrov may be playing for his NHL life.
After having his spot pretty much guaranteed last year, the competition for Jets roster spots this year will be very tight. Winnipeg will add two draft picks, Kyle Connor and Patrik Laine, who will both likely have spots to start next year. The Jets also signed Shawn Matthias and Quinton Howden, who will put pressure on the incumbents for NHL roster spots. The list of incumbents is no short list either; Stafford, Lowry, Armia, Peluso, Thorburn, Dano, Copp, Petan and J.C. Lipon. All these players will be fighting for at most four or five spots. Good season or not, Burmistrov's time in Winnipeg may be coming to an end, but if he doesn't show something this year, his time in the NHL may be done.