Christopher Ralph is a sportswriter with a focus on hockey prospects, the entry draft, as well as occasional Flames coverage here at THW.
"Full Potential" Prospect Profile:
Please "Click Here" for "Notes Up Front" and the "Legend" for various topics covered below in my "Live Updated" NHL 2010 Draft Preview article.
Alexander Burmistrov (Click on name for up- to- date stats)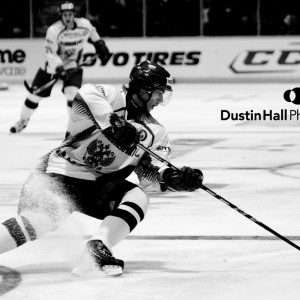 Date of birth: October 21, 1991
Place of birth: Kazan, USSR (now Russia)
Ht: 5-11.25 Wt: 157
Shoots: L
2009-10 Team: Barrie Colts (OHL)
NHL Status: Draft Eligible 2010
One-Timer:
Perhaps the biggest question when considering prospects such as Burmistrov is a phrase I have coined "Russian Roulette", rather than simple the Russian factor which many other scouts/writers use. This places an even great emphasis on the potential risk involved with Russian prospects, even more so in recent years. (See "Russian Roulette" section below for further discussion).
While Burmistrov may not reach even 75% of the level with which they play, he might be best described in the mold of former Russian great Igor Larionov and present NHLer Pavel Datsyuk.
He will have to beef up to take on the rigors of the big league, but his work eihic suggests this won't be a big issue for him.
Russian Roulette:
Some call it the infamous Russian Factor. Because of developments in recent years such as lack of transfer agreement and the KHL enticing players, I go as far as calling it the "Russian Roulette" Factor.
Burmistrov might be the exception to the rule and might not need to worry about his desire to play in NHL. He told NHL.com: "I don't know, I really wanted to play in OHL and Canada. It's my dream to play NHL. My father played before hockey and told me, it's okay, you want play NHL, you go play hockey in Canada."
The National Post featured him in a story that further attests to his desire to play in the NHL (removed broken link)
Scout's Honor:
"You have to see this scout in Under Armour to understand what he needs to do. I don't care how dynamic you are, he's 146 pounds and built like Gilligan. But I like his compete level."
– A scout  in The Hockey News Draft Preview 2010 (Surprising that they actually rank Alex 6th overall)

"He's like a water spider out there on the ice. Light on his feet, but he's got a venomous strike like a snake when he goes on the offense. Speed and agility, great fakes and he'll bring players, fans, alike out of their seats. I'd compare him with a (Alexei) Kovalev, (Sergei) Samsonov or (Maxim) Afinogenov."
– E.J. McGuire, Director of Central Scouting

"He's got a great hockey IQ, and is a wonderful skater. He has a habit of playing well above his size and has a great feel for timing on the ice. He battles hard and is continually working on his shot to become an effective scorer, but he is a great passer and has great vision on the ice." – Barrie Colts head coach Marty Williamson

"Burmistrov is very skilled with the puck and able to make plays while at top speed, and does not panic when under pressure. Burmistrov is a speedy offensive threat who really takes advantage of the space his teammates can make for him. He has tremendous offensive instincts and is tenacious in offensive situations. A calm and calculated player during zone play, Burmistrov has outstanding edge control and balance and can change his pace before defenders can even think to adjust."
– International Scouting Services NHL Draft Guide 2010
Current Season:
2009-10:  Alex averaged over a PPG, notching  65 points (22 G, 43 A) in 62 games with the Barrie Colts (OHL). He maintained his production in the postseason with 16 points (8 G, 8 A) in 17 playoff games.
Scouting Combine Performance:
5th in Aerobic Fitness: VO2max (ml/kg/min)
3rd in Musculoskeletal: 4 Jump (Mat) Mode: Ground Time (sec)
International Tournaments:
Alex notched 3 goals and added 1 assist in 6 games for Russia at the 2010 World Junior Championship in Saskatchewan.
At the 2009 Under-18 World Championships, Burmistrov won a silver medal with Russia registering 11 points (4 G, 7 A) in 7 games along the way.
ETA = 3 yrs
Risk-Reward Analysis: Risk = 3/5*   Reward = 5/5
*Relatively high risk rating only because of the discussed mentioned "Russian Roulette" Factor.
NHL Potential: 2-Way Playmaking Centerman
Strengths: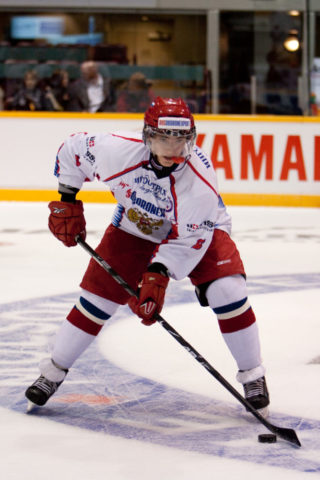 Hockey IQ off the charts
Superb stickhandling
Majestic playmaking ability
Speed to burn
Excellent in all three zones
Can play in any situation
Good faceoff technique
Low centre of gravity makes him tough to knock off puck.
Outstanding work ethic (tireless worker in practices)
Flaws/Aspects He Needs To Work On:
Continue to train to increase strength and mass to very lean build.
Consistency.
Maximizing utilizing teammates.
Fantasy Hockey Potential: Offensive = 8.5/10   Defensive = 8/10
NHL Player(s) Comparison:
– At his best: Pavel Datsyuk
Video(s):
The Hockey News feature (THN Video)
Interesting Notes:  (NHL.com)
"He wears the jersey number eight as a tribute to former Russian NHL star Igor Larionov and he patterns his game after his favorite player, Pavel Datsyuk."
Other Rankings:
CSB: 11-NA (Apr '10)
ISS: 14
TSN: 9 {Bob MacKenzie}
McKeens: 13
THN: 6
THW:  13  (June  '10) {Christopher Ralph }
*For all the latest prospect and draft news follow me on Twitter: The Hockey Spy