Christopher Ralph is a sportswriter with a focus on hockey prospects, the entry draft, as well as occasional Flames coverage here at THW.
"Full Potential" Prospect Profile:
Please "Click Here" for "Notes Up Front" and the "Legend" for various topics covered below as covered for the NHL 2009 Draft rankings. There are some modifications and additions in the profiles, so stay tuned for a live updated article dedicated to the NHL 2010 Entry Draft.
Ryan Johansen (Click on name for up- to- date stats)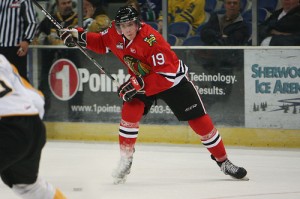 Age: 17
Born: July 31, 1992 in Vancouver, British Columbia
Height/Weight: 6-2/192 pounds
Position: Center
Shoots: Right
2009-10 Team: Portland (WHL)
NHL Status: Draft Eligible 2010
One-Timer:
No player in this draft has rocketed up the rankings and charts of hockey scouts like Johansen in the past year. His hockey evolution has been nothing short of phenomenal.
As OregonLive reported:
Johansen very nearly never made it to Portland.

Northeastern University came knocking. The Division I school in Boston offered Johansen a scholarship starting in the 2010-11 season.

Penticton coach Fred Harbison said Johansen was overlooked as a younger kid, playing for a small hockey association in his hometown, but his talent emerged as his confidence grew.

"He started to make plays that you can't teach," Harbison said. "He started as a third- or fourth-line player that ended up playing on the second line and the power play."

It wasn't until Johnston traveled to see Johansen play in Vancouver, B.C., last summer that he sold the youngster on joining the Winterhawks.

"When I saw him play with some pro guys in Vancouver, I knew right away from seeing his puck protection and vision that he was going to be a good player in this league," Johnston said.

The promise of the opportunity to play on one of the Hawks' top two offensive lines sealed the deal for Johansen.
Big and talented 1st or 2nd line centermen are tough to come by and thus Johansen will be a hot commodity come June 25th.
The only cautionary note some scouts might make is the fact that he has come so far so fast – can he really continue on this amazing evolutionary trail. Those close to and know Johansen well, however, will quickly refute this notion.
Ryan actually has a connection to my hometown of Grand Bank, Newfoundland given that he's a first cousin of a good friend of mind.
Scout's Honor:
* "He has good on-ice vision and also angles well on the forecheck. He has the intelligence to play power-play as well as penalty kill. He can be shifty and has the ability to beat a defenseman one-on-one. Once he fills out and gains more strength he could turn raw talent into a valuable center at both ends of rink. He has displayed nice playmaking capabilities and this should continue at the next level."
– B.J. MacDonald, NHL Central Scouting

* "He has the size and skill to go along with great playmaking abilities. He has strong offensive skills and can prove to an un-hittable target at times when he controls the puck. Johansen has a very good frame and still has lots of room to build on it, add to this the fact that Johansen can be very crafty with the puck and really challenge opposing defenders to contain him and you begin to see his NHL appeal."
-International Scouting Services 2010 NHL Draft Guide

* "Ryan Johansen has really good vision. He's a prototypical big center – good hands, good vision, distributes the puck well, and protects the puck well in order to make plays. He's a young kid who we use in a lot of different situations, the power play, penalty kill and key faceoffs."

– Portland Winterhawks head coach and GM Mike Johnston
Current Season:
2009-10:  Johansen averaged nearly a PPG with 69 points in 71 regular season games with Portland. He was also a +17. The Winterhawks young pivot took his game to another level playing with winger Nino "El Nino" Neiderreiter in the WHL playoffs. He notched an impressive 18 points in 13 games in the postseason.
Other accomplishments:
Ryan suited up for Team Cherry at the 2010 CHL Top Prospects Game.
Bio/Interview(s)/Link(s):
Johansen and Neiderreiter interview each other (NHL.com)
Scouting Combine Performance:
Ryan measured the 8th widest wingspan.
2nd in Musculoskeletal: Left Hand Grip (lb)
6th in Musculoskeletal: Vertek Vert Jump/Pause (in)
9th in Musculoskeletal: Vertek Vert Jump/No Pause (in)
10th in Musculoskeletal: Vertek Leg Pwr Peak (Sayers)/Pause (watts)
9th in Musculoskeletal: Vertek Leg Pwr Peak (Sayers)/No Pause (watts)
International Tournaments:  N/A
ETA = 3-4 yrs
Risk-Reward Analysis: Risk = 2/5   Reward = 4/5
NHL Potential: 1st or 2nd line big two-way playmaking centerman
Strengths:
*See "One Timer" section above.
Creativity
Puck protection
On-ice vision
Playmaking ability
He is not aggressively physical, but doesn't shy away from physical play especially when he has the puck – if he is hit, he'll definitely hit back.
Consistency
Leadership skills
Flaws/Aspects He Needs To Work On:
Like many players at this level and even more so in his case, Ryan needs to fill out physically and work on his defensive play.
Fantasy Hockey Potential: Offensive = 8.5/10   Defensive = 8/10
NHL Player(s) Comparison:
– At his best: Eric Staal
Video(s):
Interesting Notes:  (NHL.com)
He patterns his game after his favorite player, San Jose Sharks forward Joe Thornton – "I go on NHL.com every once in awhile and try and watch his games and just learn tips from him kind of. He's outstanding to me, his play-making ability and vision just blows me away."
Johansen on his style of play: "Well, I see myself as a Joe Thornton or a Ryan Getzlaf style of player. Playmaking ability and hockey sense and vision and my puck control I think are my four biggest attributes to my game."
Other Rankings:
ISS: 8 (June '10)
CSB: 10-NA (Apr '10)
TSN: 19 {Bob MacKenzie}
McKeens: 8
THN: 12
THW: 10 (June  '10) {Christopher Ralph }