During the first 10 games of the 2015-16 season, the Injury Ninja has run rampant through the University of North Dakota locker room. The Green and White can't catch a break. UND athletic trainer Mark Poolman has been one of the busiest people on UND's staff.
When the season started, UND had four goalies on their roster. Freshman goalie Matej Tomek started the season on the shelf after having offseason surgery. Sophomore goalie Cam Johnson was penciled in as the starter and was expect to battle with Tomek for the starting position once he was healthy. After 10 games, Tomek has yet to play and Johnson is recovering from a lower-body injury.
Like the two previous seasons, Matt Hrynkiw started the season as the third-string, walk-on goalie. And finally, freshman goalie Ryan Anderson was brought on to be a practice goalie until Tomek was healthy enough to join the lineup.
Hrynkiw Takes the Net
One of the beneficiaries of the injury bug has been the aforementioned junior walk-on, third-string goalie from Saskatoon, Saskatchewan. At the beginning of the season, I don't know if anyone expected Hrynkiw to play at all. Boy were we wrong.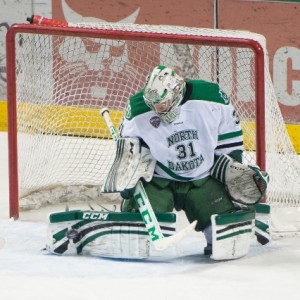 I think that it's safe to say, that the UND hockey team is happy to have Hrynkiw on their roster.
Hrynkiw has made the most of his opportunity and through eight games, he's ranked 13th in the nation for division I goalies. Hrynkiw is (6-1-1, 1.63 GAA and a .933 SV%).
Taking a closer look at Hrynkiw's numbers, they mirror former UND All-American goalie Zane McIntyre. To start the 2014-15 season, McIntyre went (7-1-1, 1.94 GAA and a .927 SV%).
Looking at last season's schedule, UND played many of the same teams this season minus Providence, and Air Force Academy.
Who Plays in Net for UND?
Tomek and Johnson are beginning to regain their health. They're getting ready to return to the UND lineup. But will they get a chance to start in net for UND?
Based on how Hrynkiw is playing, it would make little sense for the coach to just remove the hot goalie and just insert two goalies that have played very little or not at all. That's the $64,000 question: who plays in net for UND?
The UND coaching staff has one heck of a dilemma on it's hands.
"We'll deal with that day-by-day and week-by-week," coach Berry said. "This young man in net has earned himself another start in net soon."
UND's goaltending dilemma is a problem most hockey teams would love to have. You have three goalies and all of them are very capable. Again, that's a nice problem to have.
Eric is a 1996, 1999 graduate of the University of North Dakota. Eric covers the University of North Dakota Hockey and Division I college hockey. Eric is the Contributing Editor for Inside Hockey.