The Montreal Canadiens have been on an absolute tear to start the season. With a league-leading 27 points and plus-30 goal differential through 16 games, it seems everything the Habs have touched has turned to gold lately. From a balanced attack, to rising possession numbers, to rookie goaltender Mike Condon's unbelievable run, Montreal is doing all the little (and big) things needed to have long-term success. Even "Carey Price is all the Canadiens have" critics have died down.
There's a pretty long list of reasons why the Habs find themselves perched atop the NHL standings, but perhaps the most impressive of that list is the team's much-improved power play.
During Marc Bergevin's free agency press conference last season, there was a lot of criticism surrounding Montreal's man advantage. The coaching staff's unwillingness to change the power play units, combined with the GM's inability to acquire scoring at the 2015 trade deadline, led many to question what management was planning to do to fix the problem.
Bergevin simply replied, "It's only July 2. I'm looking at stuff to make it better."
Me: Why will PP improve when there's no changes? MB: We're only July 2. Me: So what's changing? MB: I'm looking at stuff to make it better.

— Аrpon Basu (@ArponBasu) July 2, 2015
While the Habs' GM did go out and acquire scoring threats in Tomas Fleischmann and Alexander Semin, neither is on the power play.
So how has a team that ranked 25th on the man advantage last season climbed 22 spots to No. 3 in the NHL? What sparked this drastic turnaround?
Less Predictable
Last season, Montreal struggled mightily with their zone entries, and when they did finally get set up on the power play, opponents were able to read the play with ease.
The Habs' go-to man for generating scoring chances on the power play in 2014-15 was P.K. Subban. The Canadiens would consistently move the puck around enough to leave an opening for No. 76 to wind up and blast one of his signature slap shots. While Subban's shot was, and still is, lethal, Montreal's inability (or refusal) to switch things up made being down a man an easy pill to swallow for other teams.
All that has changed this season.
Through the first five weeks of the season, Montreal is generating scoring chances from many areas of the ice. They're using their different weapons more effectively and taking advantage of the double-team Subban sometimes deals with at the point.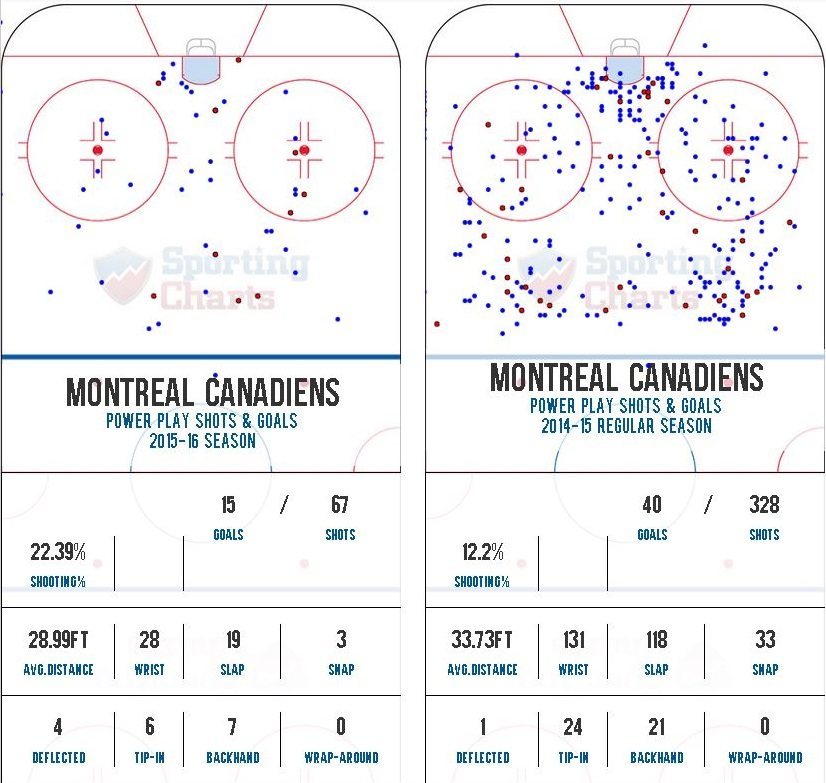 As you can see from the chart (goals marked with red dots and shots marked with blue dots), a high density of shots were coming from the point in 2014-15. The Habs rarely used the half-wall — halfway point between the goal line and the blueline along the boards — to generate shots and scoring chances, and with a sniper like Max Pacioretty, that's a big mistake.
Although it's a small sample size, Montreal's shot locations this season have been much more spread out. Not only are the Canadiens shooting from different areas on the power play, but they're firing 4.74 feet closer than they were last season. The Habs also took 118 slap shots on the power play last season (36 percent of their shots) — most from the point. This season, that number has dropped to just over 28 percent.
Spreading the wealth has not only produced a more balanced power play attack, but it has also created more scoring chances for Montreal.
Opportunistic
As stated above, Montreal is shooting the puck a lot closer than they were last season. Their ability to distribute the puck and shoot from different areas of the ice this season has allowed them to generate scoring chances much more efficiently and, as a result, shoot at an incredible 22.39 percent — over 10 percent higher than last season's 12.2 shooting percentage.
Looking at these power play goals by Tomas Plekanec and David Desharnais, it's not hard to see why.
According to WAR on Ice, Montreal's scoring chances and high-danger scoring chances on the power play are way up from last season, which is pretty remarkable considering their shot attempts per 60 minutes are down over seven shots from 96.9 to 89.4.
Based on these statistics, one can argue the Canadiens are doing an excellent job of taking advantage of their opportunities. The Habs seem to be picking and choosing when to shoot more carefully, and distributing the puck effectively, as a result. Nonetheless, there's always room for improvement, and Montreal still has some work left to do to make their success sustainable over the course of the season.
Shot Generation Needs to Be Better
Although Montreal's power play has been remarkable so far — converting at an impressive 27.3 percent — their success is simply not sustainable unless they start shooting the puck more.
Right now, the Canadiens' shooting percentage is incredibly high. To put things in perspective, since the 2008-09 season, only the 2012-13 Washington Capitals shot over 20 percent on the power play for an entire season (and that was the lockout-shortened season). While the Canadiens do have snipers, it's inevitable their shooting percentage will decline over the course of the year. The only way to counteract that is by shooting more.
All goals in hockey are, to some extent, flukes. The only way to win is to keep being the ones who throw the dice the most. — Mathieu Roy (@Le_Matheux) November 2, 2015
Through 16 games, Montreal is currently in the bottom five in the league in shot attempts per 60 minutes on the man advantage. That number has to be better if the Habs are to remain in the top three on the power play.
Final Thoughts
It's great to see the Habs scoring at such a remarkable pace this season. A lot of criticism surrounding Montreal to start 2015-16 was their lack of scoring, and they have proven the doubters wrong so far.
The Canadiens' man advantage has played a crucial role in their success to this point. Their puck distribution has rekindled some magic in a power play that has looked half-dead for the better part of this decade. And, although it hasn't been perfect, there's reason to believe this much-improved power play is here to stay.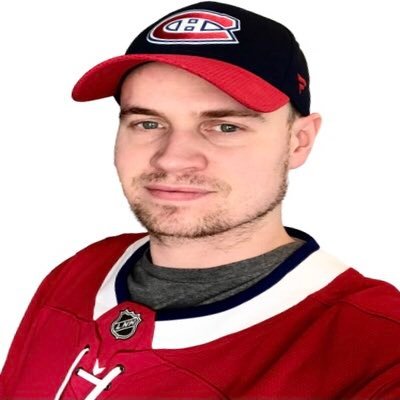 Ryan graduated from the Ryerson School of Journalism in 2015 and contributes to the Montreal Canadiens section. He has also previously worked for STATS LLC as a Hockey Reporter and the Rant Media Network as a Copy Editor.