Three games into the 2015-16 NHL season, the Washington Capitals sport a modest 2-1 record. After getting manhandled by the San Jose Sharks for a 5-0 loss at home earlier in the week, the Caps managed to redeem themselves by defeating the defending Stanley Cup champion Chicago Blackhawks Thursday night by a convincing 4-1 final.
Although they haven't experienced the alarming struggles teams such as Columbus, Boston, and Pittsburgh have, Washington hasn't looked as dominant as they were projected to be at the start of the campaign. Looking in from the outside, it's quite evident there's been a noticeable lack of execution and cohesiveness throughout the lineup.
From an uncharacteristically large array of missed passes to questionable decisions with the puck in all three zones, this is a team that doesn't look to be running on all cylinders just yet. While this can be attributed to a number of reasons, the primary cause is blatantly clear – the absence of Nicklas Backstrom.
The League's Most Underrated Offensive Catalyst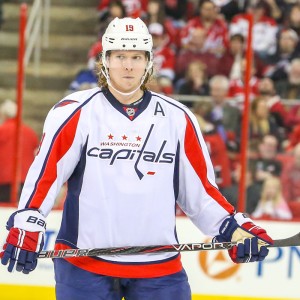 It's become entirely too cliché to say that Backstrom receives little to no praise throughout the NHL solely due to the reality that he has always lived in Alex Ovechkin's enormous, superstar shadow. However, it's sadly the truest of truths when discussing the 27-year-old Swedish center.
It's a shame, and an unfair one at that. While it's accurate to assume that the Capitals are driven by the heart and soul of their Russian captain in Ovechkin, the team undoubtedly plays its best hockey when Backstrom is running the show. Modestly, Ovechkin has declared numerous times that his top-line teammate is the best player lacing up on a nightly basis for D.C., and by many accounts, he's right.
Forget the fact that Backstrom has been a foolproof point-per-game player since he first entered the league with 572 points in 577 total games played. Forget the fact that since 2007-08, his debut season, he ranks third overall in total assists with 427, trailing only Henrik Sedin and Joe Thornton. Forget the fact that he holds the all-time franchise record for assists in Washington, surpassing Michal Pivonka and Mike Gartner along the way, three years before his 30th birthday. Most notably, forget the fact that Ovechkin certainly wouldn't have been able to put up the career numbers he has without the unselfish help of his inseparable setup man.
Most people completely forget that he was a finalist for the Calder Memorial Trophy at the conclusion of his rookie season alongside eventual winner Patrick Kane. The largest travesty of it all, further illustrating the lack of deserved recognition, is the reality that Backstrom has never been voted into an NHL All-Star Game during his eight-year career thus far.
Setting all of his statistical achievements aside, the true value of Backstrom's play lies within the details of his game, the little things. Sure, he'll often raise eyebrows with his consistent ability to thread passes in incredibly creative fashions, but fans are required to take a much closer look in order to truly appreciate what he brings to the table.
It's his willingness to dump and chase when he knows he can't gain the blue line. It's the same level of commitment he puts forth on the defensive end of the puck as he does when it's on his tape. It's his uncanny ability to slow the game down at will and force impatience upon his opponents. It's the small, miniscule intelligence plays he makes like chipping a bank pass off the boards into open space or redirecting a puck with pinpoint precision using only his skate blade. Those are the types of things that make Backstrom an irreplaceable player, and unquestionably, the backbone of the Capitals.
Sooner Rather Than Later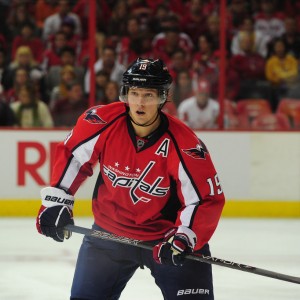 After undergoing arthroscopic hip surgery on May 27, Backstrom was given a five to six-month timetable for his return. Initially, Capitals management was expecting he'd be ready to go on opening night. Unfortunately, with his recovery taking a bit longer, the team has played its first three games this season without its No. 1 center.
As a result, the lineup has been thrown into a sort of flux with the center depth shrinking causing projected wingers to fill in down the middle. Sophomore center Evgeny Kuznetsov has moved up to play top-line minutes between Ovechkin and newcomer T.J. Oshie while 20-year-old Andre Burakovsky, originally slated to play the left wing on the team's second line, has been forced to replace Kuznetsov as Washington's second centerman.
Luckily for Caps fans, Backstrom has been cleared for contact and is on the verge of making his season debut as head coach Barry Trotz acknowledged that tonight's game against the Carolina Hurricanes is a possibility. If not, count on No. 19 lacing up the skates during the team's upcoming Canadian road trip that kicks off Tuesday night in Calgary.