The NHL's Western Conference is one where any number of teams can say they have a chance to win it. Although to do so for any team will be a tall, and bruising task.
Teams like Los Angeles and Chicago have already proven to have what it takes, others like St. Louis and Anaheim who have been on the cusp made significant offseason additions to put themselves in contention.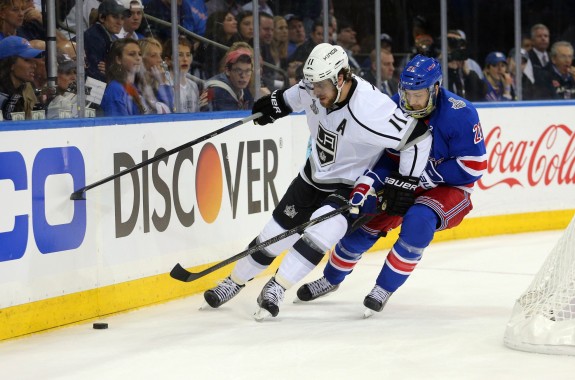 There is also a group that includes San Jose, Colorado and Minnesota who have enjoyed regular season success and are looking to translate that into the playoffs.
It will take any number of things to come out on top, usually stellar goaltending and avoiding the injury bug are the most crucial, however there is one other area that jumps out.
When looking at the top teams in the Conference in comparison to the cellar dwellers such as the Edmonton Oilers, the centre position is one that there is an evident gap.
Those Who Have It
When looking the teams who are perrenial playoff participants and those that are Cup contenders on a regular basis they have both talent and depth up the middle. Here's a look at a few of the Western Conference's stronger teams and their centre depth chart.
→stats are for the 2013-14 season
| | | | |
| --- | --- | --- | --- |
| Los Angeles | Chicago | Anaheim | San Jose |
| 1. Anze Kopitar | 1. Jonathan Toews | 1. Ryan Getzlaf | 1. Joe Thornton |
| 2. Jeff Carter | 2. Brad Richards | 2. Ryan Kesler | 2. Logan Couture |
| 3. Jarrett Stoll | 3. Andrew Shaw | 3. William Karlsson* | 3. Joe Pavelski |
| 4. Mike Richards | 4. Marcus Kruger | 4. Nate Thompson | 4. Andrew Desjardins |
| Combined points: 188 | Combined points: 186 | Combined points: 183 | Combined points: 225 |
*William Karlsson's totals from 2013-14 Swedish League season
Of course team's depth charts are ever changing over the course of a season and some centremen such as a Pavelski or Carter among others will spend some time on the wing, but that is what some of the stronger teams have the ability to run out against opponents.
Take the defending Cup champion Kings for example, no other team can boast the depth they have that includes a 4th liner with the resume of a Mike Richards.
The other three as well have a legitimate No. 1 centre who can produce against anyone in the league, but more importantly they have a No. 2 centre who can take pressure off and would be a top pivot on most teams. They also have role players centring the third and fourth lines that play solid two way hockey but can also produce on the scoresheet.
It just goes to show how deep the West is as there are more legitimate contenders such as the St. Louis Blues (David Backes, Paul Stastny, Jori Lehtera, Max Lapierre) or the improved Dallas Stars (Tyler Seguin, Jason Spezza, Cody Eakin, Shawn Horcoff) that have the depth and talent to compete with anyone.
Those Who Do Not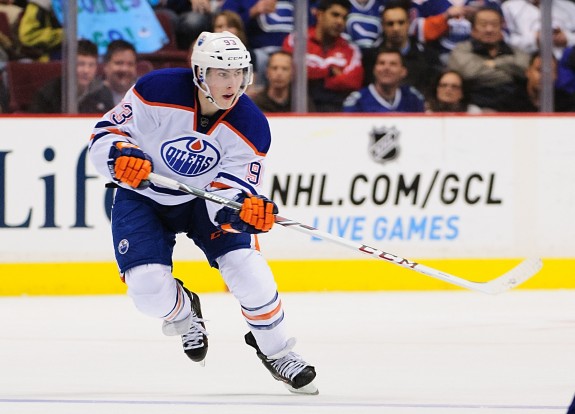 | | | |
| --- | --- | --- |
| Edmonton | Calgary | Winnipeg |
| 1. Ryan Nugent-Hopkins | 1. Sean Monahan | 1. Bryan Little |
| 2. Leon Draisaitl** | 2. Mikael Backlund | 2. Mark Scheifele |
| 3. Mark Arcobello | 3. Joe Colborne | 3. Mathieu Perrault |
| 4. Boyd Gordon | 4. Matt Stajan | 4. Jim Slater |
| Combined points: 95 | Combined points: 134 | Combined points: 149 |
**Oilers point totals do not include Draisaitl as he is in his first pro season
When looking the difference between the top and bottom teams, there are a few obvious things that jump out. The first is the production, clearly there is a significant gap especially in top end talent. It is more than that in contrast however as the comparison is delved into.
Youth is another obstacle especially for teams like Edmonton and Calgary. That in itself makes sense as most rebuilding teams would have plenty of youth and experience. However in the case of those teams there is also no shelter or isolation for the youth.
When looking at the top three centres on both teams Arcobello is the elder statesman at 26 years old, but he doesn't even have 50 games of NHL experience.
Centres like Nugent-Hopkins and Monahan, and even Scheifele on many nights, are expected to go up against the elite of the Western Conference.
They see the top checkers of the other teams, and in some cases match up against players like Kopitar, Getzlaf or Thornton in a head to head battle, players with not only world class talent, but are imposing physically.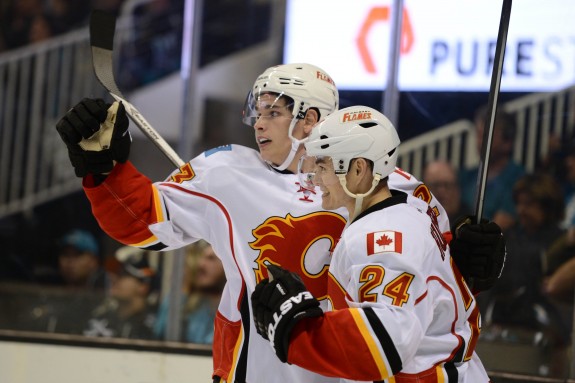 The other thing that makes a difference, for example in the Oilers case, is that few of the centres are slotted where they ideally should be. Only Gordon, who is one of the NHL's best fourth line centres is where he should be.
Ryan Nugent-Hopkins is on the cusp of being a No. 1 centre, but ideally should have been apprenticing under someone over the last few seasons rather than being thrust into the top pivot spot right from his rookie year.
Draisaitl should be playing in junior this season and Arcobello in the AHL. Of course it is not as simple as going out and picking these top centres out, a legitimate No.1 centre is the rarest commodity in the NHL, one that most teams constantly search for.
It is for that reason teams will build through the draft and try and develop their own centres. Nugent-Hopkins, Monahan, Scheifele, Draisaitl and Flames pick Sam Bennett are all blue chip draft picks with the ability to become elite centres.
However until that development happens, it's easy to see why certain teams are on top and why the others are fighting to stay out of the basement.
_________________________________________________
Follow Carl on twitter @CarlTHW or Google+ for more articles
Carl covers the Edmonton Oilers for THW as well as providing additional prospect coverage. Follow him on twitter @carlTHW, connect on Facebook or contact at carl.maloney@hotmail.com for questions, comments or if you're interested in him writing for you.