It seems like just yesterday the Los Angeles Kings were cleaning out their lockers after a disappointing 2014-15 season that ultimately saw them miss the playoffs. But with a blink of an eye we are 41-games into the 2015-16 season, have only three months separating us from playoff hockey and the Kings look to have shaken last season's disappointments.
At the halfway maker, the Kings sit atop the NHL's Pacific Division and seem to be back to championship form. The Kings start the second half of the season when they play host to the Detroit Red Wings for game number 42. But before the puck drops on the second leg of the Kings' NHL season, let's take a look at some of the Kings' numbers through 41-games.
0. Number of times the Kings faced the Anaheim Ducks (should be an entertaining second half).
.925. Jonathan Quick's save percentage.
2. Number of shorthanded goals scored by the Kings.
2.15 Average goals against per game.
2.59 Average goals scored per game.
3. Number of shutouts by Quick.
4. Number of game winning goals scored by both Tyler Toffoli and Milan Lucic.
6. Games played by Dwight King.
7. Longest winning streak for the Los Angeles through the first half of the season.
7. Number of power play goals scored by Toffoli.
8. Number of wins by the Kings that came in extra time.
9. Total points separating Los Angeles from second place in the Pacific Division.
10. Number of times Drew Doughty has skated more than 30-minutes in a game.
14. Points for Dustin Brown.
18. Goal differential after 41-games.
19. Number of goals scored by Toffoli, good enough for first on the team. Goal number four may have been Toffoli's best of the year.
Get a load of the hands on this guy. #LAKvsSJShttps://t.co/ZeNZ1kcFtn

— NHL (@NHL) October 23, 2015
19.2 Power play percentage through 41-games.
23. Wins by Quick.
23. Power play goals scored by Los Angeles.
26.  Number of Kings wins at the halfway point, which ties the franchise record set during the 1980-81 season for number of wins at this marker.
31. Total points for Anze Kopitar and Toffoli, who share first place for points.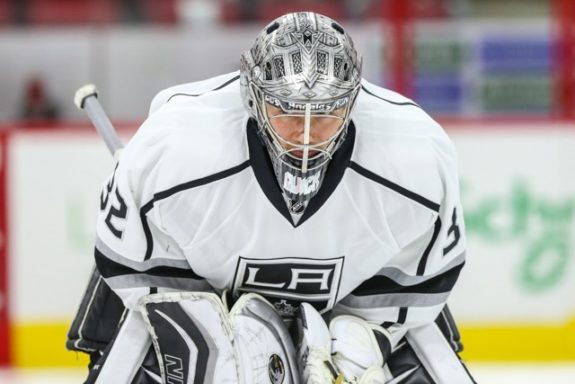 55. Total points through 41 games, which is the third most in franchise history by the Kings through 41-games.
55. Number of goals given up at even-strength.
81.8. Los Angeles' penalty kill percentage.
106. Goals scored by the Kings.
115. Numbers of shots by Brown.
233:37. Total time spent killing penalties by the Kings.
195:37. Total power play time.
450. Total PIMs for Los Angeles.
Through 41-games Los Angeles has put up convincing numbers across the board. But a complete season is needed in order to be successful, and the Kings can not cost into the playoffs on just 41-games.
In order for the Kings to be successful they will need players like Toffoli, Kopitar and Lucic to continue their offensive production, all while the team continues to get some of the best goal-tending and team defense on the back-end.
Let's all get set for the second half of the marathon that is games 42 through 82 of the NHL season, and the eventual final sprint into the playoffs.
For more Kings news, be sure to check out THW's Kings team page and follow Eric on Twitter at @_Roberts11.
Eric received his BA in Journalism from California State University, Northridge. Eric has contributed to RinkRoyalty.com, Buffalowdown.com and California Rubber Magazine.