The Devils (20-17-5), losers of three-straight are preparing for its toughest second-half stretch of the season. Four games in seven nights and the club's longest road trip this season. Making matters worse: Mike Cammalleri, the team's leading scorer remains on the injured reserve, and will likely miss the next four games. With Patrik Elias, Jacob Josefson and Tuomo Ruutu already on IR, the addition of Jiri Tlusty to that group, following an injury on Friday versus Boston, only continues to add to the plot unfolding. By the end of the trip–the Devils might not just be out of a playoff spot, but below .500 for the first time since Oct. 27.
Daunting Task Ahead
The notion that the Devils are above .500 on Jan. 10, 2016, let alone trying to re-gain position in the wild card race, might be enough for fans to tip their hat to a team that many thought would be in the immediate running for Auston Matthews. Surprisingly though, the Devils have infiltrated a shaky Eastern conference to hover around a wild card spot. Tampa's OT win over Vancouver on Saturday pushes the Devils (45 points) to the outside. A win on Sunday at Minnesota would return them to the final wild card spot, but it's all part of a daunting task for an injury-depleted team.
Injuries as of late have run rampant, but it's still no excuse for the trend of 2014-15 creeping its way into this season: the Devils continue to struggle to score. Last season, New Jersey was among third-lowest in scoring (181), presently they are fourth-lowest (95).
Scoring Woes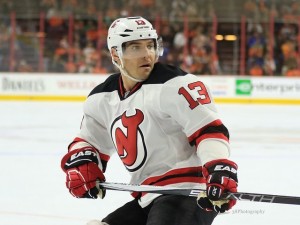 Of those 95, nearly half have come from Cammalleri (14), Adam Henrique (14) and leading-scorer Kyle Palmieri (17). The only bottom-six forward with more than five goals is Bobby Farnham (6). To say the Devils aren't getting enough offense out of its third and fourth lines would be an understatement. And even while the Devils' fourth line of Farnham-Gionta-Tootoo has been effective off the scoring sheet, it does little to console the goal-starved team, that has just two goals to show for its last 180 minutes of play.
Cory Schneider allowed four goals for just fourth time all season in Friday's 4-1 loss at home to the Bruins. Prior to that, he allowed two or less in his last four starts, including a shut out at Ottawa on Dec. 30. He continues to put up strong numbers, earning his first All-Star invite last week. Though even his strong tending has done little to aid the scoring woes, 0-3-0 in his last three. A match-up with ex-Devil Zach Parise and the 13th-best offense in the NHL, Minnesota will prove to be another tough test for him, especially given he surrendered a season-high five goals at Minnesota a season ago.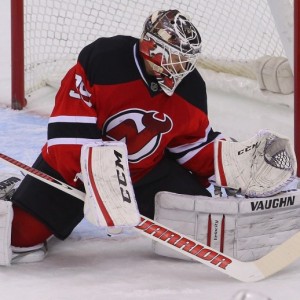 The test won't get any easier following Sunday's meeting. St. Louis (12th ranked offense), Colorado (5th) and Arizona (9th) will follow. All three continue to push for their own playoff hunt, including the Coyotes, who have been the Devils' Western conference equivalence, in terms of surpassing expectations.
Perception vs. Reality
If the test proves to be too much to the Devils, it could severely threaten their longevity at being a surprise team in the league, relegating them back to the outside–where most thought they'd be.
After seeing some of the great draft-eligible talents at the World Junior Championships, that notion might not be all that terrible for Devils' GM Ray Shero, who is charged with the rebuilding process. Still, a veteran-heavy group, the locker room will have plenty to say if that perception becomes reality. Shero will likely be compelled to do something to aid either process–rebuild-or-contend come the Feb. 29 trade deadline, but will be hard-pressed to surrender assets including prospects or any of the three top-60 picks they'll hold at June's entry draft (also have FLA's second round pick from Jagr trade).
In an ideal world, the Devils could address some of its scoring woes on the bottom-six with some added scoring on the wing, depth down the middle and a defenseman, who could eat some minutes as its young core continues to develop. Those types of players typically become available on and leading up to the deadline for reasonable asking prices.
If they remain on the outside, the Devils can point to nine players with expiring contracts who could be rentals for contenders. Shero will need to temper unrealistic versus realistic goals down the stretch and personnel needed (or not needed).
Opportunity Knocking
With five forwards on the IR, the opportunity on the Devils is plentiful. Joseph Blandisi (recalled on Sat.) returns to the NHL with three games under his belt from earlier in the season. Meanwhile, Paul Thompson at age 27 is looking to try and make an impact the NHL level after being a regular point-producer in the AHL. Others including Marc-Andre Gragnani, Jim O'Brien and Mike Sislo have had opportunity amidst key injuries. Both Gragnani and O'Brien played their first NHL game in two-plus seasons on Friday. Both hoping this might be a chance to stick at the big level again.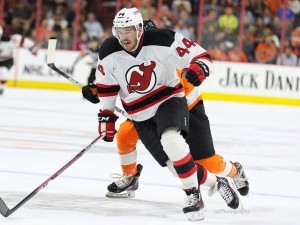 Other opportunists have come in the form of Eric Gelinas and Stefan Matteau, who have spent long stretches in the press box as a healthy scratch. Gelinas has suited up in two of the team's last three, while Matteau has found himself in the lineup in each of the team's last four. With both eligible for waivers and expiring contracts as restricted free agents at season's end, this could be a last chance to earn a spot or be dealt.
Either way, the next four games should prove to be a telling part of the Devils' season and direction, if not the direction of some of its players along the way.