Yesterday I wrote this story in which I suggested the Leafs should make Peter Horachek their permanent coach.  Because I have no shame, and the lengths I will go to to promote myself and my work shows little to no understanding of the boundaries of propriety or good taste, I tweeted my article to Messieurs Shanahan et Dubas.
https://twitter.com/James_Tanner123/status/562376783514066947
Now, part of the reason I promote myself so aggressively is that I have a lot of children and when the phone rings with that special long-distance ring, I don't answer it because it is – 100% of the time – just some immoral credit collector.  But yesterday, when the phone rang for the fourth time in succession, I was forced into action and who was on the other line but Carlos Santana Jr – the unfortunately named assistant to the assistant to Mr. Shanahan's assistant.
He wanted to know: Would I be willing to write up a post about what I'd do if I was the Leafs new GM – as a sort of job interview.  He didn't want to get my hopes up, but if I could write an interesting enough piece, he said, then the management crew might be willing to go with a complete  unknown since the incestuous nature of NHL front-office hirings has created an inflexible system of copy-catting and recycled ideas.
In short: the Leafs think a brilliant outsider might just be what the franchise needs to kick-start it into the post six-team era of the NHL.
SO HERE GOES:
Philosophy: In order to be successful in the NHL you have to manage your cap – so I will employ a strategy that focuses on finding under-valued players and moving out players who's reputations exceed their contributions.
I will always attempt to have a young team – rebuilding will never be necessary under my reign because we are going do it once – the right way – and then have a sustainable system that focuses on the value of ECL contracts and takes advantage of the fact that NHL teams and scouts over-rate experience and underrate youth.
The focus on everything in our system will be on value and relative value. We won't even refer to players by name – lest we succumb to the kind of thinking that over-values reputation.
My reign will not be beholden to conventional thought: We'll dress small players, we will value skill and skating over everything (including character and compete level) and we dress a roster devoid of role players, specialists, grinders, enforcers and defensive defensemen. 
So what is the "Right Way" to rebuild? Simple: hoard value contacts and youth, and move out high priced talent so that you have a team who's mostly in their early to mid twenties and keep the prospect cupboard stocked.
Who to Keep: Of the players on the current roster, the one's you keep are quite obvious: Kessel,Bernier, Gardiner, Kadri, Nylander and Rielly.  I am also open to keeping Percy, Panik and Holland, although unlike my six man core, they are not untouchable.
I want to trade Phaneuf and JVR because they will bring in a lot of high value and I want to move everyone else for picks, prospects and youth.  The team under my supervision will not be concerned with winning in the immediate future.
Creativity: A lot of people will think the Leafs are stuck with some of their worse contracts – but I will make moving out David Clarkson and Stephane Robidas a priority and I will be willing to take  less value on a current roster player in exchange for moving out DC and SR.  I would also consider paying someone to take him.
Statement of Intent: I like to be upfront, honest and forthright in all my dealings with the public. To this end I will state openly on my first day on the job that Nazem Kadri is an NHL  #1 centre and Morgan Rielly is an NHL #1 D and that if Horachek agrees to play them as such going forward (unless and until someone not currently on the roster usurps them) I have a five-year contract with his name on it.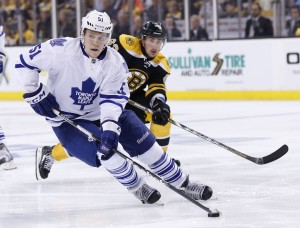 Trades
Now for the fun part: what kind of trades will I make?  Good ones, I hope.  But here's the dilemma: I don't know what other teams are willing to part with and the nature of such proposals is that they are destined to be one-sided in my team's favor and usually fail to factor in such things as contracts and the salary cap.
I will try to do my best.
My first move would be to get rid of Tyler Bozak so that the coach has no choice but to play Kadri. If I can get a second round pick for him, I am stoked, if it means not taking back any money. Probably I'll just be happy with a B prospect and his contract gone.
My second move would be to rid the team of it's depth pieces so that we can get a look at who's in the system and how they'd do in the Show and to lose more and draft higher.
Santorelli, Booth, Winnik, Lupul, Komarov, Franson, Polak, Reimer and Holzer would all be moved out as quickly as possible for picks and prospects.
For these players I am not looking to hit home-runs, but mostly to rid the team of their salaries.  Due to pending free agency, high contracts and risk of injury, I am not looking to get a lot back for these players.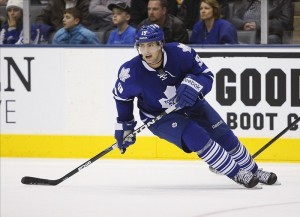 Other that picks and prospects, the only move I have in  mind with these guys is to trade Lupul to Tampa for Nikita Nesterov, assuming we could make the cap work.
I would also offer any of the rest of these guys to  Carolina for Ron Hainsey, who I think is very underrated and who will be for my team what the Leafs hoped Robidas would be: a leader and mentor to our young players. The difference being he can and will contribute.
My third move would be to discuss trading Phaneuf. I would target Dallas in this transaction because I know they need defense and want to make the playoffs desperately. They also have a over $5 million in cap-space and a ton more coming after this season.
I would offer them Phaneuf and Robidas in exchange for Julias Honka (an offensive defenseman picked in the first round last year) and a first round pick that is lottery protected.  I will also be willing to take their choice of Shawn Horcoff or Erik Cole in order to make the cap work. Both players are UFA after this season.
My fourth move would be to try and trade JVR to the Wild in exchange for Nino Niederreiter and Jared Spurgeon.  This trade matches up nicely with the salary cap and given JVR's perceived value, I think they'd accept it.
My Fifth Move would be to sit back and take stock, scour the league for value FAs and guys teams are not utilizing properly (Tampa's Connolly jumps to mind here).
The Rebuild is in Warp Speed
After a series of five + moves my team going forward would look something like this:
Forwards:   Kadri, Neiderreiter, Kessel, Nylander, Panik, Holland some fill ins. Obviously this is where the work will need to be done going forward, but we already possess four potential superstars.
Defense: Rielly, Spurgeon, Gardiner, Nesterov, Honka and Hainsey would be my defense and I think it'd be close to tops in the NHL. We'd kill teams with our passing and speed and dominate possession.
Goalie: Jonathan Bernier, Rando Backupski – a solid tandem and if they come under $6/year then we're getting a bargain.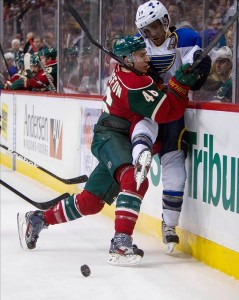 Evaluation:
As you can see, with a little creativity, the Leafs can pick high this year and move forward on a rebuild in very quick fashion, perhaps, if that defense comes to fruition, as early as next year. Even if I was stuck with Clarkson's contract, this group would be much cheaper going forward and with a little restraint next July first, we'd be in great shape going forward.
I mean, clearly I was being facetious at the start of the piece, but is this plan – even if it blew up in my face completely – really any worse than anything we've seen from MLSE for the last twelve or so years?
You know that it isn't.
I say, give me the job.