Jarred Tinordi will most likely end up an NHL defenseman this season, just not necessarily with the Montreal Canadiens.
Despite a lackluster preseason, during which he's done little to stand out from his competition for one of the final roster spots—even though he's 6'6"—the defenseman is no longer waiver-exempt. As a result, the Canadiens risk losing him for nothing should they send him down to the American Hockey League.
According to intel Elliotte Friedman has gathered, that's not exactly the most palatable option to general manager Marc Bergevin. In fact, it's probably the least.
Here are all of Bergevin's options, ranked in order from least likely to most.
Tinordi Gets Cut
Any other year, the easiest solution, to cut Tinordi, would have doubled as the best. However, all the seasons of the Canadiens putting aside the inevitable, to give him regular ice time in the NHL, have finally caught up to them.
Now, not only is he not ready, but he's susceptible to waivers should he be cut.
Sure, there's always chance he will clear waivers. There's just as much of a chance all 29 other GMs each decide at the same exact moment: "Hey, you know what? I don't like hockey anymore. I should find a way to get fired."
Look at is this way: If you were Bergevin and you had the chance to pick up a 23-year-old, behemoth defenseman with an impressive pedigree at only the cost of a roster spot, what would you do?
Right. That's why Bergevin with almost 100-percent certainty won't cut Tinordi.
Tinordi Makes the Team as One of Eight Defensemen
This scenario, in which the Canadiens opt to carry eight defensemen, is a little bit more realistic. It unfortunately is about as easy to swallow.
Not only would the Habs forego the option of carrying two extra forwards in the process, but Tinordi is generally considered to place near the bottom of head coach Michel Therrien's totem pole of trust, right between anyone who dares carry the puck in over the blue line and a one-month-old egg-salad sandwich.
In short, Tinordi would be at the bottom of the depth chart, below either Greg Pateryn and Tom Gilbert (or Mark Barberbio) as the team's projected seventh defenseman. He would be getting close to no playing time in all likelihood and amount to little more than a waste of a roster space, not developing at all, all the while.
Tinordi Makes the Team as One of Seven Defensemen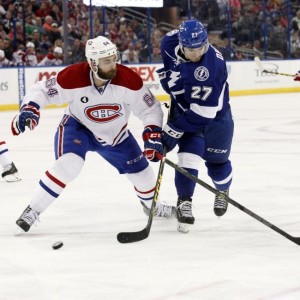 Another way Tinordi makes the Canadiens is if another defenseman gets traded. That would enable him to get some playing time and allow the team to carry 14 forwards—including potentially Charles Hudon or Tomas Fleischmann.

Potential candidates include Alexei Emelin (who has a no-trade clause), Pateryn, and, perhaps the most likely of the three to get dealt, Gilbert.
The Canadiens would probably jump at any opportunity to deal Emelin, but, in addition to the no-trade clause, he also has an almost-untradeable contract with a salary-cap hit of $4.1 million (as a third-pairing-caliber defenseman).
Meanwhile, Pateryn has the cheapest deal of the three and is still only 25. Following an impressive end to last year, he might also have the higher ceiling relative to Tinordi in the eyes of Habs management at this point.
Gilbert on the other hand has been a minor disappointment after signing a two-year, $5.6-million deal last summer. He wouldn't fetch much on the open market. In fact, the Habs would probably have to give up a pick as well for something of close to little value just to grease the wheels.
That isn't to say Gilbert is a horrible player. He's a serviceable defenseman, at least in a third-pairing role after being miscast for a large portion of last season as a top-four defenseman. However, the Habs would be negotiating from a position of weakness… and everyone would know it.

Tinordi Gets Traded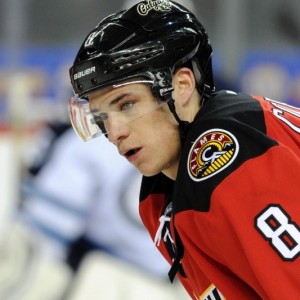 If the Habs can't find a taker for Gilbert's contract or deem the puck-moving defenseman to be too valuable, trading Tinordi is pretty much the only move they would have left. It beats losing him for nothing, but, much like in the previous scenario, chances are good it wouldn't be by much.
The Toronto Maple Leafs traded center Joe Colborne to the Calgary Flames under similar circumstances a few preseasons ago. They ended up getting a conditional fourth-round pick for a player that, similar to Tinordi, was once a highly touted piece in the Tomas Kaberle trade with the Boston Bruins, but failed to impress enough for the Leafs to make room for him.
While Colborne is admittedly far from a star player, he does figure prominently in Calgary's current youth movement. Tinordi could realistically pan out similarly with a change of scenery… assuming the Habs think too little of their one-time prized shutdown defenseman of the future to give him a chance right now.
He admittedly may not deserve one based on his play since being drafted five years ago. However, one would think that, for a team that essentially spent eight years waiting for all-star goalie Carey Price to finally show up on a consistent basis, patience would be a virtue.
No, Tinordi won't develop into a Hart Memorial Trophy-winning goalie. But no one thought of then-stay-at-home defenseman Zdeno Chara as anything other than a throw-in when the Ottawa Senators were dealing Alexei Yashin to the New York Islanders.
Will Tinordi win the Norris Memorial Trophy one day as well? Probably not, but do you want to end up the GM who risks it by trading him away for next to nothing? Ask Mike Milbury. He's currently a color commentator.
Bergevin's no doubt got a hard decision to make. Good luck… to both him and Tinordi. He at least deserves that much.