Last year, the last Montreal Canadiens cuts were Francis Bouillon at defense and Jacob De La Rose up front. It just goes to show, especially in regard to the latter, even if you don't make the team at first, it's not necessarily the end, with De La Rose morphing into a mainstay on the team late last season and into the playoffs.
Granted, he hasn't had the greatest preseason, but he still should have built up enough goodwill up to now to earn him a roster spot on opening night on October 7 against the Toronto Maple Leafs. The same might not be able to be said about the following projected final cuts at each position:
Charles Hudon – Forward
Arguably the most NHL-ready Canadiens prospect still left standing, Charles Hudon has at the very least earned a lasting look this preseason after an impressive season last year in the American Hockey League. He'll likely get it.
This doesn't mean Tomas Fleischmann will make the cut instead of him, despite the praises being sung of the 31-year-old winger. There's still a very good chance he will be released from his professional tryout agreement before then.
Admittedly, Fleischmann has produced above expectations up to now and finds himself second in team scoring with two points in two preseason games heading into action Monday night. However, that production isn't exactly indicative of how he would be scoring during the regular season against complete NHL rosters.
Case in point: His two points came in one game. His assist came on the power play against an especially inexperienced Washington Capitals penalty-killing unit. His goal in the same game? Arguably on a bad, lucky play that should never have happened.
Nevertheless, there's no denying Fleischmann has produced when others have not—including an impressive seven shots on goal—and for that he's deservedly sticking around for the time being, even if he was theoretically only signed to pad the number of required veterans available to play in preseason games.
However, to make the team at the expense of young forward who's proven himself worthy of earning NHL-level experience? Simply put, there's nothing Fleischmann can do that Hudon can't. And if there's not a spot for the latter, with 11 forwards still remaining who ended the season in Montreal plus Zack Kassian and Alexander Semin, there shouldn't be a spot for either.
Mark Barberio – Defenseman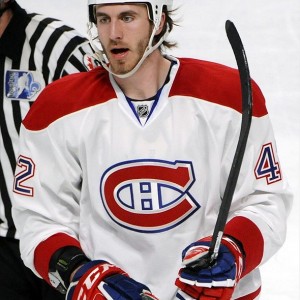 Much like up front, there just simply isn't room for anyone new, barring a trade of course. There quite possibly will be one, just not of one of the seven defensemen currently on the team's roster page, each of whom is currently on a one-way deal.
In theory, the Canadiens could carry eight defensemen, meaning Mark Barberio would still have a shot. But one has to believe, in the unlikely event they do, that spot is Jarred Tinordi's to lose. The former first-round pick admittedly may be on the verge of doing just that though, following three lackluster preseason games.
The thing is, now susceptible to waivers, Tinordi would likely sooner be dealt for just a late-round pick than be exposed by the Canadiens to the grabby hands of 29 other teams eager to try out a 23-year-old, 6'6" defenseman on for size.
Barberio, 6'1", has proven to be a decent depth defenseman for the Tampa Bay Lightning over the past few seasons, and the Canadiens risk losing him to waivers as well. However, there are just bigger things beyond his control at work here.
Mike Condon – Goaltender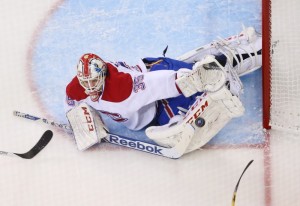 There's no denying Mike Condon has outplayed incumbent backup Dustin Tokarski up to now. He's technically outplayed Hart Memorial Trophy-winner Carey Price for crying out loud. Earning a perfect save percentage through two preseason appearances (playing the most of all four Habs goalies in the process) will do that.
However, much like in Barberio's case, it's almost out of his hands. He's currently waiver-exempt. Tokarski isn't.
So, the question is: Do the Habs risk losing Tokarski for nothing or trade him outright just to give Condon the opportunity to start 10-15 games this coming season behind Price when there's no guarantee his regular-season performance will match his current play? Or do they let him develop as the Saint John's IceCaps' No. 1 goalie and pencil him in behind Price next year when Tokarski's deal is done?
The answer is simple.
Ideally, sure, Tokarski wouldn't have given up as many bad goals as he did last season. But is he a bad backup? Ultimately, he was still 6-6-4 with a .910 save percentage. So, no, he's an average one with a meager $562,500 salary-cap hit. You can't realistically ask for more than that.