The last Montreal Canadiens fans saw of Francis Bouillon, he was being released from his professional tryout agreement with the Habs last fall. It won't be the last they remember him though.
Bouillon ended up playing 31 games with Hockey Club Ambrì-Piotta in the Swiss National League A last season. He announced his retirement earlier this week.
Francis Bouillon officially announces his retirement as an active NHL player.

DETAILS -> http://t.co/p4sEkhNHEn pic.twitter.com/xecMdqyyRf

— Canadiens Montréal (@CanadiensMTL) September 25, 2015
True Bouillon Fashion
In true Bouillon fashion, he didn't score much, notching just 11 assists (no goals) in those games. It's easy to believe he nevertheless put forth an honest, physically brutal-on-the-opposition effort…again in true Bouillon fashion.
That pretty much sums up Habs fans' love-hate relationship with the defenseman. He brought it every game, but he was sometimes entrusted with too much, often asked to extend beyond his reach, which, at 5'8" (but an impressively built 194 pounds), wasn't much. That doesn't mean he was at fault, though.
For example, head coach Michel Therrien awarded him an average of 1:15 on the power play in his last NHL season in 2013-14. That was third-most among Habs defensemen (behind P.K. Subban, Andrei Markov), despite how Bouillon had last recorded a power-play point in 2010 during his second tour of duty with the Nashville Predators.
You'd have to go back another season for his last power-play marker.
The 5'8″ Bouillon Comes up Big
That isn't to say he never scored at all. In fact, he had a few pretty big goals in his career. He contributed a key marker in a significant 7-5 win over the Ottawa Senators back in March 2008 that clinched a playoff berth for the Habs ahead of schedule in their 2007-08 Northeast Division-championship season.
During his final season with Montreal, he also scored against Ottawa to bring an end to one of the most dramatic comebacks in recent Canadiens history. The Habs trailed 4-1 late in the third, scored three in the final three minutes and change and then won in overtime on a goal that came off Bouillon's stick.
So, you could say Bouillon had a flair for the dramatic. Considering he had just 32 career goals in 776 career NHL games (581 with Montreal, the rest with Nashville), it might just be safer to say he would have scored at least double that much had he played primarily in Ottawa instead.
Always a Montreal Canadien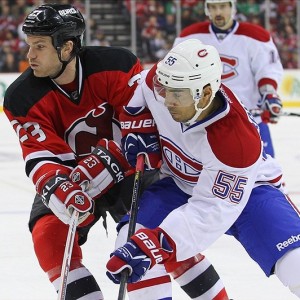 Obviously, that wasn't the case, being brought into the league in 1999-2000 with Montreal—signed as a free agent in 1998 at the urging of Therrien, who was coaching the Frederiction Canadiens at the time.
Ironically, Bouillon went from 74 games played his rookie season under Alain Vigneault (tied for the most he'd ever muster with the Canadiens) to just 29 the next season when Therrien took over.
It's ironic for the simple reason that Bouillon was clearly a favorite of Therrien's, with the latter having coached him on five separate occasions, dating back to their Quebec Major Junior Hockey League days, when they won the 1995-96 Memorial Cup together with the Granby Prédateurs, with Bouillon as team captain.
Obviously, they never earned a Stanley Cup together, but that's not the takeaway. Despite Bouillon being called a dominant player in junior by Therrien, he was never going to be the player to win you a championship in the NHL. He was just one player you needed to win, the type of player whose contributions go unheralded but are nevertheless incredibly valuable.
The takeaway is that the 'dream come true' for Bouillon was likely just making the NHL in the first place. Sure, a championship would have been nice for all involved, including Habs fans. However, with the help of Therrien or not, Bouillon made it, ultimately proving he belonged on his own.
It may not have been the most trophy-heavy NHL career, but that it was an NHL career at all will end up being enough for Habs fans to remember him. The way he led by example and carried himself on the ice, it would be hard not to.