In the era of in-depth analysis, sabermetrics and advanced statistics, more and more fantasy experts are talking about the magical fourth season for NHL players.
Most of you would ask, "What is exactly the magical fourth season?" Well, roughly speaking, offensive players make big jumps in their production in years two through six. In the fourth year, 24 percent of players see an increase in the offensive numbers by around 25 percent.
In 2011-12, several players saw their offensive numbers jumped considerably compared to the previous season. The most notable were James Neal, Blake Wheeler, Max Pacioretty, Wayne Simmonds and Jamie McGinn.
You can have a look a my in-season fantasy analysis for the 2011-12 season here: The magical fourth season: Myth or Reality?
PLEASE NOTE THAT THIS OFFENSIVE SURGE ONLY APPLIES TO FORWARDS, as defensemen generally take more time to develop as opposed to forwards, Erik Karlsson being the exception rather than the rule.
Now let's look at ten talented forwards are the most likely candidates to see their offensive production increase next season:
1. John Tavares, New York Islanders
Coming off his best NHL season, Tavares, the first overall draft pick in 2009, is everything the Islanders expected when they took him. This season, the Mississauga native recorded 31 goals and 50 assists for 81 points in 82 games despite playing against the opponents' top defenders and checking line. With the Islanders likely to have much more depth next season, they should be able to spread the talent on more than one line, giving Tavares, 21, more room to create scoring chances:
Fearless prediction for 2013: 48 games – 21 goals and 34 assists for 55 points, -1 rating, 18 PIM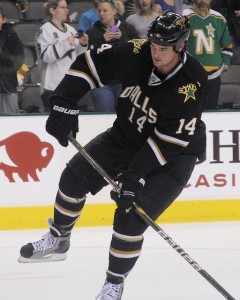 2. Jamie Benn, Dallas Stars
Despite improving his offensive numbers for three consecutive seasons, Benn has yet to show us his best talent. The native of Victoria, B.-C., was a goal scorer in junior, notching 79 goals in 107 games (.74 goal per game) with the Kelowna Rockets, which he has not translated into the NHL yet. After recording his best season in 2011-12, scoring 26 goals and 27 helpers for 63 points in only 71 games, expect Benn to explode offensively next campaign. Look for the 22 year-old Benn to shoot more and improve his offensive numbers even more so once he re-signs with the Stars as he is still without a contract and remains at home for the time being.
Fearless prediction for 2012-13: 43 games – 21 goals and 25 assists for 46 points, +6 rating, 36 PIM
3. Matt Duchene, Colorado Avalanche
2011-12 is a season to forget for Duchene. The 21 year-old center played only 58 games for the Colorado Avalanche because of a left knee injury, recording only 14 goals and 14 assists for 28 points to go with a -11 plus/minus rating. Drafted right in front of Evander Kane in the 2009 NHL Entry Draft, Duchene posted career-highs in 2010-11 with 27 goals and 40 assists for 67 points. With a complete summer to rehabilitate his injured knee and regain his game shape, Duchene is bound to find his scoring touch and confidence back. Look for him to improve his career-year numbers with the much-improved Avalanche.
Fearless prediction for 2012-13: 46 games – 19 goals and 25 assists for 44 points, -1 rating, 8 PIM
4. Logan Couture, San Jose Sharks
Couture had the best season of his short career in 2011-12, notching 31 goals and adding 34 assists for 65 points in 80 games and participating in his first All-Star game. The 23 year old center native of London, Ontario will be a mainstay of the San Jose Sharks offense for several years to come. With 63 goals in his last two seasons, Couture has proven he can contribute offensively in the NHL and we've only seen the tip of the iceberg!
Fearless prediction for 2013: 47 games – 21 goals and 22 assists for 43 points,  +7 rating, 15 PIM
5. Brad Marchand, Boston Bruins
While Marchand only played 20 games in his first season with the Bruins, the playoff experience he gained when the Bruins hoisted the Stanley Cup last season certainly proved valuable for the pesky Halifax native. In 2011-12, Marchand, 23, recorded 28 goals and 27 assists for 55 points (all career-bests) in 76 games, posting an impressive +31 rating to go along with 87 penalty minutes. The hard-working Marchand will never be a point-per-game player, but his offensive instincts and his tenacity will allow him to be an offensive threat for years to come.
Fearless prediction for 2013: 46 games – 19 goals and 21 assists for 40 points,  +15 rating, 57 PIM
6. Evander Kane, Winnipeg Jets
A natural goal-scorer, Kane finally emerged as an offensive threat for the goal-starved Winnipeg Jets this season. The 20 year-old left winger scored a team-high 30 goals to go along with 27 assists for 57 points in 74 games. The Vancouver native is not afraid to drive the net and use his excellent shot to create scoring opportunities, With 287 shots last year, Kane actually more than doubled the 127 shots he registered during his rookie season. If Kane can improve his mediocre shooting percentage of 10.5 per cent to let's say 12 per cent (x 175 shots  = 21 goals over the shortened season) and play with better players, there is no reason to believe he cannot score close to a prorated 40 goals in 2012-13 unless he's thinking more about money than hockey!
Fearless prediction for 2013: 47 games – 21 goals and 17 assists for 38 points,  +3 rating, 42 PIM
7. James van Riemsdyk, Toronto Maple Leafs
van Riemsdyk was traded to the Maple Leafs in exchange for Luke Schenn after injuries plagued JVR's third season in the NHL. Missing 39 games due to a concussion and a broken foot, the 22 year-old winger scored 11 goals and added 13 assists for 24 points in only 43 games, on pace for a career-high 46 points. The talented winger was expected to contribute offensively after the departures of key players like Mike Richards and Jeff Carter in the summer of 2011. However, while it didn't turn out how van Riemsdyk and the Philadelphia Flyers expected last season, these is no reason to think that JVR cannot improve his offensive numbers drastically in 2012-13 while playing in the Leafs' top-6 at forward.
Fearless prediction for 2013: 46 games – 16 goals and 18 assists for 34 points,  +4 rating, 30 PIM
8. Michael Grabner, New York Islanders
Grabner is a tricky player because he broke out offensively in his second season with a production of 34 goals and 18 assists for 52 points in his first season with the New York Islanders. However, Grabner, 25, suffered his sophomore slump in his third campaign rather than in his second, recording only 20 goals and 12 assists for 32 points in 78 contests with the Isles. So what can we expect from the Austrian forward in his fourth season? Well Grabner shot less (174 SOG at a 11.5% clip) last season compared to 2010-11 (228 SOG at 14.9%), so it would be fairly conservative to expect him to record around 120 shots on net at a 12.5% rate in 2013; that would translate into a minimum of 15 goals in 48 games, but since the Islanders are expected to improve in 2012-13 and Grabner is entering his magical fourth year, there is no reason for us to dismiss a potential breakout season from him.
Fearless prediction for 2013: 48 games – 18 goals and 15 assists for 33 points,  -4 rating, 8 PIM
9. Viktor Stalberg, Chicago Blackhawks
The 26 year-old Swede finally produced offensively for the Chicago Blackhawks last year after two disappointing seasons in the NHL. The native of Gothenburg, Sweden, potted 22 goals and added 21 assists for 43 points in 79 games, providing much-needed supplementary scoring in Chicago. Drafted by Toronto in 2006, the pivot played his minor hockey at the University of Vermont before making the transition to the AHL and then the NHL. While Stalberg has never been a top-offensive threat at any level, he finished the 2011-12 season with 11 points (6 g and 5 ) in 13 games for the red-hot Blackhawks, before faltering in the playoffs versus the Phoenix Coyotes. If Stalberg manages to continue his hot streak and have a good start in January, there is no reason to dismiss a prorated 50-point campaign (30 points) from the lanky Stalkberg.
Fearless prediction for 2013: 48 games – 15 goals and 16 assists for 31 points,  +3 rating, 23 PIM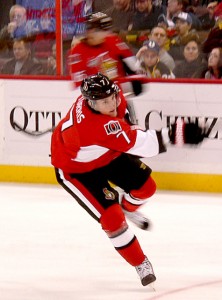 10. Kyle Turris, Ottawa Senators
The disgruntled forward finally got his wish granted earlier last season when the Phoenix Coyotes traded him to the Ottawa Senators in exchange for rearguard David Rundblad. Turris finished the campaign with 12 goals and 17 assists for 29 points in 49 games with his new team after two disappointing seasons in the desert. The 23 year-old center recorded 9 points (4 g and 5 a) in his last 7 games of the season. The native of New Westminster, B.-C. also scored the game-winning goal in game 4 of the first-round series against the New York Rangers. Drafted 3rd overall by the Coyotes in 2007, Turris is finally living up to his expectations and should produce at a fairly regular pace next season behind Jason Spezza on the Sens' second line.
Fearless prediction for 2012-13: 45 games – 11 goals and 19 assists for 30 points,  +8 rating, 35 PIM
Please note that the following players already had their breakout season, so don't overrate them:
P-A Parenteau, NYI: 67 points in 80 games (14-point increase of the previous season).
Ryan O'Reilly, COL: 55 points in 81 games (29-point increase over the previous season).
Other notable fourth-year players in 2013: Colin Wilson, Artem Anisimov, Mikkel Boedker, Justin Abdelkader, Nick Spaling
This theory is not a myth, so don't hesitate to rank the above players higher on your draft lists next fall when you get ready for your fantasy drafts as they will most certainly provide you with a definite edge over the competition and could turn out to be the best bargains at the draft!
Follow me on Twitter for more updates on fantasy hockey and the NHL in general.