Recently, my colleague Mike Colligan wrote an excellent piece titled "The Evolution of Evgeni Malkin" which dissected the career of the Pittsburgh star. If I may, I would like to do the same with a certain player that has become one of hockey's biggest rising stars; Erik Karlsson of the Ottawa Senators.
The Swedish blue-liner has quickly become the elite offensive-defenceman in the National Hockey League, and I when I say quickly, I mean it.
At just 21 years of age and already in his third NHL season, Karlsson has taken his game to a level that has him on pace to join some pretty impressive company.
With a goal an an assist, as well as being a +5 in the Senators 6-4 win over the Philadelphia Flyers on Sunday night, Karlsson upped his season totals to six goals and 35 assists for a 41-point total in 43 games played this year. In the top 20 of league scoring for all players, Karlsson leads Brian Campbell, his closest competition in scoring among defencemen by eight points, and is making a push at becoming the league's first 80-point rearguard since the 2005-2006 season.
In that season, Niklas Lidstrom recorded exactly 80 points and it has been five years of near-misses since the future Hall of Famer was able to achieve that feat.
Many have tried and a select few have come close, but no one has been able to do, what the man who is often pointed to as Lidstrom's successor , might just do.
While he is yet nowhere near the defensive player that Lidstrom became through his career, Karlsson is already proving to be every bit as talented offensively, and if you were to ask Lidstrom how far his defensive game improved from when he was a 21-year-old to when he was awarded his first Norris Trophy in 2001, he would likely tell you that it was indeed a dramatic improvement.
Currently on pace for 76 points, Karlsson has himself been a much more complete defenceman this year, something that can partly be attributed to the success of the Sens as a team.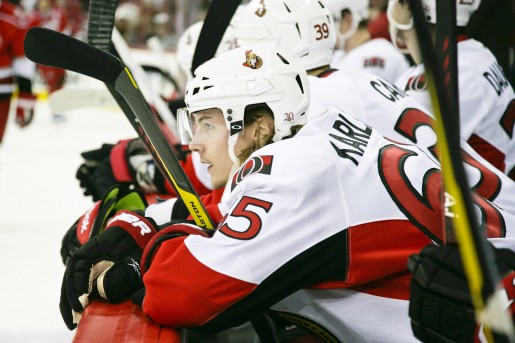 One of the league's worst teams last year, Ottawa has been one of the league's biggest surprises and currently sit in fifth place in the Eastern Conference. Whereas playing on a terrible team a year ago left Karlsson with a -30 rating, he has turned that stat completely around to a +7 this year.  The plus/minus stat deosn't always do a justice good or bad, but it certainly does show how Karlsson has eliminated some of the giveaways and bad pinches in which he was prone to a season ago.
But back to his offense and to the comparison to Lidstrom.
While it is always unfair to compare a player to someone of that caliber and stature, the similarities are there. Without getting into his obvious skills such as skating and puck-handling, Karlsson like Lidstrom, has the rare ability to seemingly always have his point-shot find it's way to the net in a manner that it can either be tipped in or picked up on a rebound. That skill along with a tremendously instinctive knowledge of knowing when and where the puck needs to go, followed by the incredible precision in which he can deliver a pass, has Karlsson on the cusp of superstar status as an offensive defenceman; a talent perhaps more fairly comparable to that of a Brian Leetch.
Despite being the leading vote-getter for this year's All-Star game to be held in Ottawa, Karlsson hasn't really received the league-wide recognition that the likes of other young defencemen around the same age such as Drew Doughty and P.K. Subban have been given, but the 2008 first-round pick outplayed those two respective players last year and is doing so again this year. His progression from a purely offensive player to a more well rounded one is changing the opinion of those who thought him to be a one-dimensional player, but it is without question his offense that is seperating him from the other Norris Trophy Candidates.
In recent years it was Washington's Mike Green who had taken his place as the game's best point producer from the back-end.
In the '08-09′ season, Green became just the eigth defenceman in league history to score 30 goals en route to a 73 point campaign, and a year later he racked up 76 points which remains the closest anyone has come to the 80-point plateau since 2006.
Since then Green has been hit by a devastating rash of injuries that continue to plague him and has left the door open for the new king-of-defencemen-scoring to emerge.
That man is Erik Karlsson, a player that in just three seasons, has evolved into the game's premier offensive defenceman.
Resident of Windsor, Ontario. Extensive knowledge of both the NHL and junior hockey in Canada, particularly the OHL. Writer for THW covering the Winnipeg Jets and the OHL as well as covering Phoenix Coyotes prospects for Hockey's Future.