In the era of in-depth analysis, sabermetrics and advanced statistics, more and more fantasy experts are talking about the magical fourth season for NHL players.
Most of you would ask, "What is exactly the magical fourth season?" Well, roughly speaking, offensive players make big jumps in their production in years two through six. In the fourth year, 24 percent of players see an increase in the offensive numbers by 25 percent. This is a rough guide for a breakout year for players entering their second, third, fourth, fifth, or sixth seasons: 14%, 17%, 24%, 14%, 9%… and go with 5% for seventh seasons and beyond. (Data from Dobber)
As you can see, on average, fourth-year players see the biggest increase in their offensive production during their fourth season in the NHL.
PLEASE NOTE THAT THIS OFFENSIVE SURGE ONLY APPLIES TO FORWARDS, as defensemen generally take more time to develop as opposed to forwards, Erik Karlsson being the exception rather than the rule.
Now let's study the offensive production of ten talented NHL players and see how they are doing so far in 2011-12:
1. Steven Stamkos, Tampa Bay Lightning
After a rough rookie season where he recorded only 23 goals and 46 points in 79 games, mainly because of the Barry Melrose failed experiment, the Lightning' first overall draft pick in 2008 has developed into the NHL's most lethal goal scored. After two seasons of 95 and 91 points, Stamkos has 50 goals and 34 assists for 84 points in 70 games, currently on pace to score 98 points over a full season. As you can see, his offensive production has been fairly steady over the past three seasons and we can conclude Stamkos had his offensive surge during his sophomore season instead. Offensive outburst = season 2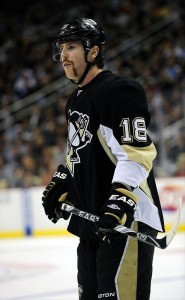 2. James Neal, Pittsburgh Penguins
After playing two and a half seasons in Dallas, Neal was traded to the Penguins midway through last season. After a rough stretch of only six points in 20 games with Pittsburgh to conclude the 2010-11 campaign, one had to wonder if Neal would ever produce while surrounded by talented players such as Sidney Crosby, Evgeni Malkin and Kris Letang. Well, after seasons of 37, 55 and 45 points, Neal has found his niche alongside Malkin and Chris Kunitz on the Penguins' first line. Through 69 games this season, Neal has scored 31 goals and 36 assists for 67 points on pace for 80 points in 82 games. This would represent a 25-point increase over his second best season. Offensive outburst = season 4
3. Blake Wheeler, Winnipeg Jets
Another player traded at the trade deadline last season, Wheeler played two and a half seasons in Boston before heading to Winnipeg via Atlanta. Wheeler who had a steady offensive player during his first three campaigns with 45, 38 and 44 points respectively, exploded this season with the Jets recording 17 goals and 41 assists for 58 points in 68 games, having missed two games with an injury. Wheeler, who's currently on fire with 20 points in his last 12 games, is on pace to finish the year with 68 points in 80 games. This total would represent a 23-point increase of his second best campaign. Offensive outburst = season 4
4. Max Pacioretty, Montreal Canadiens
Another player who has been red-hot lately with 12 points in his last 7 contests, Pacioretty dressed only for 37 games last season after beginning the season in the AHL and ending the year on the disabled list thanks to a debatable hit by Zdeno Chara. The power forward entered his fourth season looking to rebound and establish himself as one of the Habs best players and he certainly did. After 68 games, he has recorded 30 goals and 28 assists for 58 points, missing three games because of a suspension. The left winger is currently on pace for 67 points in 79 games with Montreal, a 43-point increase of his highest point total of 24 points in 37 games last season. Offensive outburst = season 4
5. T.J. Oshie, St. Louis Blues
After missing 25, 6 and 33 games in the past three seasons respectively, Oshie has finally been healthy this year for the league-leading Blues. Through 70 games, Oshie has recorded 18 goals and 30 assists for 48 points on a very balanced offense under new head coach Ken Hitchcock, and is currently on pace for 56 points over a full season. The problem with the assessment of Oshie's offensive production has been that he has yet to play a complete season in the NHL, which is why he hadn't been able to fulfil his full potential until now. Offensive outburst = season 5?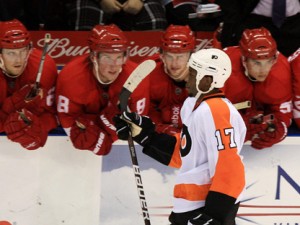 6. Wayne Simmonds, Philadelphia Flyers
Traded in the off-season with Brayden Schenn by the Kings in exchange for Mike Richards, Simmonds has been a pleasant surprise this season for the Flyers. The gritty forward has already topped his career bests in goals and points with 22 goals and 19 assists for 41 points in 70 games this season. Over a full campaign, this would translate into a 48-point campaign, a eight-point increase over his career best. While this increase doesn't seem impressive at first glance, it shows a real progression in the third-liner Simmonds' offensive output. Offensive outburst = season 4
7. Jamie McGinn, Colorado Avalanche
Traded at the deadline to the Avs by San Jose Sharks in exchange for Daniel Winnik and T.J. Galiardi, McGinn has benefited from the extra playing time to go on a hot streak, scoring 9 points in his last 7 games. Buried down the depth chart in San Jose, McGinn had never been able to crack their top two lines and get quality power play. Now that he is finding himself on the Avalanche's top line with Paul Stastny and David Jones, McGinn has been able to produce at a consistent pace offensively. Prior to this campaign, McGinn had never recorded more than 13 points (in 59 games) during his sophomore year. The winger is currently on pace for 39 points this season, which would represent a 26-point increase over his career best. Offensive outburst = season 4
8. Nikolai Kulemin, Toronto Maple Leafs
After improving his offensive numbers every year since his arrival in the NHL in 2008-09 with the Leafs, Kulemin has hit a wall this season despite the team's offensive successes early on. Playing on a line with Mikhail Grabovski and Clarke MacArthur, the Russian winger hasn't been able to produce offensively this year, recording a dismal 7 goals and 21 assists for 28 points in 70 games. After a career-season in 2010-11, during which he recorded 30 goals and 27 assists for 57 points, Kulemin's season appears over after he sustained a broken finger earlier this week. Kulemin is the perfect example of a player who exploded offensively during his third season instead, posting 21 more points than his previous career best of 36 points in 2009-10. Offensive outburst = season 3
9. Jakub Voracek, Philadelphia Flyers
Acquired along with a 1st round draft pick in 2011 (Sean Couturier) in the trade that send Jeff Carter to Columbus last summer, Voracek was expected to compensate part of Jeff Carter's offensive output this season. While his acquisition has not been deemed a failure, Voracek has not translated his great offensive talent into concrete numbers for the Flyers, recording only 13 goals and 24 assists for 37 points in 66 games this season, a 44-point pace over a full year. Not exactly what I call the offensive outburst that many fantasy experts predicted for Voracek who had scored 38, 50 and 46 points respectively during his three campaigns with the Blue Jackets. Offensive outburst = season 5?
10. Chris Stewart, St. Louis Blues
Acquired midway through last season in a blockbuster deal that sent Eric Johnson to the Avalanche for Stewart and Kevin Shattenkirk, Stewart finished the 2010-11 season with 23 points in 26 games with the Blues. With such a good production and entering his fourth season, everyone expected to see Stewart post career offensive numbers in 2011-12! Well, Stewart responded with a miserable effort, notching only 15 goals and 12 assists for 27 points in 69 games with the Blues, on pace for a disappointing 31-point campaign. After a 64-point effort during his sophomore season, Stewart continued with 53 points in 62 games in 2010-11 (70 points over a full campaign), before turning into no more than a depth player this season under Davis Payne and Ken Hitchock. Offensive outburst = season 2
As you can see, most of the above players are currently having their magical fourth season (5 out of 10) and only Jacub Voracek and T.J. Oshie have yet to see a real offensive explosion during their first four years in the NHL. Stamkos (2nd season), Stewart (2nd season) and Kulemin (3rd season) all experienced their offensive outburst earlier than expected.
Other notable fourth-year players: Patrick Hornqvist, Patrik Berglund, Lauri Korpikoski, Artem Anisimov, Zach Smith
Conclusion: this theory is not a myth, especially if you exclude the fourth-year players that already had their offensive outburst and exclude them from your analysis. So next season you should really consider these fourth-year players when trying to determine which players could turn into the best bargains at the draft!
Stay tuned, as after the season, I will provide you with a list of potential sleepers (fourth-year players) worth watching for your 2012-13 hockey drafts!
Follow me on Twitter for more updates on fantasy hockey and the NHL in general.