Follow Lukas on Twitter @LukasHardonk for more Leafs coverage.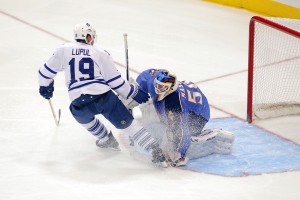 Going into this season, everyone was saying that the Toronto Maple Leafs' playoff hopes rest on the shoulders of sophomore James Reimer.
Reimer, 23, just about helped the Maple Leafs into the playoffs during the latter half of the 2010-2011 campaign with a wicked 20-10-5 record, 2.60 goals against average and .921 save percentage. Based on his play and the Leafs' roster, there was no reason why you couldn't say he needed to be just as stellar in order for the Leafs to make the post season.
For over a month, though, the Leafs have been forced to play without their No. 1 goalie between the pipes. This has allowed fans and management to see just what this team is really made of.
During that month, Phil Kessel and Joffrey Lupul have retained their title as the league's most dominant duo. Kessel still leads the league in goals and points, while Lupul is right up there in a tie for second. The last time that the Leafs had players one and two in league scoring was 1933.
It hasn't just been them, though.
Clarke MacArthur snapped a five-game pointless streak just 41 seconds into his return on Tuesday night against the Tampa Bay Lightning. He now has seven goals and nine points to go along with a plus-2 rating in 16 games this season.
Mikhail Grabovski has also been impressive, despite a pointless streak of his own and the fact that he is currently injured.
Perhaps the most underrated forward has been Tim Connolly. The 30-year-old veteran is now scoring at a point-per-game pace with 10 in as many contests. He has had a few injury problems, but that two-year, $9.5 million contract he signed in the offseason doesn't look so bad at the moment.
But it hasn't just been the offence that has gotten the job done. The Leafs have had many bright spots on the back-end, especially over the last couple of weeks despite what their record over that span may suggest.
For one, Cody Franson is back in the lineup and is playing very well. He has done a good job at filling in for the injured Mike Komisarek; Franson is plus-1 and has two points over his last three games. He has really been able to get back on the right track after a slow start to the season.
John-Michael Liles is another and, like Connolly, he is making the transaction in which the Leafs made to acquire him look like a very smart one. In 23 games, Liles has 13 points and a plus rating. At 22:03, he is one of three Leafs defenceman who average more than 20 minutes of ice time per game.
Both have helped Toronto's special teams in their own way, especially the power play.
The Leafs' power play was clearly struggling at the beginning of the season; they couldn't hold the puck in the zone and they couldn't re-enter the zone, which of course meant that they couldn't get setup.
However, Toronto has struck eight times in its last five games and sits third in the league when it comes to power play success at a staggering 22.6 percent. The Buds' recent success with the man advantage can be attributed to puck movement, which has shown great improvement so far.
In terms of the penalty kill, the Leafs are still in the bottom half of the league but are getting better. Every Maple Leaf penalty killer now appears to "want it" more than ever before and none of them are afraid to take one for the team.
Because of all of these improvements, streaks and impressive starts, the Leafs back near the top of the Eastern Conference, just a few points back of the Pittsburgh Penguins. Now past the one quarter mark of the regular season, can we now say that the Leafs aren't who we thought they were? That is, of course, a team that was guaranteed to miss the playoffs without James Reimer in goal?
Well, sort of.
Reimer is still a key component to this team. There have been and will continue to be more than a few nights where the Leafs will need him to bail them out.
What we can say is that the Leafs would be able to compete for a playoff berth without his help. Could they make it all the way to the post season, though?
Probably not.
That is why we can say the Leafs are not who we thought they were; because in fact, this is a team that has shown that it can come close to a playoff berth without its star goalie.
Twitter: @LukasHardonk | Email: lukas.hardonk@gmail.com | Lukas' archive
For every Leafs article on THW, follow @THW_MapleLeafs on Twitter.