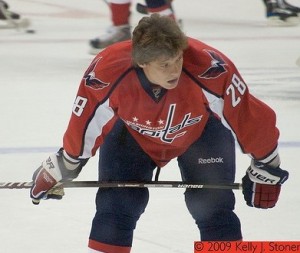 Two days after Alex Semin was scratched for the first time in eight seasons for his failures on the ice, Joel Ward suffered the same consequences for an off-ice incident for over-sleeping and missing a team meeting according to WashingtonCaps.com's Mike Vogel. After winning 4-3 Monday night against Phoenix, Wednesday evening's match against the Winnipeg Jets also resulted in a victory, 4-3, in overtime for the Capitals.
The call for accountability has been loud and clear in Washington, as many believe that's been a main factor in the Capitals' past and present shortcomings. Throughout the season, Alex Ovechkin's late-game benching against the Anaheim Ducks, diminishing ice-time for players making frequent mistakes and Semin sitting out against the Coyotes showed the players that no one was safe from facing consequences and could potentially result in a loss of job security.
"Everybody's the same, everybody's equal in this situation, and so it happened to me," said Semin, through Dmitry Chesnokov (Puck Daddy writer and TSN contributor), after the game. "It was sad, but it can happen to absolutely anybody so such is life. You just don't want anybody to be scratched."
When Semin returned to the ice tonight, he started out very strong, scoring the first goal of the game early on.
That goal, along with Semin's +2 finish and solid game all-around seems like the benching was the best thing for him. His teammates also took notice of how hard he played against the Jets.
"You see a little more jump in his step. It was probably his best game of the year," said Jason Chimera, who scored two goals including the game-winner in overtime. "He skated, he hustled, he made some big hits and kept pucks going. And ultimately he made no turnovers."
Alex Ovechkin, who had the assist on Semin's goal, said, "I think he was in the game today. He used his size [and] his skill. You can see how was a little bit hungry today.
Semin remained level-headed though, saying "It's actually not important that it was my best game or not. Most important thing is that we won — and I'm just happy I didn't pick up a penalty."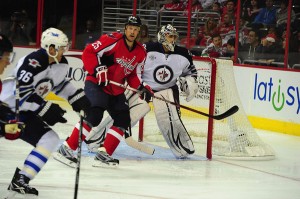 When the players are on their toes, their responses can vary from being so frustrated they don't respond at all, or they play harder and cause the intensity to become contagious. With every Capital now aware that they must play better or sit, they chose to respond with resiliency in tight situations Wednesday.
Most would assume resiliency comes from a team that was down most of the game. But for the Capitals, once they give up a goal or go through a tough situation in a game, it almost seems as though they are automatically playing from behind, and they play as though they forgot what they were doing when momentum was on their side.
Against Winnipeg, the Caps didn't seem to take issue with that, and battled back every time a goal was scored by the opposition. A lot of it was due to handling microcosms, like killing a 5-on-3 that turned into a 5-on-2 because of a broken stick.
"Anytime you stop a 5-on 3 it gives you so much momentum and I think for the most part after that we played a pretty good game," said Chimera.
Boudreau referred to the 5-on-3-turned-5-on-2 as a "Big turning point in the game"  and applauded his penalty killers for being there to protect Vokoun by blocking shots, especially seeing as a 5-on-2 as "something you can't practice because it is all about blocking shots."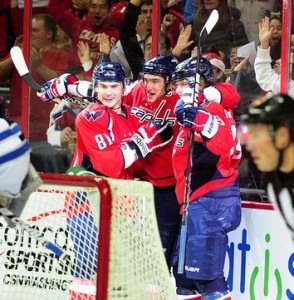 Boudreau also talked about the team's will to continue to play physical as the game went on, improving upon the last game against the Jets where Washington only totaled five hits.
"You're not going to win a lot of hockey games with five hits. Like I mentioned the last night against Phoenix, we had 29 hits and we were successful. So we wanted to get into that 30-hit range. When we're engaged and get 30 hits, we're doing well."
One of the most "engaged" players aside from Semin and Chimera was Ovechkin. He has yet to score a goal at home, but he remained a presence on the ice, picking up the assist and using his body to win battles and deliver hits in more effective ways than in more recent games. Ovechkin even got the crowd to chant "Ovi! Ovi!" in the second period when he was all over the ice hustling for pucks.
Whether Boudreau's moves to bench Semin and Ward influenced his team to play better, or if it was just the players themselves getting tired of losing to teams they should be beating, the Caps played a solid game with heart. The next test for them will be to play like they did Monday and Wednesday consistently to show if they really do have the responsible mindset and attitude to win games. Meanwhile, using deductive reasoning, I'll give at least some of the credit to Boudreau and his moves.
Notes: Defenseman Dmitry Orlov played his first NHL game Monday against the Coyotes. He scored his first point Wednesday with an assist on Nicklas Backstrom's goal in the third period… The next Caps game will be Black Friday against the New York Rangers at 4 p.m at the Verizon Center.
Angie represented The Hockey Writers at the 2011 NHL Winter Classic and is credentialed for Washington Capitals home games. She is a NHL Contributor for SB Nation's "NHL Scores & More" and covers high school hockey for The Washington Post. Angie attended American University where she studied broadcast journalism.