SAN JOSE,Calif (The Hockey Writers) Good teams win games when they don't bring their best play out of the dressing room. Wednesday the San Jose Sharks showed they are a very good team.
Out-shot 34-21 on the night, including a 22-9 disparity 35 minutes into the contest, the Sharks nonetheless rode one outstanding offensive play and the stellar goaltending of former Blackhawk Antti Niemi to a 1-0 victory. The win, San Jose's first shutout of the season, gave the Sharks 27 points in just 19 games played, making them the most efficient team in the NHL to this point in the season.
That one outstanding offensive play was a four-second power play. Logan Couture won a draw, and Ryane Clowe out-muscled Jonathan Toews and managed to get the puck back to Jason Demers above the left circle. "He managed to get the puck to me, and it was rolling," said a smiling Demers, "and you always want to shoot a rolling puck. You have no idea where it's going, but neither does the goalie." The goal, which appeared to deflect off a Chicago stick and bounce over Hawks netminder Corey Crawford, was just the seventh of Demers's NHL career, but the third already against the Blackhawks. "The puck just bounces for me against them; I'd like to play them fifty times a year."
Niemi, who seems to bring his A+ game whenever facing his former mates, stopped everything thrown his way this night, which mean denying several breakaways and a brilliant skate save of a power-play shot in the game's waning moments.
"It doesn't surprise me," said San Jose coach Todd McLellan. "Guys get up for their former teams, and they are excited about playing. I think, more importantly, whether it was Chicago or anybody else, he's starting to really look comfortable in the net finally. I think that's a real positive sign for him, and for our team."
The loss was Chicago's third straight on a five-game road trip that laps over the Thanksgiving weekend, and follows defeats to Calgary, 5-2, and a shocking 9-2 loss to Edmonton. While the Blackhawks definitely played better than in those games, it looked as though they could have played three hours, rather than three periods of hockey, and still not gotten one past Niemi, who noted the frustration Chicago was experiencing as the game wore on.
"Maybe just a little bit (of frustration), yeah," said Niemi, who feels he is beginning to settle in better, having put together back-to-back solid games.
"Good sticks, good gaps, lucky shots," said Hawks blueliner Niklan Hjalmarsson, "today we did all those things, I thought we played a real good game, we just couldn't score today and they got one, so they got us."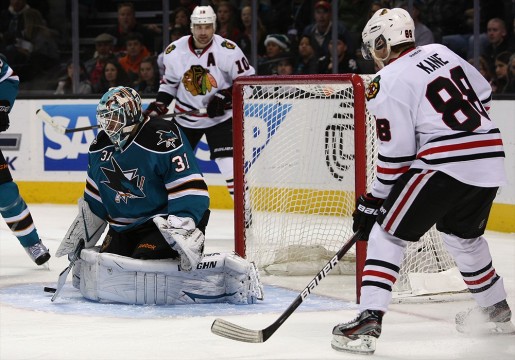 McLellan acknowledged that his team didn't play particularly well. "We won the battle of the special teams," he said. "Our penalty kill was much better than it has been, and we won the battle of special teams with the one goal from the power play, but we survived tonight on a night we didn't play very well. Nemo was the first star of the game for a good reason."
"He's the reason we got two points tonight", said Sharks' captain Joe Thornton. "He played great, he likes playing against his old team. A couple of his saves were spectacular, and we're really glad to have him our side of the ice."
Thornton said the team seemed to be skating uphill much of the evening. "We used our heads; we used our heads when the body wasn't working but the minds were. We know we didn't have much tonight, but even though we didn't get 40 shots, we really only need 16,17 shots with our good goal-scorers."
Having vanquished one of the two teams that excused them from the past two Stanley Cup playoffs, San Jose will practice on Thanksgiving morning to prepare to host Vancouver, the team that knocked them out last year, Saturday evening.