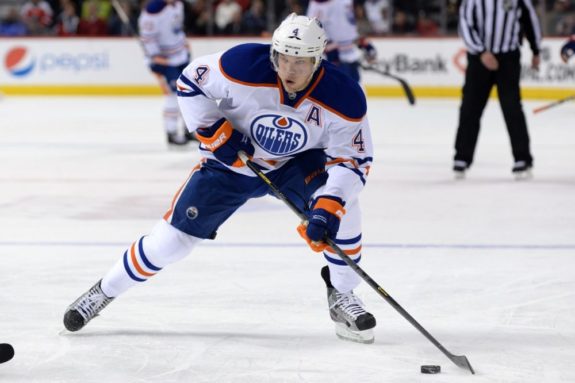 Taylor Hall is having his best season as a pro. He has eclipsed his previous careers highs in assists, points, games played and is tied for his career high in goals with 27 and three games to play.
It's hard to say the season has been a success regardless if it is individual success, as the year as a whole has been disastous from a team standpoint.
However with the season winding down it is also time to find the positives, no matter how hidden they are, in a year where the team fell short of expectations.
One of those silver linings is the play of Hall who has firmly placed himself in the upper echelon of NHL wingers.
Improvement in Each Year
Last season in the lockout shortened schedule, Hall had a fantastic year, finishing with 50 points in 45 games putting him 9th in league scoring and second among NHL left wingers.
There was always an asterisk of sorts, being the year was only a 48 game schedule and apprehension as to whether he could do it over a full schedule.
He has proven any doubters wrong, as going into the final weekend of the season he has 77 points in 73 games, which has him tied with the Capitals Alex Ovechkin and Nik Backstrom for 7th in league scoring.
https://twitter.com/SportsnetSpec/status/453011076280377344
His -15 rating obviously stands out as a concern, however looking at the context, it can certainly be understood. When comparing to the other forwards on the Oilers he falls into the middle of the pack.
Of the Oilers top nine forwards only Jordan Eberle (-11) and Ryan Nugent-Hopkins (-12) have a better rating. He is far from the bottomas  well as Sam Gagner (-29) and Nail Yakupov (-33) have far more concerning numbers.
Perhaps the best indicator is the fact that Hall has simply gotten better each year he has been in the league, which is all you can ask of a young player. His numbers in almost every offensive category has jumped in his four NHL seasons.

The Maturation Process
While his numbers continue to rise, there have been improvements in other areas of his game as well. He has continued to mature as a person and a player and has become a leader in the room as well.
He went from being a part time alternate captain last season, to wearing the 'A' again this year and was touted by many as the next Oilers captain. Very likely he will be the next to wear the 'C' once veteran Andrew Ference moves on, and has the chance to wear it for years to come.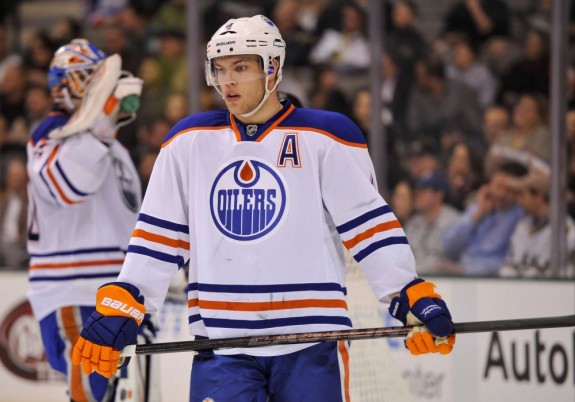 He has always been an emotional player, one who plays the game with a reckless abandon. In an ongoing learning process, he has learned to harness that emotion and use it on the ice.
In his first few seasons he walked the fine line of playing with passion and immature outbursts, and was at times benched for the latter. He has since gotten better and has played with less reckless abandon and has been a player the team rallies around and feed off his passion and energy.
That doesn't mean it isn't an ongoing practice, and in a season as this in a losing environment, there are certainly moments of frustration, as the recent Hall – Eakins water bottle incident can attest.
Even in that case, Hall handled the aftermath in a mature way and diffused the situation, not making an even bigger story out of it.
A good indication of his maturity is how he's handled a very disappointing season and the attitude going forward to the offseason and next year;
"My main motivation is to go into the off-season with confidence," said the 22-year-old.

"You have the whole summer to think about how you've done in the last year. It makes summers a lot easier when you've done well.

"As a team, it's the same motivation. It's been a decent year, there have been some ups and downs, individually and as a team, but I'm pretty proud of how we've stuck together and how I've played."
The Dynamic Factor
One thing that Hall possesses that few others do is the dynamic factor. The ability to bring fans out of their seats and impact the game in every shift.
Hall has exceptional speed and skill, but he's aggressive, a tireless worker and wears his heart on his sleeve. If the Oilers are to make a move out of the Western Conference's basement and become a playoff contender, it will be with Taylor Hall front and centre.
With Hall's continued emergence, he gives the Oilers franchise a face, someone that is a clear building block. While the process has taken longer than hoped, fans can still point to Hall as one of the league's top young talents.
In a city like Edmonton where fans are proud and there is a history of winning, the last seven years have been harder than in many markets. However having a star like Hall provides some hope and solace to fans with his attitude of never quitting constant work ethic.
The hope is that the more Taylor Hall matures, the more his attitude and passion wears off on the team as a whole.
_______________________________________________________
Follow Carl on twitter @carlTHW and Google+ for more articles