It is indeed a mess right now for the Minnesota Wild, as they enter the much needed All-Star break following Monday's mental breakdown at home against the Coyotes. Nothing is going as planned for Mike Yeo's group right now, literally, nothing.
It seems like forever ago (January 9th to be exact) that the Wild traveled down south to Dallas and beat a powerful Stars team 2-1 on their ice to reach the 52 point mark. It was the fastest that the club had ever reached that point total in franchise history, 41 games. Things were looking generally bright for Minnesota in a tough Central division at the time. It seemed as though they'd have no trouble skating into the postseason for the fourth straight year up to that point. But let's be honest, it wouldn't be Minnesota sports if the Wild didn't make it hard on themselves, right?
That's right, the Wild can officially drop out of the final wild card spot entering the break if the Nashville Predators win on both Tuesday and Wednesday night.
How can this be? Surely, the Wild had learned from their mistakes and lapses in play from previous seasons hadn't they? I mean, are they asking for another 30+ F-bomb tirade from coach Mike Yeo? (Please, spare us of that). Any mentally tough professional sports team would have (and should have) pulled it together by now and put their money where their Shock Doctor chewing mouths are.
This is a now a re-occurring theme for Minnesota, and while they have indeed been able to pull it together in the past, could this finally be the year that taking a whole month off finally comes back to bite them? It scares me to think that way, but it could become a harsh reality at this point.
It has become increasingly far too reminiscent of years past, and quite frankly unacceptable. So, without further ado and in light of the season, let us relive some Minnesota memories from each of the previous three to four years' near catastrophic conclusions.
2012-13
The lockout-shortened year was Mike Yeo's second behind the bench, after his first season ended in mayhem following a red-hot 20-7-3 start (best in the NHL) only to fall completely off the grid due to an injury ravaged roster, and missing the playoffs. Local boys Ryan Suter and Zach Parise were signed to those massive contracts in the offseason, and shimmers of hope sparkled the rink in St. Paul each night. Matt Cullen and Pierre Marc-Bouchard were still donning Wild sweaters, with party-boy Devin Setoguchi and Dany Heatley penciled into the top-six forward group. There was excitement and intrigue behind what this team could do, until the final stretch of the season.
April 1st 2013, the Wild were fresh off of winning 11 of their previous 14 games and looked like a shoe-in for the postseason. It would be their first appearance in the playoffs in years, and there was confidence surrounding the locker room, but then came the lag. Something happened to that Wild team that would set a dangerous precedence for years to come. Down the stretch, the Wild would play to a  5-9-1 record, scoring just 29 goals during that span. After a horrendous 6-1 loss at the mercy of the lowly Edmonton Oilers in their final home game of the season, in what Matt Cullen called "One of the most embarrassing games he had ever been a part of," it would be do or die in their season finale in Colorado. The Wild needed a win to break a tie with the then still Western Conference Blue Jackets, in order to clinch the 8th and final playoff spot.
Fortunately, Cullen scored one of the Wild's three goals in that game on the road, and helped Minnesota clinch a berth for a shot at the Stanley Cup. They could finally breathe easy, if only for a bit, as the Chicago Blackhawks handed the Wild a quick five game exit in the first round.
2013-14
Offseason moves and acquisitions were made that Summer. Cal Clutterbuck and Devin Setoguchi were traded, while PMB and Matt Cullen were released. All were moved out to make room for the next generation of Wild coming in and hopefully cementing themselves in the lineup permanently (Coyle, Granlund, Nino). There was a shroud of mystery surrounding the team that year, with the question being asked of can they contend while so young up front, or are they still a year or two away? Minnesota would be up for the challenge and make the playoffs again, but not without a fight from their inner demons.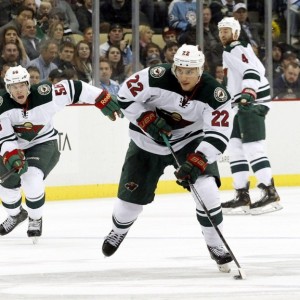 That year, it wasn't so much of a mid-season collapse, as it was highly streaky play. Seven times throughout that campaign, the Wild won three or more games in a row, only to be followed by losing streaks of three-four games. More often than the losing streaks this time around, was them dropping three out of four, or four out of five/six. It was a battle for most of the year in Minnesota, until finally settling down and closing out the season on a high note winning four of their remaining five games.
It was a second straight year for the Wild finishing within the top ten in the goals against category, but in the bottom ten in goals scored. As well as the second straight year of the Blackhawks sealing their fate in the postseason. This time being in the second round.
2014-15
Thomas Vanek finally returned to Minnesota and would fix the Wild's goal scoring woes right? Well, only slightly. TV put up the worst numbers of his career to go along with a mediocre team offensive showing collectively, and again the Wild were outcasts in the playoff hunt by January. This time, more than anything, it was the defense as a whole and in particular their goal-tending duo of Nik Backstrom and Darcy Kuemper that was the lame duck of the bunch. During their worst stretch of the year, the Wild allowed an absurd 58 goals during a span of 14 games. They were playing like the AHL Wild.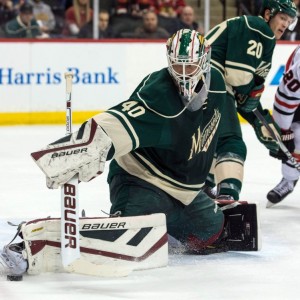 This was the tale of two seasons for the team though, as the latter half helped shape Minnesota's net-minding for years to come. The trade for Devan Dubnyk that saved the Wild's rear-ends boosted their play as they went on winning streaks of five or more games three times during their push for a playoff birth. It had them entering the playoffs for the third straight season as the hottest team in the NHL and dark-horses as a wild card team.
But yet again, after a strong first round against the Blues, well, we know how it ended…
2015-16 Minnesota's Current Skid
If you want to get technical, then this is the fifth straight year of Minnesota's maddening collapses mid-season (if you count Yeo's first season). Many contributing factors are to blame for the current debacle in Minnesota. Whether it be the uninspired effort on the power play, the disappearing act of veterans like Jason Pominville and Thomas Vanek, or the lack of production from the supposed up and coming youngsters (Granlund, Niederreiter, Zucker), this All-Star break couldn't have come at a better time for the Minnesota Wild.
It could just be Minnesota's time to rejuvenate the roster this summer if they don't figure it out come February. Or, Chuck Fletcher could finally address an issue that has been on the minds of fans for weeks (even years) now, the coaching staff. Since Minnesota legend Andrew Brunette was handed the keys to the power play a couple of years ago, they simply have not been able to put together a formidable group out on the ice. Dump and chase hockey with the man advantage is pretty lazy, and with the skilled guys they have on this team, it's mind boggling that that, and perimeter play is the best they can come up with.
Who knows what goes on in that locker room post-game, but another "players only" meeting should be warranted if it hasn't happened already. Maybe a "players only" practice or two during the break would do them well for that matter.
Does Minnesota need to make a trade? Or do they possess the tools to fix their problems from within? Whatever it is that they need to do, they'd better do it fast, because as we the fans have heard time and time again, like the players, no other playoff hungry Western Conference team is feeling sorry for Minnesota either.