After some big names were traded Wednesday, it seems that it is not too early to begin looking ahead at some Minnesota Wild trade candidates as we near the February deadline.
Now that highly coveted center Ryan Johansen is officially off the trade market, immediate reactions indicated that Minnesota missed out on acquiring their future number one anchor. As of Wednesday afternoon, Johansen is now just another highly-skilled offensive threat that the Minnesota Wild will have to control and contend with on a regular basis each year within the tough Central division.
So now where do they look?
It's no secret that General Manager Chuck Fletcher has become one of the most active GM's in the league when it comes to the trade deadline. In years past, he has not been one to shy away from pulling the trigger on D-day to bring in depth heading toward the postseason. Matt Moulson, Chris Stewart, and Sean Bergenheim are evidence of that over the last couple of seasons, and there's no reason to believe that Fletch won't continue the trend this year.
Despite Mikael Granlund putting up decent numbers this season (on pace for a career year in fact), fans and analysts alike, agree that the lack of a game changing top-line center is the Wild's missing link. Whether the Wild try to fill that void up the middle or add to their plethora of wingers, the depth they have on the blue line assuredly means they'll be looking at scoring forwards.
The following, are a few trade candidates that Fletcher could potentially converse with heading towards the February deadline.
Carolina Hurricanes
The Canes are again near the bottom of the standings in the Eastern conference a week into 2016. Looking at Carolina, this is a team with some talent throughout the lineup, but have struggled to make any noise with the pieces in place. Eric Staal's name has been brought up in the trade conversation as a proven number one center throughout his career in Carolina. While he is 31 years of age, he has never had a season with less than 50 points (other than his rookie campaign in 2003). He and Kris Versteeg (also the type of depth winger Fletcher has looked at in years past), are both UFA's at this season's end.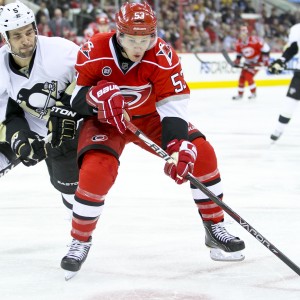 Jeff Skinner could be someone to keep an eye on as well for the Wild. At just 23 years old, the 2010-11 Calder Trophy winner has already proven himself to be a 30 goal scorer, which is something the Wild youth have yet to provide.  His health has been the deciding factor however for GM's looking at him. He carries a six-million dollar cap hit through 2019.
New York Islanders
The Islanders are another team that Chuck Fletcher has conducted business with in the past, and it could be seen again this season. Pending free agent, and Minnesota native Kyle Okposo has not been re-signed by the Isles' yet, despite leading the team in scoring with 31 points. Of course, the talk of Okposo playing for his hometown Wild has been inevitable, but with teammate Travis Hamonic also requesting a trade closer to his home of Manitoba, paired with Minnesota reportedly showing interest in him, the intrigue behind a blockbuster package deal involving this duo would be electric.
However, with both teams sitting comfortably in a playoff spot for the time being at 49 points each, a deal here (if any) between Garth Snow and Chuck Fletcher would probably wait until this summer. In doing so, the Wild would not have to surrender anything in return for Okposo due to his UFA status, despite shedding some of their own salary that is. (Even then, Hamonic alone wouldn't really make sense for the Wild to make a move on).
Edmonton Oilers
What better team for the Wild to look at for a number one center? The Oil have an insane amount of talent all over the ice right now, and with the drafting of Connor McDavid as their staple number one centerman for the next decade at the very least, that should have Fletcher inquiring about one of either Leon Draisaitl or Ryan Nugent-Hopkins. With Ryan Johansen off the board, the youthful 22 year-old Nugent-Hopkins makes the most sense for Minnesota, as Edmonton probably would like to see the 20 year-old Draisaitl in more action than the 60 or so total games played in Alberta before parting ways with him.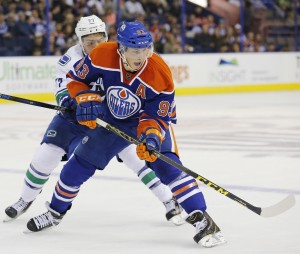 Cue the Edmonton transplant Jared Spurgeon trade-chip talk.
Calgary Flames
So, the nonsense begins with this one, but Jiri Hudler's name has been thrown around a bit due to his UFA status. The 32 year-old winger would provide more solid two-way play for the Wild, but the interest more than likely would simply not be there for Minnesota as they simply have one too many 30+ year-old forwards as it is.
San Jose Sharks
Just snowballing out of control with this one, but if the Sharks don't ride the current this year and miss the playoffs for a second straight season, a complete overhaul of their roster could be in store. The Wild and Sharks have a history of trading big name players to one another. Brent Burns, Martin Havlat, Dany Heatley, Devin Setoguchi, Charlie Coyle, and James Sheppard have all donned both sweaters. It's tough to diagnose this one as the Sharks sit in 6th place within the Pacific division, yet are only three points out of a playoff spot. Should the Sharks completely fall out of contention, could the Wild make a run for Zach Parise's Olympian teammate Joe Pavelski?
Pavelski is 31 years old, but plays like a 25 year old, much like Zach Parise. The Sharks captain has already notched 20 goals on the year and has also gotten a nod for the All-Star game. Tough to imagine a Sharks rebuild beginning with the trade of their captain, but stranger things have happened, and teams as desperate to make it back to the postseason as the Sharks are, would probably listen to any proposal from any team. In fact, the only "untouchable" player for the Sharks during a San Jose re-build would probably be Logan Couture.
Tampa Bay Lightning
OK, we know this isn't going to happen but imagine Stamkos in a Wild sweater. . . Now, imagine that $10 million dollar cap hit, which is not the type of salary the Wild need right now.
Stamkos is the type of number one center that should have literally any fan base salivating over. However, the Wild would have to shed significant assets to afford a guy like that right now with their current roster.
Moving on.
Toronto Maple Leafs
The team that many believe will win the Stamkos sweepstakes eventually is the Maple Leafs. In doing so, the Leafs would be more than willing to listen to offers on any player on their roster to ensure the proper cap space is available for Stamkos. The Wild, if looking for strictly centers, could have their eye on Tyler Bozak or Nazem Kadri. Both, being under 30 years old is a plus, but it's pretty doubtful that Toronto would be willing to trade away the 25 year-old Kadri, who still has some undeveloped talent. Not that Wild fans would want him anyway.
Toronto is a team that the Wild could probably ask about any number of forwards if they were interested (James Van Riemsdyk, Daniel Winnik, Michael Grabner, Brad Boyes etc.), and Toronto would probably listen.
What Do you think of these Trade Candidates?
With so much defensive depth on the roster, and some very mediocre play by some of their top-six forwards, the Wild could possibly be the most aggressive they ever have been at this year's trade deadline.
Do you agree in any of these options?