In their inaugural year at the NCAA Division I level, Arizona State has gained a lot of press for being a trailblazer for growing college hockey in the South. But looking into the archives of NCAA Division I Hockey, there are a few colleges that few would guess once fielded a varsity hockey team. Here are the five most obscure teams in the history of NCAA Division I Hockey:
Northern Arizona University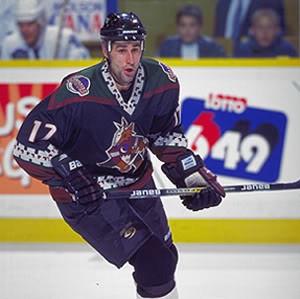 Located two hours north of aforementioned Arizona State, Northern Arizona University fielded a NCAA Division I hockey team for five years in the 1980s. Few would suspect Northern Arizona to have a hockey team, let alone want one. With a campus of over 27,000 students, NAU has a larger student population than the likes of current NCAA Division I Hockey schools Mercyhurst, Providence and Bemidji State (combined).
Notable NHL Alumni: Greg Adams, Bob Beers.
Related: Coyotes Lore: Greg Adams
Saint Louis University
Known more for basketball than any other sport, Saint Louis University was home to a NCAA Division I hockey program from 1970 to 1979. The Billikens played in the CCHA and made it to the league championship six times in their nine years of varsity hockey. Like Northern Arizona, they currently field a Division II ACHA club team.
Notable NHL Alumni: Mario Faubert, Lindsay Middlebrook, Chris Valentine.
Gonzaga University
The Spokane, Washington university fielded a hockey team for one year during the 1939-40 season. But, with the start of World War II, the team folded along with the school's football program. Gonzaga's 7,000+ campus currently has a Division II ACHA program to meet their hockey needs. The Bulldogs compete in the same region as the Northern Arizona Lumberjacks (ACHA Division II West Region).
Notable NHL Alumni: Frank McCool.
United States International University
From 1979 to 1988, United States International University, also known as Alliant, had a Division I hockey program that competed in the Independent Division. The private, higher education school is known more for post-graduate work, rather than undergraduate like most NCAA Hockey programs. The hockey team was based at their San Diego campus and put together a solid 24-8-2 record in their inaugural season.
Notable NHL Alumni: No NHL players.
University of Alabama-Huntsville
After years of club and Division II success, the Alabama-Huntsville Chargers became an Independent Division I program in 1987. They were a founding member of the CHA in 1999 before going Independent and eventually joining the Western Collegiate Hockey Association (WCHA) in 2013. Alabama-Huntsville and Arizona State are the only true southern universities to field varsity hockey programs today.
Notable NHL Alumni: Jared Ross, Cam Talbot.
—