Lindy Ruff and company may never admit it, but Antti Niemi seems to have ascended to the No. 1 goalie spot for the Dallas Stars.
On the season, Niemi has now started 11 more games than his Finnish counterpart Kari Lehtonen. Lehtonen came to Dallas in 2009 and has been a fixture in net for Dallas since the 2010-2011 campaign, but a poor showing last season and an injury-prone past pushed GM Jim Nill toward signing another proven NHL netminder to bolster a team that seemed primed for the next step in its development. He settled on Niemi, and it seems that Niemi has settled into Dallas.
Lehtonen's 13-5-0 record may not scream inadequate, but his numbers are less than stellar. He's sporting a 2.82 goals against average and a .908 save percentage, and he's given up 17 goals in his last five starts. He earned a shutout of the Blues on Dec. 27, but it was sandwiched between two starts in which he didn't make the second period.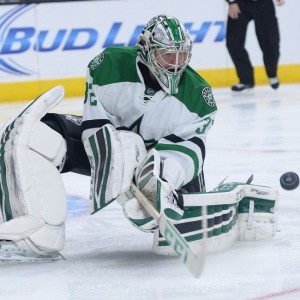 Granted, not all of this is Lehtonen's doing. The entire club has been in a slump since the calendar flipped to 2016, going just 3-6-2 in the month of January. The team's commitment to defense had been lacking during the worst of it, to say the least, and Lehtonen was left out to dry his fair share of times. However, he's also shown glimpses of giving up the same types of goals that frustrated Stars fans so often last season.
A Pattern Emerging
The Stars' last three games have each come on the heels of an off day, and Niemi and his 2.42 GAA have started every one of them. He answered his coach's decision to start him for a third game in a row with a 23-save performance Monday, many of which came at big moments for Dallas. It seems as if Lindy Ruff is trusting the proven veteran to help pull his team out of the rut they're in, and the rest between games has contributed to that. The Stars' first six games after the week-long break will come with at least one day off in between, and it's not a stretch to imagine he'd use that pattern to continue to give the majority of games to Niemi.
Kari gets no starts on the home stand . Gotta wonder if the Stars have decided on a starter and a backup https://t.co/WfWShSDRds

— Bruce LeVine (@BruceLeVinePuck) January 25, 2016
Lehtonen Still A Valuable Asset
Of course, this isn't to say that the Stars won't continue employing Lehtonen more often than a typical backup. He's on pace to play 36 games, and if Niemi falls into a slump of his own, having Lehtonen waiting in the wings with fresh legs could prove to be a potent weapon. The Stars will also play in three back-to-backs in the month and a half following the break, and having two No. 1 goalies on the bench can only benefit them in those games.
Stars fans can be sure that Ruff isn't urging the PR department to draft a press release naming Niemi the starting goalie, but the writing seems to be on the wall. In the dog days of a long season, the veteran coach might be more willing to allow a goaltender to form a rhythm in consecutive starts. If he is, it seems that Niemi's locked down the first attempt at leading this team through its final 32 games.
Raglin contributes to The Hockey Writers' coverage of the Dallas Stars. He's a senior journalism major at Stephen F. Austin State University and currently serves as the sports editor of SFASU's The Pine Log. He has experience covering both news and sports at The Pine Log (http://thepinelog.com) and at Star Local Media (http://starlocalmedia.com).