Two Down, Five to Go
November was an interesting month for the Minnesota Wild. The month started off rough, as the Wild lost their first home game of the season to the Pittsburgh Penguins on the fourth, and from there, continued into a downward spiral. The team lost not only the next three games, but also a key piece of the team in Zach Parise. Parise returned after missing five games due to a concussion; his return demonstrated just how much the Minnesota Wild need him and his leadership on the ice.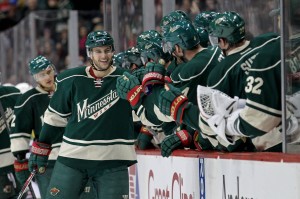 Parise's presence helped boost the team, but Minnesota continued to struggle with losing core players, playing without Jared Spurgeon for the beginning of the month, and then losing Jonas Brodin for seven games due to mumps. The team has also been without Matt Cooke for almost the entire month, due to a hip flexor injury that is supposedly recovering slowly.
Regardless of all these injuries, the Minnesota Wild have had some players, three in particular, step up this month and help push the team to a 7-6-1 record, which isn't half bad considering all the line juggling that had to occur over the past few weeks.
So without further ado, here are (in my opinion) the Minnesota Wild's Three Stars for the Month of November:
1. Nino Niederreiter
Nino Niederreiter has been phenomenal for the Minnesota Wild this month. The Swiss forward leads the team in goals (11), is tied in second for points (14), and is second in game-winning goals with two. Not only has Niederreiter proven that he can score, he's proved he can play a physical game and that he isn't afraid to do some shoving around the net. This kid is gritty, but also incredibly talented. He's scored pretty goals and he's scored dirty goals and it really seems like he can do it all right now. After watching him find his way over the past month, I wouldn't be surprised if Niederreiter becomes Minnesota's next big superstar. I don't want to jinx anything, but if he stays hot, it's hard to deny that he's going to make a big difference for this team.
Not to mention, Niederreiter also registered his first career hat trick this month against the Buffalo Sabres. Consistently solid play all month long and great offense makes Nino Niederreiter my number one star of November.
2. Jason Zucker
For some reason, I'm so happy to finally see this guy succeeding. Zucker has had quite the journey trying to make it to the National Hockey League and then stay for an extended period, spending his fair share of time with the Iowa Wild before finally pulling it together this season. After watching his play so far this year, I'd say Zucker has most likely secured his spot in the big league.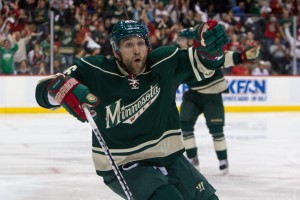 The native of California has had a strong month, providing a bit of offense for the Wild. Zucker is second only to Niederreiter in goals with nine, but he has provided more than just goals for the team this month. He's looked strong in every way on the ice and clearly he's determined to play good hockey, so I'd say it's safe to assume Zucker isn't going to be that guy that takes a step back after a few good games. This is only the beginning for Jason Zucker and because of that, he's my second star of the month.
3. Marco Scandella
Not only has Marco Scandella provided solid defensive play for the Minnesota Wild all season, but he's also another defenseman that has no problem scoring goals. There's nothing better than a defenseman that can stop opposing teams from scoring and then put one in the net for his own team. This has been Scandella during the month of November. The 24 year old scored three goals for Minnesota this month, two of which were game-winning goals against the Dallas Stars and Winnipeg Jets. Scandella is also tied for sixth among all NHL defensemen for goals scored (5).
Apparently GM Chuck Fletcher agreed that Scandella's play has been solid, because the team announced today that Scandella and the Wild had agreed to a 5-year, $20 million deal. This strong play throughout the month combined with Scandella's desire to commit to the Wild and help the team continue to grow makes him my third star of November.
So there you have it. My three best players of the month for the Minnesota Wild. Disagree? Who would you have chosen for the top three of month?
Alli covers the Minnesota Wild and has been a contributing writer with THW since August 2014. She is currently a journalism and sports management student at the University of Minnesota. For all of your Minnesota Wild news and updates, follow her on twitter: @allibaker23