It has been ten years since the 2005 post-lockout draft, headlined by phenom Sidney Crosby whose presence would later help save the Pittsburgh Penguins. The Penguins weren't the only team to find the backbone of their franchise that day. With the fifth overall pick, the Montreal Canadiens took goalie Carey Price in a surprising move that had outsiders scratching their heads, but one that has paid off tremendously for the organization. The past ten years in drafting for the Habs have featured everything from finding franchise cornerstones to first-round busts.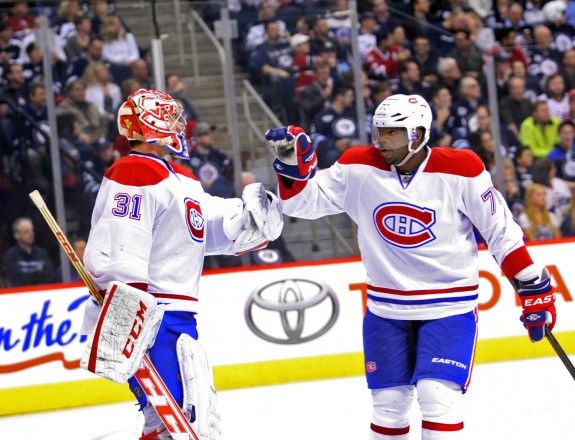 2005 and 2006
Montreal had a good draft in 2005 as four out of seven picks managed to play over 300 NHL games. Price, of course, is the crown jewel of this draft class as he has emerged as the face of the Montreal Canadiens and as one of the best goalies in the world. The other three NHLers to emerge were forwards Guillaume Latendresse, Matt D'Agostini, and Sergei Kostitsyn. Latendresse retired from professional hockey in 2014 while D'Agostini and Kostitsyn played in Europe this past season.
The 2006 draft was virtually a bust in terms of finding NHLers. First-round pick defenseman David Fischer never played an NHL game. The pick looks worse in hindsight since Claude Giroux went two picks later to the Philadelphia Flyers.
Ben Maxwell and Mathieu Carle played 47 and three games respectively in the NHL. The only NHL regular to emerge from this draft class was Ryan White, a fourth-line agitator who is now with the Flyers.
2007 and 2008
2007 was the grand slam draft year for the Habs. The first three picks were outstanding for Montreal; they chose Ryan McDonagh, Max Pacioretty, and PK Subban. McDonagh was unfortunately traded in the infamous Scott Gomez deal with the New York Rangers. He has since emerged as a top-pairing defenseman and is the Rangers' captain. Pacioretty has become a top-line power forward for Montreal and is the current favourite to be the next captain. Subban is a past Norris Trophy winner and is a nominee again this year who also has an Olympic gold medal on his resume. Third-rounder Yannick Weber had trouble establishing himself in a regular role in Montreal but the defenseman has fared much better with the Vancouver Canucks.
With only five picks, Montreal struggled in 2008 as none of the draftees has played an NHL game. The lack of a first-round pick hurt the team. Second-round pick Danny Kristo looked promising as a future top-six winger but off-ice issues in college didn't help his cause. Kristo was eventually traded to the Rangers in exchange for prospect Christian Thomas, who had one goal in 18 games with the Habs this season. If Thomas looks to have an NHL future, it may not be with Montreal as they have a plethora of smaller players who are younger and more likely to factor in to Montreal's future plans.
2009 and 2010
2009 was another poor year for Montreal. With the draft taking place at the Bell Centre, the pressure was on to take a local kid with their first round pick. The Habs delivered, taking Louis LeBlanc, who grew up very close to Montreal. Unfortunately, LeBlanc never panned out for the team. Injuries were a factor but he had trouble carving out a role for himself. He has played 50 games in the NHL but was flipped to the Anaheim Ducks for a conditional fifth-round pick last year. Gabriel Dumont has 18 NHL games on his resume, but is a player who is better off as an AHL regular. Defenseman Mac Bennett is still a prospect with the team but struggled in his rookie AHL year this past season.
The legacy of the 2010 draft is still to be determined. The Habs moved up in the draft to get defenseman Jarred Tinordi, but he has yet to live up to his potential. He has the potential to be a big, solid shutdown defenseman much like Hal Gill in his prime. Tinordi needs to be given a proper NHL chance in order to prove if he has what it takes to be a full-time NHL defenseman.
The biggest gem out of this draft class is fifth-rounder Brendan Gallagher. Gallagher has become a core member of the Habs and has overcome every size obstacle. A strong work ethic and driving to the net are now synonymous with Gallagher's name. Mark MacMillan and Morgan Ellis are still prospects to varying degrees of promise. MacMillan just left the NCAA to turn pro so he is a wild card. Ellis's stock has dropped dramatically; this season will the defining year of his career.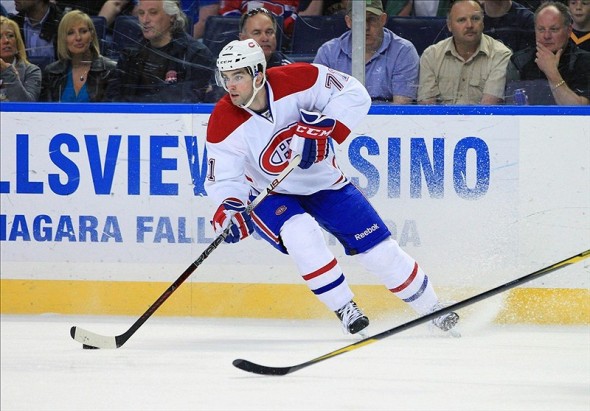 2011 and 2012
From 2011 and on, it is too early to judge whether the draft was a good or bad for Montreal. This year was dominated by defense as the Habs picked five defense prospects. Nathan Beaulieu recently re-signed with Montreal on a two-year bridge contract for cheap and is expected to live up to his potential. As for the rest of the draft class, Josiah Didier signed an AHL deal with the Habs' farm team.
The situation with Magnus Nygren has been interesting. Nygren has talent but didn't take well to playing in the AHL, opting to return to Sweden midway through the 2013-14 season. He returned to Hamilton the following season but suffered a season-ending concussion and is not expected to return to the AHL. Nygren recently signed in Sweden for the upcoming year. Darren Dietz is still a legitimate prospect for the Habs as the defenseman stuck around late in Montreal's training camp last year so he has some promise.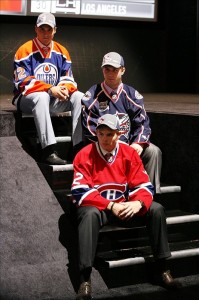 With their highest pick since 1980, the Habs drafted Alex Galchenyuk third overall in 2012 despite him only playing a handful of games due to a knee injury. Galchenyuk is a core member of the Habs but his situation is up in the air. He was drafted with the intention of him becoming a number one center but after three seasons on the wing, it's unclear what his future position is.
As for the rest of the draftees, Sebastian Collberg was traded to the New York Islanders in the Thomas Vanek deal last year while defenseman Dalton Thrower has struggled since being drafted. Tim Bozon has battled back from meningitis and will start his pro career in the fall and Charles Hudon was a fifth-rounder who has the potential to be a future top-nine player for the Habs very soon.
2013 and 2014
2013 can be considered the size draft. The Habs went heavy on big prospects with their early picks as Michael McCarron, Jacob de la Rose, and Connor Crisp are all 6-foot-3 or taller. McCarron saw a dramatic improvement in his second OHL season and finished his junior career as a Memorial Cup champion. De la Rose has already put in 33 regular season games with the Habs and is pencilled in for next year's roster. There was also room in Montreal's draft class for smaller, skilled players as Artturi Lehkonen, Sven Andrighetto, and Martin Reway have the talent to be top-six players. Goalie Zachary Fucale has struggled at times in his last year in junior but will start his AHL career this fall and there is no need to rush him with Price locked in as the number one in Montreal.
Since we are only one year removed from the 2014 draft, it's hard to get a read on it. So far it looks like a draft class dominated by projects. First-rounder Nikita Scherbak is the blue chipper and isn't too far away from an NHL roster spot. It will be a while before we see anyone else. Defenseman Brett Lernout was good in his final junior season and was solid in a small AHL sample. Daniel Audette continued to progress in the QMJHL while Nikolas Koberstein, Hayden Hawkey, and Jake Evans are all years away from professional hockey.
An inexact science
Director of Amateur Scouting Trevor Timmins doesn't have the best record when it comes to first-round picks but has found numerous gems in the later rounds. The lack of second round picks in 2009, 2010, 2011, and 2014 hurt the team depth-wise as they missed out on the opportunity to cash in on a good player who developed late or dropped in the rankings. However, drafting a player is only one half of the equation as future development can help or hurt a player.
When looking back at the past decade, the Habs struck out big time in 2006, 2008 and 2009 but other years have yielded NHL players including some current core members of the Habs. Drafting is an inexact science as it seems unfathomable that a Norris Trophy winner in Subban went in the second round while a seemingly safe first round pick in LeBlanc failed to stick. The Habs are considered one of the best teams when it comes to drafting and more gems will likely emerge in the coming years. It will be interesting to see how this year's draft class pans out.
I have a Bachelor's Degree in Journalism from Ryerson University. I am a freelance journalist and a Montreal Canadiens writer for The Hockey Writers. I previously wrote for Simcoe.com and Last Word on Sports as well as interned at TSN.