By Mike Miccoli, Boston Bruins correspondent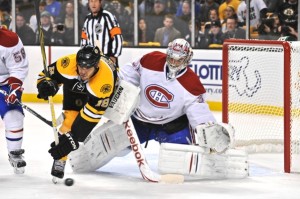 Less than 24 hours ago, the Montreal Canadiens were battling the Philadelphia Flyers away from the friendly confines of the Bell Centre, trying to snap their six-game winless streak. They did, of course, win big by a score of 5-1. Naturally, it was expected that the Habs would seem fatigued and come into Boston at a disadvantage.
That was Montreal's excuse. Now what was Boston's?
The Bruins may have out-muscled the Canadiens, excelling in the game with their physical-style of play, but it was Montreal who stayed focused and picked up the 2-1 win over the same team that ousted them from the Stanley Cup Playoffs last season.
For the Bruins, there was little that went right, and what went wrong wasn't pretty at all. In fact, the Bruins' only goal of the night, a power-play tally that deflected off Tomas Plekanec's stick from the face-off past an out-of-position Carey Price, wasn't even pretty. Patrice Bergeron was credited and was the only Bruin to appear on the scoresheet all night. Meanwhile Price would go onto make 29 saves and improve to 14-4-2 against Boston all-time.
The B's puck possession and control in their own zone was disastrous, leading to several turnovers and broken-up breakout attempts, while many two-on-one attempts were miffed when a Bruin player dished a pass instead of shooting in his open lane. Tim Thomas stopped all but two of the Canadiens' 35 shots, making some dazzling stops along the way.
But for the rest of the Bruins, it was all about missed opportunities, not playing the full-60 minutes and more of the same ol' story for a team that's dropped its second loss in a row.
"The execution is not there," said Bruins coach Claude Julien. "When you play the way you do the first period and seem to be heading in the right direction, then come out in the second period and play that way, it certainly shows a lack of focus, and what that translated to was a lack of execution."
The Habs tied the game in the second period after a simple shot from the point from Habs defender Jaroslav Spacek got tipped in by Erik Cole, who was only trying to create traffic in front. Montreal pulled away in the third with the game-winner from Plekanec, redeeming himself from his miscue earlier by staying persistent and banking a rebound off of Boston defender Adam McQuaid's skate and past Thomas.
"It was a great play by our defense back there and a nice one-touch to me and then I got a lucky break," said Plekanec. "After the first shot, the puck stayed in (McQuaid's) feet and I was able to grab it and put it in the net. We fought through it—it was a great effort.
Plekanec was quick to brush off his error in the first period that led to Boston's goal, only one second into their man-advantage.
"It was an unlucky goal. You don't see it that often, but we got through it. We won the game, so that's all that matters."
Not even a solid fight between Brad Marchand and P.K. Subban could rally the Bruins, though it may have served as the highlight of the night for the fans, which isn't saying much.
It did take three tries for the officials to allow Marchand and Subban to finally drop the gloves after two previous attempts that resulted in matching holding and delay of game penalties. The pair began to tangle immediately after they left the box for the second time. The bout was a spirited one that began with Subban trying to throw a punch but face-planting onto the ice. Ultimately, the highly overdue duel would be deemed a draw.
"I think it all started off the draw," said Marchand. "He kind of gave me a little shot with his elbow and then I grabbed him and he grabbed me. And I thought he wanted to go then so I dropped my gloves. But when we were in the box he asked me to go and I said no. And then back in the second time he asked me again, and I couldn't say no. So it was nice to get it out of the way.
"We both like to aggravate the opponent. He just kind of gave me a shot, and that stuff happens. We're both out there, we're both emotional guys. And in a game like this we want to get our teams going and that's the way to do it."
The two Original Six rivals will face each other again on Saturday night, this time in Montreal. Julien knows that with his club standing alone in last place in the Eastern Conference after nine games, something needs to be done.
"I know we're not good enough and tonight wasn't good enough," said Julien. "I don't know how close we think we are, but we're not that close right now.
"Our team is not playing the way it should be or can play through the whole 60 minutes."
Follow Mike on Twitter for more Bruins updates, news and commentary.