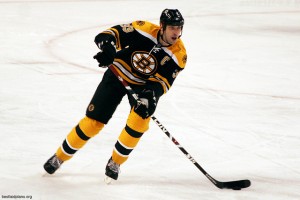 By Mike Miccoli, Boston Bruins correspondent
For now, all seems right with the Boston Bruins. The components that were deemed missing and the efforts that were lacking when the team started the season all showed up at once on Thursday night when the Bruins beat the red-hot Toronto Maple Leafs, 6-2.
The game was all Boston, really. The team showed a full-60 minute effort, had success on the power-play and big games for many role players who had seemed be complacent to start the season. Maybe it was Shawn Thornton's spirited bout early in the first period with Colton Orr that set the tone or perhaps the Bruins first power-play goal of the night that built the B's confidence back up. Whatever it was, worked.
"I just thought we looked more like our team tonight, again," said Bruins coach Claude Julien. "
In the two Original Six teams' first of six matchups this season, it was Toronto who came into Boston picking up nine points out of a possible ten in their first five games. Boston handed them their first regulation loss and put an end to current Leaf and former Bruin Phil Kessel's torrid 12-point scoring streak, holding him to just one shot on goal and a -1 on the game.
Although the Maple Leafs got on the board first courtesy of a snazzy wrist shot from David Steckel, the majority of the momentum was held by Boston. The Bruins capitalized on two, back-to-back penalties called on Toronto within six minutes of each other by scoring two power-play goals, one from Nathan Horton, and the other being an up-close and personal slapshot from Zdeno Chara.
This was the first time all season that the Bruins scored two power-play goals in the same game and the first time in a regular season game since March 27.
"We just kept it simple," said Chara, when asked how the team solved their power-play woes. "We basically took what they gave us and it was nice to score some goals and be effective that way.
"The hard work in the offensive zone is getting rewarded on the power play and then we see scoring."
Chara (1G, 2A) was one of four Bruins who had a three-point game. The others included Milan Lucic (1G, 2A), Andrew Ference (3A), who tied a career-high in assists and points in a game and Tyler Seguin (1G, 2A), his first career three-point night.
"He has a great shot," said Lucic, who assisted on Seguin's goal. "He's got great hands, he's got that scoring touch and that's why he was picked so high in the draft. It's great to see him play with more confidence and get more comfortable as he grows and matures."
Lucic was one of a few Bruins whose play and slow-start had been criticized. Last season's 30-goal scorer put together a solid game, starting out with a monster hit on Maple Leafs' captain Dion Phaneuf in the middle of the first period.
"We had success because we were moving the puck forward," said Lucic. "We were moving our feet and we were making good, short crisp passes. When we're doing that, when we're supporting each other coming up the ice as a five-man unit, that's when we get our most opportunities and that was evident tonight."
The Bruins will once again try to win their first back-to-back games of the season when San Jose comes to town on Saturday night. For Julien, while Thursday's game was a major step in the right direction, the work is not done.
"We've kind of been hit and miss so far this year as we come up with a good effort," said Julien. "I think right now the biggest challenge is to be able to follow that up Saturday with the same kind of effort.
"There were a lot of things that came out of tonight's game, but again, it's being able to translate that into consistency, which means next Saturday."
Follow Mike on Twitter for more Bruins updates, news and commentary.